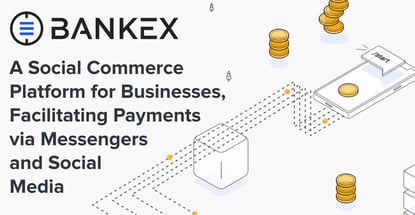 credit card news
Our experts and industry insiders blog the latest news, studies and current events from inside the credit card industry. Our articles follow strict editorial guidelines.
In a Nutshell: More consumers today spend both work and free time on social media and in messaging apps than they have before, and BANKEX is ready to meet them there. The fintech platform assumes a social commerce approach to business — meaning it helps financial institutions and others leverage social media and messengers to their advantage. It helps banks integrate valuable tools right into messenger services so customers can transact via text. BANKEX also uses similar tactics in helping to improve loyalty programs and monetize media content via paywalls and other opportunities. Additionally, its MainWallet system is aimed at monetizing Telegram audiences.
Over the past decade, consumers in the industrialized world have seen a dramatic shift when it comes to how the digital world plays into their daily lives. Many modern occupations would not exist in their current form if people didn't have access to the internet, email, and messaging apps.
Even outside of the workplace, the digital world is deeply embedded in the average person's communications, shopping, and media consumption avenues.

All the while, blockchain technology has been evolving in big ways. What started as a public ledger integral to the functionality of Bitcoin and, soon after, many other cryptocurrencies, blockchain now sees a wide range of uses cutting across multiple industries.
BANKEX — owned by the DLT Company — is one company merging the worlds of finance and blockchain with its ecosystem of products and services aimed at monetizing a number of engagements between businesses and consumers.
The company's central value proposition revolves around what it calls social commerce for businesses.
"Now customers can pay you directly in messengers and social networks," according to the company. "A user just needs to push a button to transfer money between his and the company's wallet. This is a new way to buy called social commerce."
We recently had the opportunity to speak with Igor Khmel, Founder and CEO of BANKEX, about the company's contributions to the world of fintech.
Banking Tools That Integrate with Messenger Programs
The idea of social commerce plays out particularly well when it comes to the finance industry, Khmel said.
"So, our solution right now — how is it different than other platforms out there?" he asked. "It's social banking, or text banking, which means that it works within social messengers and social networks."
BANKEX is available to launch its white-label text banking product to help institutions offer customers new payment tools.
"Be one of the first banks in messengers," according to the company. "Messengers are for friends, make friends with your clients. Send your ads directly to your clients' messengers"
Institutions interested in taking advantage of this innovative approach to banking simply need to fill out the form on the BANKEX website and the company will contact them and discuss what types of services they are interested in providing in messenger apps.
Next, BANKEX will assign a manager who will lead the project, then he or she will request access to the bank's API.
"Let your customers use your bank via messengers," according to the company website. "They can make any operation with simple text commands and suggested buttons."
Khmel said this means customers can come to the marketplace from any channel.
"We can even open bank accounts for them or do transactions for them," he said.
BANKEX has been recognized in the crypto space by a number of notable organizations, including Mitsubishi and Rise Global, which have recognized the company with awards. The company has also participated in several hackathons in recent years, maintaining an active role in the tech ecosystem.
BANKEX Can Help Boost Loyalty Programs and Monetize Online Content
BANKEX also leverages its innovative tech to help companies improve their loyalty programs and monetize online content via paywalls.
"You Have A Loyalty Program? We know how to make it better," according to the company. "Let your customers exchange your Loyalty points. BANKEX offers you the perfect payment infrastructure."
BANKEX offers loyalty wallets for customers, notifications in messengers, payment options in messengers, and offline and web payment options, according to the company.
"As a result, your customers get an easy tool to use and exchange your loyalty points in one click," according to the company website. "Your customers would like it because they don't need to install anything — they can join loyalty program in one click in any messenger."
These tactics result in increased customer retention, according to the company.
BANKEX also helps media companies meet consumers where they already are.
"Now you can earn money on audience in your Telegram channels, Facebook Messenger or Twitter," according to the website. "And it's cool because you can charge money for your content in a click, accept any currency you want, create a paywall in a few clicks, and increase viral reach of your paid content."
Khmel said because consumers are already in these apps, these types of services make for organic opportunities. "Reading news in messengers is native," according to the company. "Our Paywalls are making payments in messengers native too."
"People spend a lot of time in messengers and on social networks," Khmel said. "Our goal is to make them pay there as well, and to leverage social, gamification, and other social kinds of tactics for services."
MainWallet Lets Users Monetize Telegram Audiences
Finally, BANKEX is using its MainWallet product to monetize Telegram audiences.
MainWallet is a messenger-first financial application for social commerce that is packaged as a Telegram wallet-bot with a connected app store, according to BANKEX. It enables personal and merchant transactions within messengers.
"MainWallet is a payment service," according to the website. "If you have a chat, a channel or a game in Telegram, MainWallet helps you get instant payments."
The company announced in early 2020 the introduction of the MainWallet Commission System.
"The objective of the MainWallet Commission System is to emphasize that BANKEX is different from a regular bank in that it shares its profits with the community as opposed to choking its customers and partners with hidden fees and charges as regular banks do," according to a company press release.
As MainWallet's popularity rises, the commission system becomes more lucrative, according to BANKEX.
"MainWallet by BANKEX is continuing its meteoric ascend, doubling its user base within a month," according to a press release. "We expect MainWallet growth to continue its geometric progression, growing from 1,000 to 2,000, from 2,000 to 4,000, 5,000 to 10,000, 10,000 to 20,000 and so forth within the same — and shrinking — time intervals."
BANKEX Group charges a small fee from each operation, whether it's an online game payment or a coin transfer. Then those fees are shared with the initial group of admins and with a small group of power users who are coming on board as part of the MainWallet alpha test.
"We are pleased to see that MainWallet, the platform that embodies the spirit of BANKEX Group's R&D, is soaring in popularity and is heavily impacting BANKEX token usage," Khmel said in the press release. "BKX token, which is MainWallet's lifeblood, is well on its way to become one of the most wanted and revered coins of the next decade as we already see an increase in the number of BKX token holders and an increase in MainWallet transactions among them."
Mainwallet works within three modes: private wallet, in-messenger app store, and social banking mode (enabling banking operations within existing community channels).
"We have 100,000 registered users at this stage and processed more than 80 million user operations," Khmel said. "Our platform supports six different blockchains, three types of messengers (Telegram, in development — Facebook, Twitter), five payment providers, 10 micropayment social mechanics like paywall etc., about hundred of merchant integration and channels globally."
Businesses within and outside of the finance industry stand to benefit from BANKEX's innovative approach to monetizing opportunities by meeting customers where they are — online and in messaging apps.
Khmel added one final message:
"We have just entered partnership with one of the leading fintech platform integrators (compliance-as-a-service)," he said. "Together we are preparing to test for our technology for crowdfunding non-profit campaigns on Twitter to raise money for people affected by COVID-19. There are a few big partners in discussion.  This is a good example of where our technology brings value to the community. We plan launch this month. Time is crucial."