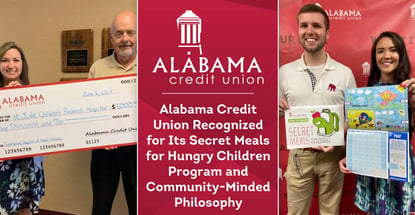 In a Nutshell: Nearly 1 in 4 children in Alabama live with food insecurity, and Alabama Credit Union is helping to tackle this issue through its Secret Meals for Hungry Children initiative. The program helps elementary school students stay full and nourished over the weekends, when food may not be as readily available at home as it is for them at school. Secret Meals also brings communities together all across the state through a number of fundraising efforts each year. Alabama Credit Union additionally delivers financial education to its members and to students across Alabama. A recent partnership with the University of Alabama helps business school students become certified financial counselors. We are recognizing Alabama Credit Union with our Editor's Choice™ Award for Community Commitment because of these impressive initiatives to improve the lives of Alabama residents.
The idea of any child going hungry is heartbreaking.
And images of hungry children from developing countries are pervasive in the U.S., but the truth is there are many children suffering from hunger right here in America.
In Alabama, a state with a poverty level higher than the national average, 22.5% of children in the state live with food insecurity — that's nearly 1 in 4 children — according to the Alabama Poverty Data Sheet.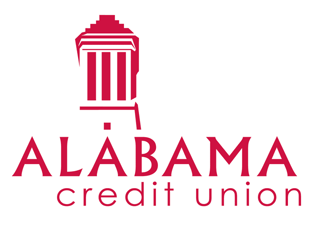 Since 2008, Alabama Credit Union has been doing its part to combat childhood hunger in the state (and into Florida) with a program that provides nutritious food to children on the weekends when they do not have access to free and reduced school lunches.
This impactful program falls right in line with the credit union's long-standing philosophy that includes striving to strengthen the communities it serves and to remember that Alabama Credit Union team members are also part of these communities.
"Alabama Credit Union started in 1956," said Kelley Porter, the institution's Vice President of Member Experience. "We were founded on the University of Alabama campus, and just like most small credit unions we started out with a shoebox of memberships that fit in one desk drawer."
Nearly 65 years later, the credit union maintains 32 branches ranging from the Tennessee state line in the north all the way to Perdido Key, Florida, in the south. Porter said the institution has around 96,000 members and $930 million in assets.
But even as it expanded to encompass many new members and regions, Alabama Credit Union never lost sight of its community-minded spirit and its focus on providing the best experience possible for members.
In addition to its program to feed hungry children, Alabama Credit Union's efforts to give back to the community includes delivering financial education in schools as well as partnering with the University of Alabama to certify its business school students to become financial counselors.
We are recognizing Alabama Credit Union with our Editor's Choice™ Award for Community Commitment because of these initiatives and its clear dedication to improving the lives of residents across Alabama.
Creating Secret Meals for Hungry Children to Feed Underserved Students on the Weekends
Alabama Credit Union's main branch remains in Tuscaloosa, where the University of Alabama is located, Porter said, but the organization works hard to serve its members across the entire state.
"It's worked out well actually because being so spread out is what led us to create our own primary charity," she said. "We wanted to focus our efforts into one main charity, and it felt like, because our branches were spread so far apart, it was hard to do that with national organizations."
As a result, the credit union launched Secret Meals for Hungry Children.
"Many children in Alabama rely heavily on free and reduced breakfasts and lunches five days a week," according to the program website. "However, the weekend creates a nutritional gap leaving many children hungry when they return to school on Monday."
For these food-insecure children in the program, vitamin-fortified, nutritious meals are discreetly slipped into their backpacks each Friday.
"Approximately 2,500 students are receiving Secret Meals food packs across the state of Alabama and into Florida," according to the website. "By partnering with local food banks, we are able to ensure hungry children have reliable access to nutritional food on the weekends."
The average cost is $140 to provide a weekend food pack throughout the school year to one child identified as going hungry.
"Our program focuses on elementary school children," Porter said. "We found that that's where the program works best. The elementary children love receiving the Secret Meals food packs, which have two breakfasts, two lunches, and two snacks in them."
Porter said the program isn't only about the direct benefit of providing the children with food but it also lets them know that somebody is thinking about them over the weekend.
"These are the children (who), if they can't focus on learning during school because they're always focused on their empty stomachs, it can be really hard for them to get to the next level and to change their circumstances," Porter said. "And so that's really our goal with Secret Meals is to allow these kids to focus on school and being kids and not on their tummies."
Raising Money for the Secret Meals Program and Other Volunteer Efforts
Porter said the credit union fundraises about $350,000 each year to support the children in the Hungry Meals program.
"It's all our employees — our employees are just miracle workers. They work so hard to raise money for our Secret Meals program," she said. "We have major fundraisers throughout the year that our employees execute."
Porter said the credit union sponsors the Tuscaloosa Kids Triathlon each year, which raises from $15,000 to $20,000 for the Secret Meals program.
"Athletes 5-16 years of age are eligible to participate. This event is a great way to promote healthy, active lifestyles for kids – while supporting a great cause," according to the program. "The Tuscaloosa Kids Triathlon is sanctioned by USA Triathlon ensuring that all standards for your child's safety are met."
Other events, such as 5k runs and silent auctions are held throughout the year as well.
The Bids, Brews, and Beats Silent Auction at the Flora-Bama Lounge and Oyster Bar is one of the most popular fundraising events, Porter said. The 2019 auction raised about $35,000 for the program, she added.
"Flora-Bama is an interesting little bar on the Florida-Alabama line, and they actually donate their venue for us to use on a Saturday each May for us to do the silent auction," Porter said.
Alabama Credit Union provides all the promotional and operations funding for the Secret Meals program, which means 100% of the funds donated go toward the purchase of food packs.
Porter said these fundraising activities serve to bring communities together in support of a worthy cause. And it inherently raises awareness about Alabama Credit Union.
"Of all the marketing and all the branding we've ever put out, nothing has made as much of an impact as our Secret Meals program," she said. "The communities have really connected with Secret Meals."
While Secret Meals for Hungry Children receives the largest share of attention when it comes to the credit union's charity support, Alabama Credit Union team members also contribute to other organizations that are important to them.
"We pay our employees for 15 community involvement hours throughout each calendar year," Porter said. "We encourage them to work with our Secret Meals program, but they're welcome to volunteer for any charity that they're passionate about."
She said other causes employees have supported include breast cancer awareness and the American Cancer Society.
Delivering Financial Education in Schools and by Partnering with the University of Alabama
Alabama Credit Union's community commitment isn't limited to its Secret Meals for Hungry Children program — the organization also delivers financial education to members and non-members alike.
"We partner with local Junior Achievement organizations across the state and allow our employees to go in and teach those Junior Achievement classes," Porter said.
Junior Achievement is a national organization whose programs help prepare young people for the real world through lessons that illustrate how to generate and effectively manage wealth, create jobs that benefit the community, and apply entrepreneurial thinking to the workplace, according to the organization's website.
Porter said the credit union also provides financial literacy materials in the backpacks of students who are part of the Secret Meals program. It also helps educate them about where to find nutritious meals outside of the school year.
"We make sure that, leading up to the end of the school year, we provide information on where summer feeding programs are going to be available," she said. "So, it's about educating and providing this valuable information along with financial education tips elementary school kids can understand."
The credit union also maintains certified financial counselors on its staff, and members can access their expertise for free at any time. The credit union recently partnered with the University of Alabama as well to help students in the business school become certified financial counselors.
"That's where our roots are — our headquarters are actually still on the university's campus," Porter said. "The program is a partnership between the business school, the UA Wellness Program, and the Alabama Credit Union. We're really excited about getting that launched right now."
Porter said the first group of students have been selected to participate in the program and are expected to complete the exam process in the near future. Once they have completed the program, they will conduct peer-to-peer financial counseling on the university's campus.
Alabama Credit Union's community commitment is made clear through its actions that seek not only to educate both members and non-members, but to make meaningful, real-time positive impact through its Secret Meals for Hungry Children program.
Advertiser Disclosure
CardRates.com is a free online resource that offers valuable content and comparison services to users. To keep this resource 100% free, we receive compensation for referrals for many of the offers listed on the site. Along with key review factors, this compensation may impact how and where products appear across CardRates.com (including, for example, the order in which they appear). CardRates.com does not include the entire universe of available offers. Editorial opinions expressed on the site are strictly our own and are not provided, endorsed, or approved by advertisers.