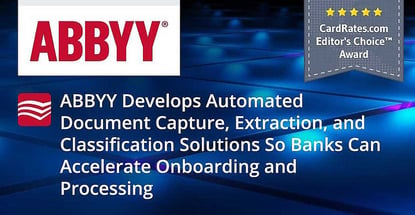 In a Nutshell: For mobile banking technology to deliver the real-time experience consumers expect, it must analyze data as fast as it comes in. That includes capturing all incoming information, whether physical or digital, transforming it into actionable data, and promptly routing it to the appropriate channel. With its solutions for automating document capture, extraction, and classification, ABBYY helps banks accelerate both customer onboarding and processing. The company allows banks to offer users a seamless experience while increasing speed and process integration on the back end. For enabling banks to serve customers more efficiently and securely while reducing risk and costs, ABBYY has earned our Editor's Choice™ Award for banking and financial software automation solutions.
Facing an increasingly competitive marketplace, banks, like other businesses, are looking for ways to boost efficiency and productivity while offering customers faster response times and a more convenient experience across channels.
Seeking to virtualize its mortgage application process by replacing it with a paperless solution, one such bank turned to tools developed by global content intelligence solutions and services provider ABBYY.
The bank successfully automated its mortgage processing workflow with a custom solution based on FlexiCapture, ABBYY's intelligent platform for capturing meaningful data from documents. It gained the ability to digitize more than 22,000 mortgage applications — amounting to more than 5 million physical pages — each year.
Now, the bank's virtualized documents are housed in secure datacenters and flow effortlessly between departments within a custom application environment. Preserving paper documents is no longer necessary, and communication is more streamlined. Customers receive a quicker response and the service benefits of data integration throughout all the organization's departments.
With the improved efficiency achieved with ABBYY-enabled technology, the bank saved its resources for self-financing investments and expansion.
"Banking and financial services are our largest market, and it's easy to understand why — because of the demands of customer onboarding, new account opening, and other use cases in that market where supporting documents are required," said Bruce Orcutt, Senior Vice President of Product Marketing at ABBYY.
FlexiCapture and other ABBYY solutions work not only with paper documents but also with digital document sources like images and PDFs. "Our business is all around transforming text into meaningful data that has business value — wherever the text comes from," Orcutt said. "When the customer submits pay stubs, W-2s, and the like in digital form, we capture those documents and make the data within them available to the business."
Furthermore, the ABBYY technology transforms the customer's mobile device into a more powerful tool that can drastically reduce the friction in interacting with a bank.
For developing automated document capture solutions that help banks lower costs, streamline business processes, and ensure security and regulatory compliance, ABBYY has earned our Editor's Choice™ Award for banking and financial software automation solutions.
Mobile Onboarding Reduces Cost and Simplifies Processes
Customers often experience the mobile-friendly nature of ABBYY technology. At a time when businesses are seeking ways to leverage mobile technology to gain a competitive edge, ABBYY has managed to make the advantages of mobile available to customers who may be hesitant to use their phones to transact financial business.
But they're uneasy not just about privacy and identity theft, but also because applying for financial services, entering personal data, and wrangling identity-verification documents can be a pain in the neck.
"Life would be a lot simpler for banks if every customer was as familiar with the ins and outs of using a phone as the typical millennial," Orcutt said. "But they're not. The challenge is to design a mobile solution that lets the bank build an efficient, cost-reduced onboarding experience that doesn't turn off any of its core constituencies."
Even customers who aren't tech-savvy are still receptive to taking a picture of a document with their mobile device and sending it to the bank. They also see the value of not having to visit the branch and sit down with a loan officer, mortgage broker, or teller. That is why ABBYY helps banks deliver practical mobile options to their customers.
"If you don't make your mobile solution work for all your customers, the ones you abandon will find someone who does," Orcutt said.
Another advantage ABBYY delivers is speedier service. With so many banks competing to respond to loan requests quickly, technology often determines if they gain a customer or lose a loan opportunity to a competitor.
"Bank customers expect speed because that's the way their other apps work for them," Orcutt said. "Banks can deliver on those expectations by leveraging ABBYY to automate the process of digitizing, understanding, validating, and acting on customer information."
Ensuring Seamless Adoption Through Rigorous Testing
Given that customers from all walks of life use a bank's mobile app, it's important for the bank to ensure that its components work seamlessly. If its features are unresponsive, the bank's reputation can suffer — sometimes on a large scale.
"Rolling out a new banking app is risky business," Orcutt said. "A mainstream bank might have 10 million users on its mobile channel, so if the app doesn't work, that's a lot of customers who are going to be touched by that failure. And because things seem to happen almost instantaneously online, any negative customer feedback is going to reach the world at large that much quicker."
Because of this risk to business and brand, ABBYY goes to great lengths to ensure that its technology and platform work as intended, with 100% accuracy and effectiveness. Customers need to use ABBYY technology on the devices they prefer and in their preferred formats, wherever they happen to be.
"We look at every scenario that could happen with an end user," Orcutt said. "We test whether documents can be captured in the bathroom, on the rug, on the sofa. We test all different kinds of backgrounds — people holding things up in the air, in weird lighting. We test it all because that's exactly how people are going to use it."
Encryption and Real-Time Redaction Boost Security
Whether a digital document originates with the user or as a result of an internal conversion, it soon becomes subject to the financial institution's security and compliance environment. After that, the reputation of that institution holds sway over how the security of the document is perceived.
Most financial service companies employ substantial security and compliance teams. ABBYY and its authorized partners work closely with those groups in building custom architectures and solutions.

ABBYY's primary concern is what happens on the way to and from the bank's secure servers, which is why the company uses state-of-the-art end-to-end encryption to ensure the integrity of data until it arrives at its destination.
"FlexiCapture and our other solutions are designed to integrate with many different technologies, platforms, workflows, and processes. Through it all, customer confidentiality has to be protected," Orcutt said. "From the instigation device to the destination server, everything ABBYY touches is encrypted."
In addition, information-redaction technology built into ABBYY products helps banks choose what information culled from document captures is available to employees.
"We build in the ability to selectively redact information because no one wants to wake up and be part of a privacy breach," Orcutt said. "Our technologies are extremely secure and compliant because our customers live in that world. It's just that simple."
Partnering with Banks to Boost the Cognitive Capabilities of Automated Processing
ABBYY automation can help banks serve customers better while boosting margins, just as it did with the bank that digitized its mortgage application process and found enough savings to finance its own expansion. ABBYY has more than 30 years of experience in natural language processing (NLP) and optical character recognition (OCR) technologies, which differentiates it from most other service providers.
ABBYY technologies leverage deep learning methods and artificial intelligence to process text in a way similar to how the human brain would analyze it — only faster and in much higher volume. NLP extracts insights and intelligence from the unstructured text while OCR accurately reads printed text, handles document layouts, and converts text in images into editable text.
"As financial services firms move toward process automation, ABBYY brings meta-cognitive support to in-house automation solutions, automating routine tasks to shrink latency and accelerate. As we like to say, we make the robots smarter," Orcutt said.
That means quicker decisions and the quick responses app-savvy consumers have come to expect, so prospective customers don't abandon applications. For helping banks do a better job of serving customers and the bottom line at the same time, ABBYY has earned our Editor's Choice™ Award for banking and financial software automation solutions.
Advertiser Disclosure
CardRates.com is a free online resource that offers valuable content and comparison services to users. To keep this resource 100% free, we receive compensation for referrals for many of the offers listed on the site. Along with key review factors, this compensation may impact how and where products appear across CardRates.com (including, for example, the order in which they appear). CardRates.com does not include the entire universe of available offers. Editorial opinions expressed on the site are strictly our own and are not provided, endorsed, or approved by advertisers.