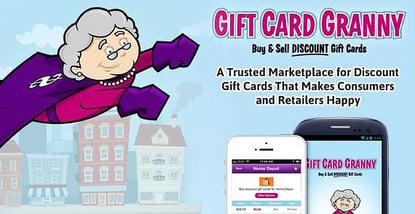 credit card news
Our experts and industry insiders blog the latest news, studies and current events from inside the credit card industry. Our articles follow strict editorial guidelines.
In a Nutshell: Most people, at one point or another, have received an unwanted gift card that ends up going unused. That's why Gift Card Granny, an online discount gift card marketplace, was created to help consumers buy and sell gift cards to auction sites and vendors. Acting as the middleman between buyers and sellers, Gift Card Granny publishes gift-card data that's updated every 15 minutes, so consumers can always find the best prices on the site. Gift Card Granny makes the discount gift card market safer and more secure for consumers. To draw more customers to their stores, retailers can sell discount gift cards directly on the site to market their brands to 1 million unique monthly visitors. All in all, Gift Card Granny gives consumers what they want, while bringing new customers to retailers. 
Receiving an unwanted gift card is almost as bad as getting a pair of socks or pajamas for your birthday. You fake a smile, thank the gift giver, then put it somewhere and forget about it. This happened to me one Christmas when I was 17. I'd received a gift card to a department store I'd never heard of and that wasn't even in my town. Several years later, the gift card is still nestled in my wallet, doomed to collect dust forever.
Today, gift cards aren't confined to gift-card purgatory like mine, thanks to Gift Card Granny, a discount gift card marketplace that connects buyers and sellers. Every year, about $100 billion is spent on gift cards, so Gift Card Granny created a safe environment for shoppers to sell or buy gift cards instead of using sketchy sites like Craigslist. It's not just a win-win scenario for consumers either; retailers have the chance to open doors for new online marketing opportunities by selling gift cards (and, essentially, their brand) to millions of shoppers scouring the site for deals.
I asked Mark Romanelli, the EVP at Wolfe.com, to talk about how Gift Card Granny remains a key player in the discount gift card market by helping consumers get what they want and driving customers to retail brands.
How One Idea Transformed the Discount Gift Card Space
In 2009, Luke Knowles, an Internet entrepreneur, wanted to create a handful of websites — along with memorable mascots — to help consumers save money. After watching Pixar's The Incredibles, Luke assembled his own team of cartoon penny-pinchers called The Frugals, which included Gift Card Granny, to help fight for savings.
Luke noticed a developing new market for discount gift cards and thought it'd be a great idea to consolidate every third-party site into one feed and display the best offers. When Gift Card Granny was launched, shoppers flocked to the site to sell their unwanted gift cards or get great deals on discounted ones. Gift Card Granny became the first site to funnel gift card information into one feed.
"Gift Card Granny, in itself, is kind of unique," Mark said. "There really isn't another site that aggregates all this data."
In 2013, Wolfe.com acquired Gift Card Granny and continued to build the brand's credibility and presence on the web. Every day, consumers can choose from over 96,000 gift cards from 1,000 stores with the satisfaction and security of getting a great deal.
Gift Card Granny Hosts More Than 96,000 Gift Cards from 1,000 Stores
Gift Card Granny acts as a helpful middleman between gift card buyers and sellers. The online marketplace displays the best, most up-to-date offers from auction-site sellers (e.g., SaveYa, Gift Card Spread, and Card Kangaroo) in a centralized feed that is updated every 15 minutes. Consumers can view their options as soon as they search for a specific merchant.
Interested buyers can click on the "Buy Gift Card" tab or use the search bar to look for a brand. Gift Card Granny will immediately pull up the average savings on each gift card — like 8% or 18% — and the number of cards available. Next, consumers can sort by type (plastic or digital), value, discount, and seller to find the best card for them. Once a gift card is selected, the buyer is directed to the seller's site to complete the purchase.
"Our inventory, as you can imagine, sells very quickly," Mark said. "As a user, you can see all the best available cards, sort through them, and look at inventory for online or physical gift cards." 
Sellers who are ready to get rid of unwanted gift cards can click on the "Sell Gift Cards" tab at GiftCardGranny.com and enter the card's merchant, card balance, and select the sell or list option. After the shopper clicks on the "Generate Offers" button, a list of sellers and what they're willing to pay for the gift card appears. Let's say a consumer wants to sell a $50 Kohl's gift card. He or she can find a list of gift card sellers who will pay up to $41 for the gift card.
How the Online Marketplace Incentivizes Buying Discount Gift Cards
Besides its vast gift card inventory, Gift Card Granny's special features keep shoppers coming back for more. By using the site's Google Chrome extension, consumers can shop at their favorite online stores and easily check if there are discount gift cards available. If there's a great deal happening, the shopper can hop on over to Gift Card Granny, buy the gift card, and save on their online purchase.
The Granny Rewards Program incentivizes consumers to earn "Granny rewards" when they purchase cards from sellers marked with a star. As points are accrued, they can be exchanged for bigger discounts or even free gift cards. Although the rewards program just launched in January, it's been a big hit with members.
Gift Card Granny helps thousands of shoppers conduct fast, easy transactions every day. Instead of paying full price or being stuck with unwanted gift cards, the online marketplace created a way to help consumers get what they want, when they want it.
Retailers Reach a Wider Audience with Discount Gift Cards
The gift card market is worth about $130 billion a year, and more than $41 billion in gift cards went unused between 2005 and 2011. Not only are consumers throwing money down the drain, but it's also lost potential revenue for retailers, since most shoppers typically spend an extra 20% over the gift card's value. Gift Card Granny is slowly turning these numbers around as the online marketplace builds consumer awareness for its site.
Your brand can be a part of this growing market when you partner with Gift Card Granny. The online marketplace sends interested customers to your business by "marketing" your discount gift cards. Before Gift Card Granny and other secure discount gift card marketplaces, shoppers resorted to buying and selling gift cards through unsafe outlets — which sometimes resulted in scams. Consumers no longer need to run this risk when they buy and sell gift cards on the web.
"In the past, retailers have been hesitant to work with the secondary gift card market because they felt like it might be discounting their brands," Mark said. "But they are starting to realize that this market is not going away, and there is a demand and value for it."
Offering discount gift cards on Gift Card Granny gets millions of eyeballs on your brand and gives consumers the incentive to buy gift cards. What some retailers don't know is that it's a smart marketing move to get extra business through the door. The online marketplace is a new space to advertise your retail business, with discount gift card buyers waiting to grab a deal and shop at your store.
Why the Discount Gift Card Market isn't Going Anywhere
Gone are the days of wasting unwanted gift cards; the next time I receive a gift card I don't want, I'll head to Gift Card Granny and sell it. There are millions of shoppers like me who are searching for a safe, easy way to get rid of gift cards, and Gift Card Granny is a great solution for this problem.
One million monthly visitors surely means there's a demand for this service, and Gift Card Granny is hard at work to bring the best buying-and-selling experience to consumers. Shoppers trust the site's gift-card recommendations (which could be your brand's), so retailers shouldn't miss out on marketing to this community of consumers — especially when 55% of recipients need more than one shopping trip to spend a gift card's entire balance. Partner with Gift Card Granny today, and start selling discount gift cards to millions of shoppers who're eager to discover and shop at your brand.
"This industry has been growing," Mark said. "We're trying to work with our partners and retailers to help make it a better consumer experience."