Store Credit Card
Opinions expressed here are ours alone, and are not provided, endorsed, or approved by any issuer. Site may be compensated through the issuer affiliate programs.
Originally founded as a children's furniture store in 1948, the Toys"R"Us we know today began in 1957, and gained its iconic giraffe mascot, Geoffrey, in 1969. Today's Toys"R"Us reigned supreme in the niche retail toy market for many years, with the franchise expanding into over 850 US locations and more than 750 international stores.
Usable only at Toys"R"Us and its subsidiary, Babies"R"Us, the "R"Us Credit Card is designed for regular Toys"R"Us shoppers who want to save on toy purchases for the children — or children at heart — in their lives. While the rewards offered by the "R"Us card can increase the fun with points for every card purchase, the card's high interest rate makes carrying a balance on the "R"Us Card a decidedly unfun experience.
Better Cards to Use at Toys"R"Us
While it's true that few places can compete with the vast selection of toys that you can find in every nook and cranny of Toys"R"Us, a good number of credit cards can compete with the "R"Us Credit Card's limited usability, giving you rewards you can earn — and redeem — on far more than toys. And if you're looking for a card you can carry your holiday balance on, keep looking; the "R"Us Credit Card's high APR makes it a poor choice for toy purchases you need to pay off over time.
Indeed, unless you regularly fill your cart at Toys"R"Us, or intend to make a large purchase that will take full advantage of the signup discount, the "R"Us Credit Card doesn't offer a lot to the typical shopper. An all-purpose credit card with flexible rewards or a great APR deal will likely be a better addition to your wallet.
Cash Back
No matter how much money you spend in the hallowed halls of Toys"R"Us, the chances are pretty good your family spends more on the everyday necessities — you know, little things like gas and groceries — than on games and toys. So, wouldn't it be nice if you could earn (and redeem) rewards on the things you actually spend your money on? With a quality cash back credit card, you can earn significant rewards on the purchases you make the most.
at Chase'ssecure website
New Offer! Double Cash Back: Earn 3% cash back on all purchases in your first year up to $20,000 spent. After that earn unlimited 1.5% cash back on all purchases.
0% Intro APR for 15 months from account opening on purchases and balance transfers, then a variable APR of 17.24-25.99%. Balance transfer fee is 3% of the amount transferred, $5 minimum
No minimum to redeem for cash back
Cash Back rewards do not expire as long as your account is open
Free credit score, updated weekly with Credit Journey℠
No annual fee
| | | | | |
| --- | --- | --- | --- | --- |
| 0% Intro APR on Purchases 15 months | 0% Intro APR on Balance Transfers 15 months | | | |
0% APR
With a subprime-level 26.99% APR, carrying a balance on the "R"Us Credit Card is a good way to turn a pricey holiday season into a really expensive new year when interest fees start piling on top of your balance. A better way to charge toys you need to pay off over time is to use an introductory credit card deal with 0% APR for 12 months or more. With a good APR offer, you can enjoy your new purchases as much as the kids (and kids-at-heart) do.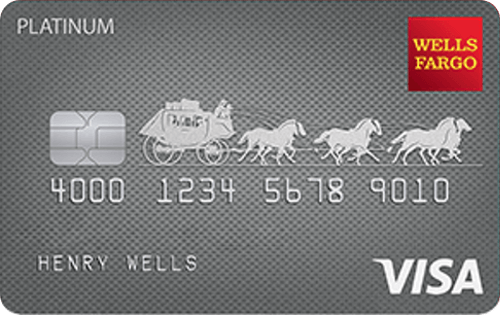 at Wells Fargo'ssecure website
0% Intro APR for 18 months on purchases and balance transfers (fees apply), then a 13.74%-27.24% variable APR; balance transfers made within 120 days qualify for the intro rate and fee
Get up to $600 protection on your cell phone (subject to $25 deductible) against covered damage or theft when you pay your monthly cellular telephone bill with your Wells Fargo Platinum Visa card
Easy access to your FICO® Credit Score with Wells Fargo Online®
Zero Liability protection for promptly reported unauthorized transactions
Convenient tools to help create a budget and manage your spending with My Money Map
$0 Annual Fee
| | | | | |
| --- | --- | --- | --- | --- |
| | 0% for 18 months on qualifying balance transfers | | | |
Travel Rewards
The look on a child's face (no matter their age) when they open a new toy is often priceless. So priceless, in fact, that about the only thing that can make it better is knowing you earned travel rewards on those toy purchases that'll put you on a sunny, tropical beach in no time. With a great travel rewards credit card, every building block and board game can add to your points or miles, earning you free flights and hotel stays that can bring the new-toy look to your face.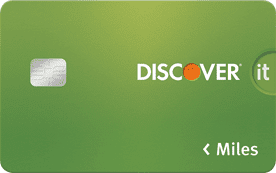 at Discover Card'ssecure website
INTRO OFFER: Discover will match ALL the Miles you've earned at the end of your first year, automatically. For example, if you earn 35,000 Miles, you get 70,000 Miles. That's $700 towards travel!
Earn unlimited 1.5x Miles for every dollar spent on all purchases all with no annual fee.
No Blackout Dates - fly any airline, stay at any hotel.
Redeem your Miles as a statement credit towards travel purchases.
Freeze your account in seconds with an on/off switch either on the mobile app or website to prevent new purchases, cash advances, and balance transfers.
Get your free Credit Scorecard with your FICO® Credit Score, number of recent inquiries and more.
When it comes to sheer fun, it's hard to beat a new toy. What isn't fun is dealing with a bunch of limits and restrictions on when, where, and how you can earn and redeem your credit card rewards for that toy — all on top of an APR that can put a damper on any party. For the average consumers, an open-loop rewards or low-APR credit card will not only be more useful, but more valuable, as well.
What Others Say About the Toys"R"Us Credit Card
The "R"Us Credit Card is generally popular, particularly among parents with small children. Some reviewers find the customer service lacking, however, and some find it inconvenient that you can't pay your credit card bill in-store. Everyone agrees you should pay your balance off quickly to avoid the high interest fees.

A review from WalletHub.com says:
"
We got this card for Christmastime. I had just started a new job and had yet to be paid, so we were running tight on cash for this time of year. The Toys"R"Us I applied at was very helpful and even took the time to immediately run it (even though they were SWAMPED) to get it all sorted out immediately. I was able to complete my Christmas shopping that day and it really reduced my holiday stress. The card itself has decent terms, just pay it off quickly. Also, don' t ever miss a payment! I was one day late and received two phone calls. I appreciated the reminder, but I don't want to even think about being a month or more late! — WalletHub.com
"

A review from CompareCards.com says:
"
With this card, you earn rewards on your purchases at Toys"R"Us stores at a rate of two points per every dollar spent, and 125 points are worth $5. There is no annual fee, either. You also get access to exclusive sales and advance notice of special sales and promotions. You earn up to 10% back on purchases made with the baby registry at Toys"R"Us, and offers related to the store's birthday club. The purchase APR is 26.99%, which is very high, so carrying a balance will be quite expensive. The card is only useful as a charge card at Toys"R"Us stores because it is not a full-fledged credit card like the Mastercard offered by Toys"R"Us. If you shop often at Toys"R"Us this card offers you ways to earn rewards to save money on future purchases, but if you carry a balance the APR charged will probably effectively undermine those savings. — CompareCards.com
"

A review from AskMrCreditCard.com says:
"
When you apply for the "R"Us Mastercard credit card, you may not get approved for it if your credit is not good enough. If that is the case, then you may be approved for just the store card. Key question is: what is the difference between the store card and the Mastercard? The first obvious difference is that the store card can only be used at Toys"R"Us or Babies"R"Us, unlike the Mastercard, which can be used anywhere. And because you are limited to where you can use it, you will not be able to rack up as many points as you like. The second difference is that you will not earn any points if you use the card for any store financing promotions. But aside from that, the reward formula remains the same. That means that you can still earn two points per dollar on eligible purchases. And that includes V.I.B. (Very Important Baby) card loads and all gift cards, video games, video game hardware, video game accessories, Apple products, diapers, wipes, formula and food purchases (unlike just being a "R"US member). Like the Mastercard, you can also earn up to $150 in reward dollars a month (I recall that it is mailed to you every month — takes about 8 weeks to arrive though). Anything you earn in excess of this is rolled over to the next month. — AskMrCreditCard.com
"
Is the Toys"R"Us Card Right for You?
If your children — or children-at-heart — go bananas for the newest Toys"R"Us catalog and you're in the store so often that even Geoffrey the Giraffe knows your name, then the "R"Us Credit Card might be a valuable addition to your wallet. The weekly discount and rewards points on eligible purchases can add up quickly for regular shoppers, making buying toys almost as fun as playing with them.
For anyone whose gift-buying doesn't center around toys, or who simply prefers to purchase them elsewhere, the "R"Us Credit Card's closed-loop limitations and high APR make it a poor choice. Instead, choose a card that offers perks more useful outside the playroom, such as cash back rewards or interest-free purchases.