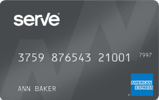 at the issuer'ssecure website
Get rewarded with unlimited 1% Cash Back when you spend money in stores or online. The funds are available to add to your account as soon as the transaction settles with us, so you don't have to wait to enjoy the rewards.
Unlike many other reward programs, you can decide when you use your cash back. You can apply it to your Account every day you earn it or keep it aside to save it for later.
You can withdraw your money without a fee at over 30,000 MoneyPass® ATM locations nationwide.
Can't find your Serve card? No need to worry - you can quickly freeze it while you look for it and unfreeze it when you find it. And for extra reassurance, know you won't be held responsible for fraudulent charges.
With Emergency Assistance, you can get select access to select emergency coordination and assistance services when you're traveling more than 100 miles from home.
Amex Offers provide a range of offers – shopping, dining, and more – from places you love. It's easy and free.