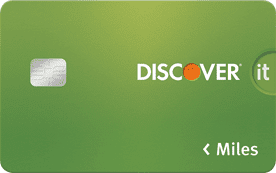 at Discover Card'ssecure website
We'll match all the Miles you've earned at the end of your first year. For example, if you earn 30,000 Miles, you get 60,000 Miles.
Unlimited 1.5x Miles per dollar on all purchases, every day, with no annual fee.
No Blackout Dates - fly any airline, stay at any hotel.
Redeem your Miles as a statement credit towards travel purchases.
Freeze your account in seconds with an on/off switch either on the mobile app or website to prevent new purchases, cash advances, and balance transfers.
Get your free Credit Scorecard with your FICO® Credit Score, number of recent inquiries and more.
Receive FREE Social Security number alerts-Discover will monitor thousands of risky websites when you sign up.
No Annual Fee.
Click "APPLY NOW" to see rates, rewards, FICO® Credit Score terms, Discover Match® details & other information.