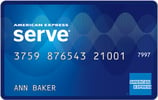 at the issuer'ssecure website
Enjoy FREE withdrawals at over 30,000 MoneyPass® ATM locations nationwide. You can also use non MoneyPass® ATMs, but fees may apply
Get access to your money up to 2 days faster with early Direct Deposit
With Serve, you can pay anyone, anytime. Use FREE Online Bill Pay or Write a Check online and we'll mail it to anyone you need to pay.
Check your balance and recent transactions, pay bills on the go, add checks, get SMS text alerts, and send money to family or friends who have a Serve Account
No credit check, no minimum balance, no hidden fees
Transfer cash to anyone from anywhere. Cash is ready for pickup in minutes.