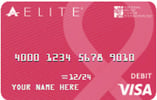 at the issuer'ssecure website
Manage and control your money on one convenient reloadable prepaid card
Get paid up to 2 days faster with direct deposit
No-fee cash withdraws of up to $100  per day at participating ACE locations when you have regular direct deposit activity
Make unlimited purchase transactions for only $5 a month. To qualify for this low monthly rate, direct deposit $500 or more to your Card Account in one calendar month.
Choose from 3 card designs
As a cardholder, you can open a Tiered Optional Savings Account. Balances up to $1,000.00 currently earn up to 5.00% annual percentage yield. No minimum balance required.