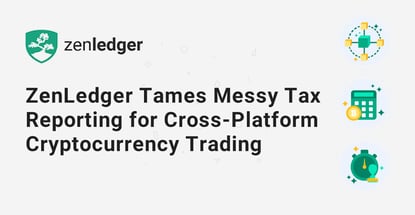 credit card news
Our experts and industry insiders blog the latest news, studies and current events from inside the credit card industry. Our articles follow strict editorial guidelines.
In a Nutshell: Seattle-based ZenLedger offers tax reporting software as a service (SAAS) for cryptocurrency investors and traders. It provides transaction tracking, profit/loss calculation, and tax-form generation for the full range of coins, currencies, exchanges, and wallets. ZenLedger is equally suitable for individual traders and for CPAs supporting multiple crypto investors. In less than three years, ZenLedger has parlayed sophisticated software, strategic partnerships, and world-class customer support into a position of leadership in the crypto service market.
Cryptocurrency investors must navigate a complex web of coins, currencies, wallets, exchanges, and regulations to profit from their activities. For these investors, anything that simplifies things is welcome, including tax reporting.
ZenLedger tax software-as-a-service (SAAS) was created to make cryptocurrency tax reporting easy.
"Our founders started the company with the goal of providing the easiest and most accurate crypto tax software. And, really, it came from a struggle of trying to find a product for ourselves," said Dan Hannum, ZenLedger COO. "So back in 2014-2015 and even in early 2016, we were trying to use Excel spreadsheets, Google Sheets, and Notepad to record when we bought and sold assets.
"The genesis of ZenLedger really came about because we were frustrated that there wasn't an easy-to-use product that did what we needed. We developed a product to help individual cryptocurrency investors and CPAs with their cryptocurrency accounting and taxation," he explained.
ZenLedger Partners with TurboTax and Gordon Law Group to Provide Extensive Accounting Capabilities
The founders quickly realized that ZenLedger would need to be feature-rich to fulfill its promise. One of its most strategic decisions was to partner with TurboTax, giving filers one-click integration. ZenLedger also provides full support to CPAs.
"We partnered with Gordon Law Group, which is an accountancy and CPA firm based in Chicago, to provide fully prepared plans," said Hannum. "Not only do we provide the best do-it-yourself crypto tax platform and CPA suite, but we've also partnered with this premiere firm to provide customers with professional tax services who will custom handle returns."
Hannum explained that ZenLedger has customized solutions for its diverse customer base because each customer has varying needs. For example, some of its clients already have an accountant and may not be looking to find a new one.
"We have customers of all shapes and sizes. We have customers that have their own CPA and have their own accountant. And for them, we've built out our free CPA Suite," said Hannum. "If some of our customers have an accountant, they're not looking to switch. They can actually invite their CPA to use our software at no additional cost. And the CPA can either log in and print off their forms and include them with their filings. Or the CPA matches facilitatory reporting and printing off the forms."
CPA Suite is the ZenLedger platform that allows CPAs to maintain transactions, figure gains and losses, and generate tax forms. Grand Unified Accounting allows users to export comprehensive spreadsheets with details of each transaction.
A CPA can use the drill-down spreadsheet to stitch together transactions across exchanges and wallets. A single screen contains all customer buys, sells, and holdings, with the provision for marking airdrops, forks, and lost or stolen currencies.
ZenLedger offers different price points — including its newly launched Free Plan — for its multitier packages. All of its plans include robust features such as:
FinCEN reporting: For reporting certain foreign-exchange holdings, such as Kucoin and Binance.
EOS ICO support: Tracks pre-ICO EOS transactions, whether unstaked or moved between EOS and ETH wallets.
Tax loss harvesting tool: Specifies unrealized capital losses for each token type.
The new Free Plan is ideal for crypto investors with a limited number of transactions (25 transactions or fewer per year).
The Free Plan gives you access to all great features included in paid plans, including all popular IRS forms — auto-filled and ready to submit to the IRS, full audit report, all exchanges and wallets, 30+ blockchains (more than any other crypto tax software), HIFO/FIFO/LIFO methods, tax loss harvesting report, 24/7 customer support, and more.
"Crypto traders really just want to make sure that a tax professional or tax attorney ultimately reviews and signs off on trades, especially ones that involve confusing elements and unique tax codes," said Hannum.
Support for 400 Exchanges, 5k+ Coins, and Every Wallet on the Market Today, with New Partnerships Upcoming
To be a universal tax solution for crypto investors, ZenLedger supports more than 400 exchanges and 5,000 coins, as well as every wallet currently available. The company has aggressively pursued partnerships that extend ZenLedger's capabilities.
"We just confirmed a partnership with Lolli, which we're very excited about," said Hannum. "We allow our customers that use Lolli to generate an itemized form and simply drag and drop it right into our software. We'll integrate this feature with any exchange, wallet, or anything else customers may use, whether it's Celsius or BlockFi or Nexo or other kinds of unique providers in this space."
ZenLedger has established other important partnerships, including those with Delphi Digital, one of the best crypto research boutiques, and Staked, a provider of block product nodes for decentralized PoS protocols.
Look for future partnership announcements as ZenLedger extends its functionality across the entire crypto world.
Standout 24/7 Support Gives ZenLedger High Customer Satisfaction Scores
ZenLedger is committed to high-quality customer support, and is available 24/7 via text, chat, phone call or email, for all of its customers. Hannum explains how ZenLedger support differs from that offered by competitors:
"It's shocking, at least in my opinion, that not only do our competitors not offer support, but some of them will use it only as a sales tactic. So, if you subscribe to their highest price plan, then you'll get some support," said Hannum. "We believe that everyone should have support, especially with crypto and taxes. Most people are very confused about crypto. Most people are very confused with taxes. You mix them together and they get their mind blown."

Hannum said ZenLedger aims to ensure that it not only provides the easiest, most accurate software, but that it is always available to answer its users' questions.
"I think our customer service is definitely something that makes us stand apart. And especially important, we offer it for all of our tiers. So, whether you're a customer that's using a free plan or one of our largest customers, you can reach us at any time."