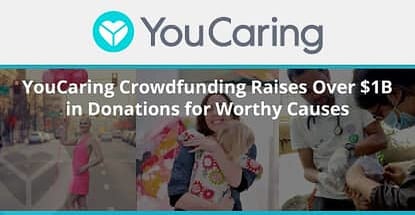 credit card news
Our experts and industry insiders blog the latest news, studies and current events from inside the credit card industry. Our articles follow strict editorial guidelines.
In a Nutshell: Individuals and organizations looking to raise money for their cause or charity have several options when choosing an online crowdfunding platform for their campaign. Several niche crowdfunding websites emerged over the last three years, but YouCaring.com remains one of the only free platforms for nonprofits and individuals to raise money for medical, personal, or community needs. Credit card processing fees for donations, which include a 2.9% charge and $0.30 per transaction, are added to the donation total so 100% of each contribution goes to the fundraiser's beneficiary. The platform has helped raise more than $1 billion to date in donations to fund causes around the globe.
Professional football superstar J.J. Watt was one of the millions of Houston residents who witnessed firsthand the devastation Hurricane Harvey caused in the community and surrounding areas. But, with a platform much larger than the average Houstonian, he knewhe could do something to help those who had not fared as well as he had in the storm.
While many online peer-to-peer crowdfunding platforms are available for a host of causes, Watt chose to raise funds for Houston's relief efforts on YouCaring.com, in part because the website is one of the only free platforms for nonprofits.
Watt started with a goal of raising $300,000. Within two months, the global donations eclipsed $37 million.
Watt's campaign is just one of the thousands of examples of how people from all parts of the world use the YouCaring platform to rally around those affected by natural disasters, medical issues, and hard times. To date, the platform's donors have contributed more than $1 billion to worthy causes.
"We refer to ourselves as a compassionate crowdfunding platform," said Austin Kapur, Communications Manager at YouCaring. "We harness the power of technology to enable the age-old practice of people supporting each other in times of need."

Fundraisers pay no fees and receive 100% of every donation made on YouCaring because donors pay the credit card processing fees of $0.30 plus 2.9% of the donation total. Donors also have the option of adding to their contribution to help fund YouCaring's operations, which have grown exponentially since its 2011 launch.
The explosion in giving surpassed what Brock Ketcher, Naomi Ketcher, and Luke Miner envisioned when they returned to the US, inspired after two years of international mission trips. The three friends decided to create the free crowdfunding platform as a way of giving back. Today, the site is a top destination for donors to find and fund campaigns as diverse as medical treatments for animals to helping displaced families find new homes and creating memorial foundations for lost loved ones.
"We focus on empowering people who are facing hardship to hopefully rally some emotional, financial, and social support from friends, family, and community members," Kapur said.
That empowerment expanded in April 2018, when YouCaring was acquired by social fundraising giant GoFundMe, further growing its network of nonprofit and individual causes.
YouCaring Carefully Vets Each Campaign for Legitimacy
More than one-third of YouCaring's staff works in the Trust and Safety or Customer Service departments to help donors feel confident the proper beneficiary receives all the donated money.  YouCaring makes certain to closely vet the credentials of each of the hundreds of campaigns seeking financial help.
"Our team looks at each fundraiser to make sure people are really raising funds for what they say they're raising funds for," Kapur said. "It's very important that anyone who sets up a fundraiser is very clear in providing where the funds will be going and their intended use."
The team also researches to make sure the stated cost of every project or procedure for which donations are being requested is correct. This can be a difficult task for organizations seeking funds for large-scale operations, but a more cut-and-dried process for individuals seeking assistance.
"For a personal fundraiser, it's important to be very specific as to where the funds are going and what you're raising the funds for," Kapur said.
Kapur noted that many individuals hold fundraisers for the benefit of a family member, friend, or someone in their community. A prominent example of this is the Draylen Mason Memorial Fund, started by a relative of the 17-year-old music student who was killed when a package bomb left out his Austin, Texas, home exploded in March 2018.
Before such campaigns go live, YouCaring uses the full resources of its staff to be certain each fundraiser connects to the proper beneficiaries.
"We have ways to check if that person truly is connected to that beneficiary," Kapur said. "We have several processes in place to see exactly how a person is connected to the cause to make sure the funds are actually going to who they say they're going to."
Large Fundraisers Rally Support Around Tragic Situations
Aside from Watt's campaign to help hurricane victims in Houston, several other celebrities have turned to YouCaring to raise money to aid their native lands after natural disasters.
Among the most successful fundraisers was singer Ricky Martin's campaign to help Puerto Rico recover from the massive damage inflicted by multiple hurricanes in 2017. Former professional basketball player Tim Duncan has raised nearly $3 million to date in a similar fundraiser for his native US Virgin Islands.
"All of the celebrity-led campaigns that were centered around recent natural disasters were started on their own, in part because YouCaring is the only free platform for raising funds for nonprofits," Kapur said. "Most of our fundraisers come to us in an organic way, but we do look for opportunities to partner with people to promote causes and issues they are passionate about."
The power of the YouCaring platform was on display in 2014 when a memorial fund campaign established for 9-year-old Riley Sandler, who had died months earlier from respiratory arrest while at camp, quickly doubled its initial $1 million goal. It has since evolved in its mission and purpose.
"The fund just took off and became a foundation," Kapur said. "They now raise funds to apply to research for children who have similar conditions to bring joy and relief to their lives."
Each YouCaring campaign page features a button that allows users to easily share a fundraiser on social media. These platforms — like Facebook and Twitter — are a major source of publicity for fundraisers and, according to YouCaring, yield an average of $37 in donations per share.
"Our biggest influx in traffic always comes from social media," Kapur said. "Traditional media is probably our second largest source of traffic when a larger fundraiser gets picked up by the press. After that, traffic trickles down to organic searches or the featured causes on our website."
"Everyone Can Make a Difference Through Philanthropy"
Over the last six years, YouCaring has grown from an inspired idea into a platform that raised more than $1 billion in donations to effect real change within communities around the world.
Along the way, the company never lost sight of the original mission created by its three co-founders.
"Since day one, YouCaring has been fueled by a desire to maximize social impact and leverage its business as a source of good," Kapur said. "We're a Certified B Corporation, which requires us to meet very high standards of transparency, accountability, sustainability, and performance. That certification is an extension of our mission, which is to help those who are facing hardships so they don't feel like they're alone. Everyone can make a difference through philanthropy."
Credit card processing fees are added to donation totals, meaning 100% of every dollar given goes to the beneficiary of the fundraiser. Thousands of worthy causes choose to list their causes on YouCaring since it is one of the few remaining free platforms for nonprofits to raise money.
"We've been free from the beginning, and we will always be free," Kapur said. "Other platforms have changed their fee structure, but that's not what we believe in and not what this platform was created to do. We want to make sure as much money gets into the pockets of the people who need it the most."