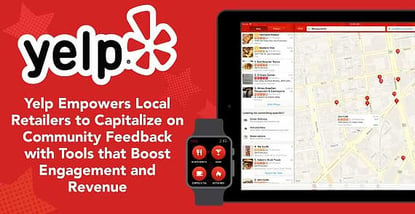 credit card news
Our experts and industry insiders blog the latest news, studies and current events from inside the credit card industry. Our articles follow strict editorial guidelines.
In a Nutshell: As consumers gain more control of the retail journey, they frequently turn to their peers for advice on everything from clothing to food. Yelp has capitalized on that consumer desire by allowing users to research and review local businesses — and the company has exploded in popularity since its founding in 2004. It has also become a destination for businesses to attract and convert customers through a mix of marketing and customer engagement tools. Once a business claims its Yelp page, it has access to a host of features — including analytics, cost-effective ads, and coupon capabilities — to start boosting revenue immediately.
There is no debating the fact that, in today's retail world, the consumer is firmly in control. And while some businesses still try to lead customers on a preordained path, others are finding a way to embrace consumer sentiment and grow around their desires.
Well before the connected consumer experience became what it is now, Yelp was founded as a company designed to amplify the voices of customers through review pages for even the smallest of local businesses.
When the company began in 2004, online reviews were in their infancy and mostly focused on particular products. Yelp differentiated itself from the start by giving users the ability to rate experiences with local businesses on a one- to five-star scale — and giving those businesses the opportunity to respond.
The ratings can make a huge impact on a retailer's bottom line, especially if they continue to keep customers satisfied. A study from the Harvard Business School showed that a half-star rating increase on Yelp could lead to a 5%-9% increase in revenue. But businesses that help curate the Yelp experience see even more benefits.
"One of the most ROI-positive things that a retail business can do is claim its Yelp page at biz.yelp.com," said Darnell Holloway, Director of Local Business Outreach at Yelp. "It is free, and a retailer gains access to tools for responding to reviews, creating a business profile, adding photos, and engaging with customers, among others."
Companies that claim a page see an average revenue lift of $8,000 a year, and the reason is that Yelp users are often at the bottom of the conversion funnel — which means they're ready to buy right now. The ability to connect with those users is vital, and Yelp is active in developing and nurturing communities of consumers who are willing to share.
How Local Consumer Communities Build from the Ground Up
The restaurant industry was the earliest beneficiary of Yelp's review model, but in the last few years, retail has become the most reviewed category on the site. Combined, the two categories are responsible for 40% of the overall reviews on Yelp, which speaks to the variety of products and services that are reviewable.
The broad scope is meant to bring in as many local shoppers as possible to both browse and write reviews for the businesses they visit. Yelp's primary goal is to foster community engagement in every city.
"Community is the most powerful component of Yelp because our goal is to build an activated network of people who are enthusiastic about local businesses," Darnell told us. "And by having a presence on the site, businesses are immediately plugged into that community."
Many review sites source their content from other internet sites or incentivize consumers to provide feedback, which leads to less meaningful results for both end-users and businesses. Yelp takes a more organic approach, activating users by getting them excited about local retailers.
"Our approach is to have a strong community manager in every single market whose job it is to connect people and get them excited about writing reviews and sharing their experiences," Darnell said.
That strong focus on the community can translate into revenue for businesses, especially ones that know how to stay engaged with a local customer base.
Engage with Active Shoppers to Boost Your Conversions
The notion of success breeding success is particularly true in the case of Yelp, as community connection and positive reviews can lead directly to high rankings in search results. But it all starts with a business being proactive about its page — including content.
"Local businesses should focus on generating reviews organically with good customer service and adding informative content to fill out their business page. Consumers are likely to find a business on Yelp via the mobile app or in web search, and because there is such a large amount of organic content on Yelp, their business page may also rank higher in Google search," Darnell said. "A lot of times, consumers are more likely to find a retailer's Yelp page than a business's own website."
And when people find a business on Yelp, the site gives them the ability to contact a company directly through its message feature — which results in solid leads and conversions for retailers. In addition, active involvement with Yelp keeps businesses connected to potential customers on mobile devices who may be close to buying.
"If I am looking at a business on Yelp from my mobile device, there is a good chance I will end up visiting that business before I go home," Darnell told us. "So it is a compelling value proposition to engage with users on Yelp because that connection can have a profound impact on conversions."
Yelp boasts 26 million mobile app users, and 68% of its overall searches come from mobile devices, meaning its users are on the move. And the fact that 50% of Yelp's content is generated from its app also shows that users are always ready to share their experiences from anywhere.
Retailers that are prepared to respond to questions, issues, and trends can quickly be rewarded with a rating that reflects their commitment to consumers. And Yelp provides the tools that businesses need to respond and adapt to any situation that comes along.
Analytics & Promotional Tools to Make the Most of Your Page
One of the most valuable features Yelp provides for businesses is the ability to respond to consumer feedback and create a dialogue. Darnell says a diplomatic response to a negative review can often have a very positive impact.
"We found that if a business can respond to a negative review within 24 hours, the probability of that review being revised by two stars in its favor increases by 33%," he said. "So it is important for businesses to respond to reviews quickly — and, of course, diplomatically."
Beyond responding, though, Yelp has a suite of tools to give retailers a complete picture of how consumers are interacting with their pages. Through a dedicated dashboard, businesses can see pageviews, customer leads, and other analytics like customer activity and desktop and mobile trends.
With enhanced tools, retailers can place ads, use call-to-action buttons, and even keep competitor's ads from showing up on their pages. Ads help businesses capitalize on analytics, and Yelp makes them cost-effective with a variety of different options and levels — including per-click. A special dashboard is also provided where retailers can discover exactly how much traffic ad buys drive.
"Our analytics tools can show how many people clicked to call a business, bookmarked it, or transitioned to its website," Darnell told us. "Yelp's activity feed shows, in real time, how consumers are engaging with a business."
Also, the site offers ways for businesses to drive conversions through on-page coupon capabilities. A retailer can place a coupon or deal on its Yelp page and maintain complete control over the experience with the ability to modify the terms in real time. The company is even working on ways to help retailers push deals and notifications to customers inside a store through a new venture called Yelp Wifi, which will connect businesses and consumers through an in-store wireless connection.
In addition, Yelp offers booking capabilities for restaurants as part of its commitment to help consumers act quickly on information. By connecting potential customers to peer-reviewed retailers, that action becomes much more probable.
Be More Responsive to Shoppers Through Your Yelp Listing
Yelp takes the notion of customer control to the next level by enabling people to review and research local businesses. In turn, Yelp gives small retailers access to a community of engaged consumers to serve. The site also makes the process simple and begins boosting ROI with three initial steps.
"The first step is a business adding at least 10 photos to its Yelp profile," Darnell told us. "We have found the more pictures a business has, the more likely they are to accelerate their rate of reviews. The next tasks are to fill out a profile completely, and respond to reviews."
By starting with those three small — and free — steps, a business can begin to harness the power of Yelp, which has become a favorite destination for information on local retailers and restaurants.
And Yelp gives businesses the option to build on that organic growth with paid tools like ads, which can further drive conversions — as seen through its analytics dashboard. Yelp is a powerful consumer resource that businesses can also use to realize results — as long as they remain committed to engaging with customers and meeting their needs.