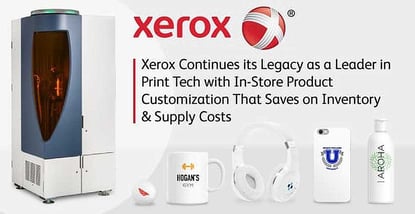 credit card news
Our experts and industry insiders blog the latest news, studies and current events from inside the credit card industry. Our articles follow strict editorial guidelines.
In a Nutshell: Xerox may be a household name thanks to its legacy of printing products, but these days it's not the company you might expect. Dedicated to pioneering innovation, Xerox is bridging digital and physical with its Direct to Object Inkjet Printer. The solution offers merchants the opportunity to customize physical objects in store according to digital specifications. With implications ranging from customized basketballs to personalized-on-the-spot souvenirs at gift shops, Xerox's latest offering cuts down on overstock and supply chain costs while creating a unique customer experience — results any retailer can get behind.
Product customization is a big topic in retail — and for good reason. Consumers have begun to expect a personalized experience from merchants and the products they offer. A study by Bain noted businesses that offer customization on their merchandise see an increase in customer engagement and satisfaction.
The study showed that returns on customized products can be significant. Using online shoe sales as an example, Bain found if 25% of footwear sold online were customized, the market would grow by $2 billion per year. Being able to tailor products to desired specifications works to narrow a focus on the individual consumer and create personalized experiences, which can lead to huge ROI for retailers.
That's exactly what Xerox has in mind with its new Direct to Object Inkjet Printer. The new printer's footprint enables it to be displayed directly on a retail sales floor, and its window draws shoppers by allowing them to watch their products get customized on the spot.
Kerry Sanders, Xerox's SVP of Commercial Excellence, told us it's all about providing consumers a vehicle to express themselves.
"We all have a digital narrative," Kerry said. "But the more we can express that physically, the more meaning we'll have in our lives."
Direct to Object printing is a game-changer in that it allows retailers to personalize almost any type of merchandise on site. Merchants can keep an inventory of "blanks" that can be tailored to a customer's specifications, which ensures businesses aren't housing products in their storerooms that aren't going to move. Plus, this kind of printing empowers retailers to provide the kind of meaningful customer experience Kerry alluded to.
Provide a Unique Customer Experience with Printed Personalization on Almost Any Product
Kerry explained that Xerox's new technology can personalize virtually any 3D object, from basketballs to bottle caps and souvenirs.
"People can buy glasses that are personalized and customized,'" Kerry said, "From customized events to sports teams, retailers are just dying for that kind of thing."
He was quick to point out the beauty of the solution lies in its versatility. Put simply, rather than having to purchase 10,000 personalized shot glasses, companies can now print them on the spot — with hyper-specific messages to commemorate anything from a 21st birthday to a bachelor party weekend.
Because of the printer's size, it can be displayed right on the sales floor, so customers can watch as their souvenirs print before their eyes in a matter of seconds. A memorable experience for them, certainly, which also means big changes for retail businesses.
"We're printing directly to objects," Kerry said. "It's full color and UV ink so it's permanent. We're printing on a rounded surface, which is interesting to a lot of applications. The ability to personalize and customize right there, in store, is great for these retailers because that's going to add margin to the overall deal."
On-Site Customization Saves on Supply Chain Costs & Reduces Inventory Overstock
Today's consumers love a customized experience, and they'll pay for it. The opportunity to personalize products has huge implications for that experience, but Kerry argued this solution also frees retailers from the problems that arise due to high overhead and printing costs.
"If you're selling a football and you add a personalized message on it, you can add $1o to $20 to the price. Depending on the volume, the run cost could be only a couple bucks and the rest is margin," Kerry said.
But beyond that obvious perk, printing on demand means reducing supply chain and inventory issues as well. Direct to Object printing creates much more variability for retailers on what they can offer customers without incurring unnecessary overstock of the same merchandise.
"The difference is that right now people have to order 12,000 of a screen-printed product that then sits in a warehouse, and retailers can only hope they sell all of them," Kerry said. "With the Direct to Object Inkjet Printer, you can stock 50,000 blanks and then, as the orders come in, you personalize and ship them."
How Printing Technology Evolved into Smart Labels and Digital Packaging for Merchants
As the world becomes increasingly more connected and digitized, Kerry said Xerox plans to stay true to its mission in "innovating the way the world communicates, connects, and works." To embrace an increasingly digital market, the company pushes itself to explore what it means to "print."
Once it solved customized, direct to object printing, Xerox moved on to other innovative projects like smart packaging — printed circuits that allow retailers and consumers to digitally track a product across the supply chain.
While that may sound like a concept from a Philip K. Dick novel, in this case, it's not sci-fi — it's just the newest technology out of Xerox.
"We're using a printing process to manufacture instead of just print," Kerry explained. "So we're manufacturing electronics through printing technology, and what you'll see this evolve to is some sort of a smart label. The smart label could have some sort of memory component; it could have an antenna, a display, a sensor."
But what are the real-world implications of that exactly? Kerry described an experience we've all had: you open a bag of salad only to find it's wilted a day after you bought it.
"Think about fresh foods as they go through the supply chain," he said. "If they have a smart label on them, they'll be able to tell a consumer through a communication option, like NFC (near field communication), if they've gone above acceptable temperature ranges as they've traversed through the supply chain."
Of course, Xerox wouldn't be Xerox if it didn't continue exploring the bounds of packaging — and in this case digital packaging.
"We have offerings to do short-run folding cartons that are now digital," Kerry said. "So you can add versioning, personalized messages and variable data on those digital packages."
The key to Xerox's new offerings, Kerry noted, is the word "printing" evolving and becoming more flexible than you might expect.
Digital & Printing Technology to Innovate the Way the World Communicates, Connects & Works
Custom printing a souvenir from, say, a basketball game or a visit to a popular tourist destination on the spot allows consumers to carry with them physical, personalized reminders of the good times they've had. For customers, it's all about attaching meaning to the products they purchase. For retailers, as the Bain study showed, it's about creating new markets and opening up new revenue streams through customization.
Xerox's Direct to Object Inkjet Printer is just one example of how the company is sticking to its core goals of innovating around the customer experience. The new printing technology zeroes in on what Xerox believes is the future of how consumers engage with businesses. Specifically, it's focusing its energy on retail first.
"We think retail, in a number of ways, is at the cutting edge of customer experience because it has to be, and that's why it's an interesting market for us," Kerry said. "It's at the nexus of digital and physical, and [that's where] people actually give us license to compete."
With Direct to Object printing, Xerox is able to digitize a customer's ideas and move them onto physical objects. On the other side of the coin, the company's scanning technology transforms information in the physical world into digital environments.
Kerry explained that exploring where the physical and digital meet enables Xerox to continue pioneering the digital printing space.
"That's why we felt like it's cool to be at Xerox again," Kerry said. "We're not just the old company your dad or mom knows about. We're doing cool things where the digital and physical intersect."