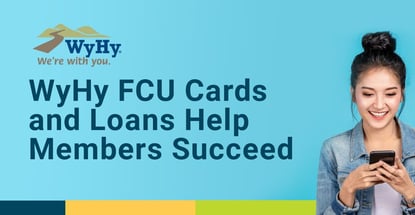 In a Nutshell: Every state has its unique history, traditions, and people, and Wyoming stands out for its citizens' self-reliance. Across the state, more than 15,000 members count on WyHy Federal Credit Union to safeguard their money and help them help themselves. The credit union offers credit-building cards and loan products to encourage all Wyomians to chart their own path to a successful future. WyHy FCU also provides financial literacy resources and charitable support to the communities it serves.
Credit unions are set up as nonprofit financial cooperatives to serve members and communities. Institutions in different states face unique challenges, including the level of involvement members expect when securing their financial futures.
In the state of Wyoming, with its broad geographical expanse and population with a strong sense of independence, WyHy Federal Credit Union prides itself on helping self-reliant members help themselves.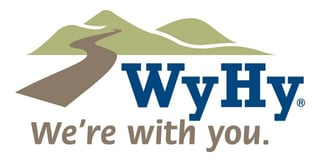 The WyHy team supports members and communities across the state with credit and loan products that help Wyomians manage their personal finances. Financial education and money management tools can show members how to maximize their available resources, and the credit union's charitable support targets organizations that assist people with basic needs.
WyHy began in the early 1950s when seven employees of the state highway department each contributed $5 to open a credit union. Wyoming is known for its horse trails and train tracks, but it's the state's road building that has driven its growth in modern times.
From the initial $35-deposit that gave the credit union its humble start, WyHy has grown to serve more than 15,000 members and manage more than $290 million in assets. Branches in centrally located Casper and the capital city of Cheyenne in the far south, as well as a soon to open Green River branch in the southwest corner of the state, connect members under a charter that has expanded to permit all who live, work, learn, or worship in Wyoming to join.
And what those members are looking for in their credit union is a respectful partnership, especially when it comes to the lending side.
"In Wyoming, there's a strong ethic where people really want to pay back their lenders," said George Sellitto, WyHy Chief Lending Officer. "If you're going to work with us, we're going to work with you."
Card and Loan Products for a Wide Range of Consumers
The WyHy card programs are a great example of its commitment to members. The credit union offers two unsecured Visa cards as well as a secured option.
"We like to consider ourselves a full-service consumer lender, and our cards are great products," Sellitto said. "Ideally, we'd like to get a credit card into just about every member's hands."
The unsecured options offer lower rates. The WyHy VISA Platinum Card carries an APR as low as 8.15%, and the WyHy VISA Platinum Rewards card, which pays a point per dollar, follows with an APR as low as 9.15%. Neither card has an annual fee, nor do they charge balance transfer or over-limit fees.
The secured card is an excellent option for new credit entrants and those seeking to rebuild when handled properly, but their adoption lags at WyHy.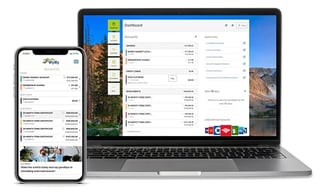 "What's interesting is you don't see a lot of people wanting that option here — what you see are parents and relatives co-signing for low-limit unsecured cards," Sellitto said. "That's just them teaching their family members how to be financially responsible, and they want to get them off to a good start."
WyHy is looking at ways to streamline its underwriting and reduce incremental line increases among cardholders to give cardholders more flexibility, especially as Wyoming emerges from COVID-19 pandemic shutdowns..
"Let's go to where we believe the line should be based on the credit profile of the member," he said.
WyHy also builds opportunities into its closed loan products, including its Credit Builder Auto Loan, which rewards consumers who make on-time payments with reduced rates. WyHy works individually with members to find the loan amount appropriate for their situation.
Educational Resources and Charitable Initiatives Encourage Self-Improvement
Anytime a member can put a small recurring payment on a card and consistently meet that obligation, that's an opportunity to increase their credit score, according to Sellitto.
"That's the key — getting those recurring payments onto your card, whether it's secured or unsecured," he said. "If you can do that, it adds up, and it'll build credit."
As part of its mission, WyHy also steps up with plenty of self-help opportunities for members. The tagline "We're With You" symbolizes WyHy's commitment to money management solutions and helping members budget better, get out of debt quicker, and achieve their goals.
Watch on
WyHy makes free financial information, education, tools, and other resources available to members through its partnership with the online KOFE (Knowledge of Financial Education) platform. KOFE allows WyHy to offer self-paced financial education, webinars, and even one-on-one coaching to members looking to learn new skills.
Other partnerships and affiliations provide free financial analysis services, insight into credit scores, and assistance with foreclosure prevention. WyHy also awards two $1,500 scholarships a year to deserving student members.
"We're With You" also symbolizes WyHy's community role in charitable giving across Wyoming. When the Eagle Butte and Belle Ayr coal mines closed in the state in 2019, for example, WyHy extended support to affected families.
The credit union contributes time and money to causes dear to Wyomians and essential to the state's well-being. During the COVID-19 pandemic in 2020, WyHy donated more than $40,000 to local charitable organizations.
WyHy: A Partner in Achieving Financial Independence
The COVID-19 pandemic prompted the WyHy team to work harder to help members weather their financial struggles. As in any true partnership, those conversations sometimes involved a lot of give and take.
"We chose to work with our members and have our collections department try and dig deep to see how we could resolve problems and get to an ideal payment for bringing a loan current," Sellitto said.
Although there were sometimes pain points to overcome, the goal was always to create a win-win situation for the credit union and the member.
"There has to be some compromise, and we've been very successful working with those members and giving them the opportunity to maximize the value of their assets," Sellitto said.
One such member needed to sell a boat and a heavy-duty pickup and get into a smaller used automobile.
"I think what made a big difference for this credit union compared to others in Wyoming is our willingness to spend that time, counsel a little bit, and tell members about our KOFE programs and seminars," Sellitto said. "It's about spending that individual time."
What may have helped is that Wyoming has the lowest population density of any state in the U.S., and WyHy was at the tech forefront among credit unions long before the COVID-19 pandemic shut branches down.
"Not every organization is as fortunate as us to have a visionary CEO who put all the technology pieces in place," Sellitto said. "We ended up in good shape coming out of the pandemic, and now we're looking to grow and leverage technology and better serve our members and the people of Wyoming."
Advertiser Disclosure
CardRates.com is a free online resource that offers valuable content and comparison services to users. To keep this resource 100% free, we receive compensation for referrals for many of the offers listed on the site. Along with key review factors, this compensation may impact how and where products appear across CardRates.com (including, for example, the order in which they appear). CardRates.com does not include the entire universe of available offers. Editorial opinions expressed on the site are strictly our own and are not provided, endorsed, or approved by advertisers.