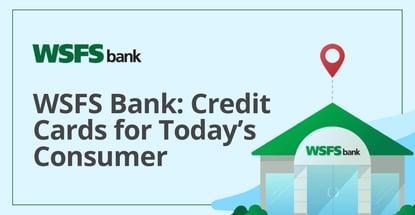 In a Nutshell: As one of the oldest banks in the U.S., WSFS Bank doesn't rest on its laurels but instead embraces innovation and technology. The bank, which operates in Delaware, New Jersey, and Pennsylvania, provides a modern suite of financial products and services, including credit cards for a variety of consumers and businesses. And as its motto — We Stand For Service — states, WSFS Bank serves customers and communities in many ways. Customer service is a constant priority, but the bank also supports many local nonprofit organizations and causes through monetary donations and volunteer efforts. While the COVID-19 pandemic brought about some unexpected changes, the bank has seen its customers embrace digital technology as they continue to rely on them for their banking needs.
When we think of long-standing, staid financial institutions we often associate them with being dependable, trustworthy, and — sometimes — boring. Innovation and progress aren't necessarily the first things that spring to mind.
But WSFS Bank, at nearly 200 years old, embraces its historical roots while keeping its customer service, products, and services firmly in modern times.

"We were actually founded in 1832, and we are one of the 10 oldest banks in the country that have continuously operated under the same name," said Senior Vice President and Director of Marketing Justin Dunn. "WSFS is short for Wilmington Savings Fund Society, so we've been predominantly a Delaware-based bank, but over the past 10 years or so, we've made a push to grow elsewhere."
At this point, the bank maintains branches in Delaware, New Jersey, and Pennsylvania.
"We've always been an opportunistic company. Sometimes when others zig, we zag," Dunn said. "So during the Great Recession, as others were contracting, we decided to go ahead and make a push to expand, and obviously that paid dividends."
We spoke to Dunn about how the progressive company stays true to its mission of service and its suite of credit card offerings built with a wide range of consumers in mind.
"We strive to meet our customers' ever-changing banking needs and promise to exceed their expectations each and every day," according to the bank website. "As we serve, we strengthen, and as we strengthen, we have more opportunities to serve. It's a virtuous cycle that enriches our organization and our community."
Customers Can Choose from Three Different Credit Cards, Depending on Their Needs
Dunn discussed WSFS Bank's current credit card offerings and some of the benefits to each.
He said that, at times in the past, the bank has outsourced its credit card services to third parties, but not anymore.
"Credit cards are a core banking product, and we can no longer outsource those types of things as an organization committed to service," Dunn said. "Customers want to be able to open their mobile app and see their credit cards, they want to be able to see their transactions and make payments."
Another advantage of keeping its credit card suite in-house is being able to provide the highest level of customer service — something that can be lacking when cards are handled by high-volume external companies.
"We wanted to create a situation where, for an organization our size we want to be able to offer competitive products," Dunn said. "So we started out by keeping it simple with just three products — the Platinum, the Cash Back, and the Business card."
WSFS Bank's Platinum Visa is geared toward consumers who are looking for simplicity and convenience. The card comes with the bank's lowest APR, no annual fee, fraud monitoring, and 0% balance transfer for nine months.
The bank's most popular card, however, is the Cash Back Visa with its 3-2-1 benefits, Dunn explained. Like the Platinum card, the Cash Back card has no annual fee and fraud monitoring, but it also comes with cashback perks.
"It's been very well-received," Dunn said. "We've seen usage rates return to prepandemic levels. The 3% cash back on groceries is well-received, as is the 2% cash back on dining, and 1% cash back on everything else."
Finally, WSFS Bank offers the Business Cash Back Visa, "a powerful administration tool enabling businesses to manage their cardholder accounts. Business Cash Back Visa cardholders enjoy 1% cash back on all purchases.
Supporting a Mission of Service through Products and Community Involvement
"Our mission and brand is We Stand for Service," Dunn said. "And honestly, that means a lot of different things to different people. We want to make sure that we can meld our physical and digital channels to be able to provide that seamless experience for customers across all different demographics and age groups."
This also means that WSFS Bank works hard to serve the communities in which it operates as well.
"How do you get to be nearly 200 years old in a world that's constantly changing? For us, the answer has always been the same: create a team of Associates who are passionate about serving the community, and success will follow," according to the bank website.
This service comes in a wide variety of ways, including making monetary contributions to non-profit organizations, volunteering for an array of charitable causes, and supporting financial literacy efforts.
"At WSFS, we do more than serve our Customers inside the walls of our banks," according to the organization. "We give our time and talent to local nonprofits and organizations, ingraining ourselves in the community."
The bank regularly contributes to organizations that protect the health of the people who live in its communities and are often underserved when it comes to being able to access proper health care services.
"We also support educational programs that prevent illness and promote healthy lifestyles and offer services to people with disabilities and special needs," according to the bank.
It is also a strong supporter of organizations that help the underserved in other ways, including homeless shelters, programs to feed the hungry, and affordable housing programs.
"WSFS supports educational programs for children in grades K-12 who live in underserved communities and attend our public schools," according to the website. "Grants are awarded for initiatives that are innovative, creative, sustainable, and replicable, and that give students the opportunity to develop leadership skills and achieve academic excellence."
The bank also supports various events, initiatives, and activities that enhance the quality of life in its communities while promoting cultural diversity and fostering civic leadership and citizen education.
How the COVID-19 Pandemic Helped Customers Embrace Digital Banking Technology
Of course, 2020 has brought about plenty of unexpected hurdles thanks to the COVID-19 pandemic. Dunn discussed how WSFS Bank responded to the crisis and even found some positivity among the challenges.
"We actually worked drive-through only starting in March, the reason being obviously the health and safety of our associates and customers," Dunn said. "We did begin a phased reopening of our branches in the June time frame, once we had all the investments needed in plexiglass and PPE and all that."
Even after the branches reopened, the bank scheduled appointments with customers who needed to come into the branches.
Watch on
"We're really focused on making sure that we're meeting the needs of our customers and keeping our associates safe, which has always been a priority number one," Dunn said.
And a silver lining to the branch closures and reduced in-person service is that more people than ever are learning how to use WSFS Bank's digital banking options.
"We have seen a tremendous uptick in the number of check deposits made through our mobile application," Dunn said. "I think it's one of those situations where, during a pandemic, people don't want to leave the house so they're forced to try other technology."
People are more willing to dive into what they consider uncharted territory and often discover that it is not as complicated or intimidating as they had imagined.
"They realize technology is not as scary as it once was," Dunn said. "It's been nice to see customers taking advantage of that technology."
He said he has noticed that more people are saving for the sake of saving now as well, rather than saving for a specific purpose such as a big vacation.
"I think it's encouraging to see people do that," Dunn said.
Ultimately, for WSFS Bank, it's all about helping its customers and communities.
"We're not the big banks of the world, but we believe that a bank of our size can offer competitive products integrated within a solid technology experience coupled with the service delivery that our associates bring to the table," he said. "This is kind of a win-win."
Advertiser Disclosure
CardRates.com is a free online resource that offers valuable content and comparison services to users. To keep this resource 100% free, we receive compensation for referrals for many of the offers listed on the site. Along with key review factors, this compensation may impact how and where products appear across CardRates.com (including, for example, the order in which they appear). CardRates.com does not include the entire universe of available offers. Editorial opinions expressed on the site are strictly our own and are not provided, endorsed, or approved by advertisers.