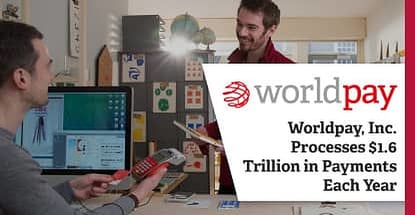 credit card news
Our experts and industry insiders blog the latest news, studies and current events from inside the credit card industry. Our articles follow strict editorial guidelines.
In a Nutshell: Doing business doesn't come cheap. The charges associated with accepting credit card payments and expenses involved in keeping up with the ever-changing hardware a business needs to remain secure and PCI compliant can quickly eat away at profits and turn a winning operation into a losing venture. Worldpay, Inc. offers a host of hardware and software solutions that support more than 300 payment types in 126 different currencies, making processing payments easy and affordable. A January 2018 merger between the UK-based Worldpay and US-based Vantiv created a new global competitor in payment processors. The new company now processes more than 40 billion transactions worth $1.6 trillion annually. Worldpay, Inc.'s fee schedule is customizable for every client based on their needs and risk profile.
No entrepreneur goes into business to collect payments. Sure, earning money is a big part of what determines success, but the act of collecting payments can be confusing and expensive — and incredibly risky depending on the payment methods being accepted.
Modern technology provides consumers with many options to pay for their goods and services — they can insert a credit card into a terminal or simply tap it on a pad, or they can carry their credit card information on their mobile phones, key fobs, and other handheld items that double as their wallets. The number of companies processing card-not-present (CNP) online payments seems to increase every day.
Merchants who provide their customers convenient payment options often take on new layers of risk, increasing their chances of fraudulent payments or data breaches. New payment methods also require new terminals or technology, the cost of which can quickly eat away at a business's bottom line.
But options do exist for accepting payments in a wide range of currencies and methods without breaking the bank. The January 2018 merger of the UK-based Worldpay and US-based Vantiv resulted in the creation of Worldpay, Inc., a leading global payment processor that now handles more than 40 billion transactions worth over $1.5 trillion annually.
The company has clients in more than 70 business verticals and works with over 1,000 software partners to bring solutions to the market.
"We are now a global entity that can process over 300 payment types," said Steve Cole, senior product manager for EMV at Worldpay, Inc. "We're in 146 countries and operate in 126 different currencies."

The average business may not need to process global payments in multiple currencies, but having the backing of a worldwide brand like Worldpay, Inc. means much more than global payments. Since the company processes transactions in a host of countries and currencies, it maintains tight security standards for each region, meaning payments made to a corner deli can benefit from the same level of security an international conglomerate receives.
Cole said that combining the companies was a match made in payment processing heaven, as Vantiv was already a leader in card-present payments and Worldpay provided expertise in CNP transactions as well as the chip card processing and EMV transactions popular in the UK.
"This merger was a little different than others you see in the space, where companies go out and look to consume their competition," he said. "At the end of the day, you get one plus one, but it doesn't equal two because it was more of a defensive move than anything else.
"Our scenario had one plus one, but we got something greater than two because the synergies between the two companies are something that you couldn't write down on paper and make any better."
No matter how you do the math, the merger could mean tremendous savings and technological advancements for merchants.
Combined Specialties in Card Present and CNP Transactions
Cole said the merger won't lead to any changes in the company's existing fee structure, which is custom-tailored to meet the needs of each merchant. While most payment processors charge a flat percentage fee plus a processing fee, Worldpay, Inc. tailors its fees to each client.
"We don't have the one-size-fits-all fee structure that some of our competitors have," Cole said. "A CNP merchant is going to have different needs and a different risk profile than one who is only in the card-present space. We adjust based on the client's needs and risk profile."
Those risks can be lessened with the addition of services Worldpay, Inc. offers, such as 3D Secure — an authentication scheme that provides additional cardholder verification processes to complete an online purchase. Accepting EMV chip cards also improves security and lessens the risk of fraud in the card present space.
"The rates we charge are always very competitive for the scenario each merchant is in," Cole said.
Staying Ahead of Trends and Technology in the New Payments Space
Worldpay, Inc.'s payment processing platform is compatible with most traditional and emerging payment technologies — from magnetic strip credit cards to EMV and chip cards, contactless cards, and online payment methods. New methods, like mobile wallet payments, are also enabled with certain hardware.
Merchants are not required to accept every payment method when they partner with Worldpay, Inc. The hardware needed to accept each method varies and can be as small as a dongle that plugs into your cellphone or as large as a terminal that permanently rests on a countertop.One of the company's most versatile solutions is the SwipeSimple mobile card reader that plugs into the headphone jack on a cellphone to enable credit card payments from any place that receives a cell signal.
Worldpay, Inc. says SwipeSimple users, on average, process three times as much transaction revenue as do users of the leading mobile processor, Square. Cole said the statistic has a lot to do with the types of users associated with each product.
"Square was very strong in going out and marketing to food truck vendors and people who had intermittent needs to collect payments," Cole said. "A lot of those payments were very small though. The SwipeSimple solution is very popular with service providers, like plumbers or air conditioner service people, who come to your house and need to collect a payment. Their average ticket is obviously going to be a lot higher than that of a food truck."
"Required Hardware can be Very Simple or Very Elegant"
The hardware required to start accepting payments through Worldpay, Inc. can be as simple or as complex as the merchant desires. In some cases, no new hardware is needed at all.
"There are instances where a merchant has been processing with someone else but wants to come over to Worldpay," Cole said. "A lot of times, we can just reprogram the hardware they already have, and they don't have to incur any costs to begin service."
If new hardware is required or desired, Cole said Worldpay, Inc. has a large number of options available to businesses with varying needs.
"We support a lot of different solutions — everything from the countertop terminals you may see at your local dry cleaner to the highly integrated systems you see in the largest retailers," he said. "We also offer solutions for the card-not-present space. The required hardware can be very simple or very elegant."
In the near future, Cole said the company will be in a position to offer integrated payment solutions that complete several tasks beyond processing credit transactions.
"We're moving into the smart terminal space with solutions that allow merchants to not only take payments through the application but also support things like timekeeping and inventory management within a consolidated interface," he said.
So while entrepreneurs may find accepting payments a necessary, but unpleasant, part of their everyday work, Worldpay, Inc. can help clear that hurdle with solutions that securely accept payments using several different methods and currencies from nearly any location on the globe.