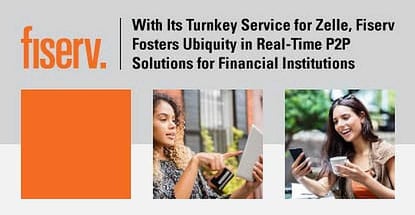 credit card news
Our experts and industry insiders blog the latest news, studies and current events from inside the credit card industry. Our articles follow strict editorial guidelines.
In a Nutshell: It wasn't that long ago that sending or receiving money from friends and family was a time-consuming affair, requiring sending checks in the mail or meeting up in person. A number of online money transfer solutions have emerged over the years providing varying levels of convenience, security, cost, and speed. Now, Zelle has risen to prominence as the financial industry's go-to P2P service because it offers a branded and secure customer experience in real time. Fiserv, an innovator in the finance world since the '80s, now offers its Turnkey Service that enables banks and credit unions to easily implement Zelle. Even as Fiserv is further cementing itself in the P2P space, the company is already looking at how to make real-time payments even more widely available throughout the finance world.
There's nothing quite like the smell of fresh paint. For me, it immediately evokes a sense of renewal — something fresh and clean with endless potential.
I remember stepping back and looking at the freshly painted bedroom wall with satisfaction.
I walked outside to meet my wife working on the shrubs, and we stood back to view the fruits of our labor and reflect. It was only a few short months ago that we were married, embarking on a brand-new journey together.
Now, we gazed at the picture-perfect little home with excitement. We were going to be — landlords!
Being a landlord certainly has its benefits, but as my freshly painted wall became scuffed and scraped anew, so did our wide-eyed optimism. We realized that as landlords, we were also property managers, sub-contractors, and an accounts receivable department.

The latter role quickly became a frustration. The tenants mailed the check each month, I endorsed it, took it to the bank to deposit, then finally paid the mortgage on our rental property.
Of course, that's how rental properties have always worked, but by 2012, I had been making online purchases with PayPal and banking on my phone for years.
I couldn't understand why there was not an easy solution to handle this recurring transaction.
Thankfully receiving the rent payment has gotten much easier thanks to the growth in P2P digital payment options in recent years. Now, handling rent and transferring it to the mortgage takes a matter of seconds.
This is thanks, in part, to companies like Fiserv, that have been pushing innovations in the finance industry since 1984. As the company grew from a data processing service, it implemented innovations in banking software through the '90s and pioneered mobile banking technology in the 2000s.
Fiserv's latest offering again demonstrates the company's forward-looking approach to technology with its Turnkey Service for Zelle, which allows financial institutions to seamlessly implement the quickly growing industry standard for P2P payments.
Zelle Brings Real-Time Payments, Security, and Branded Experience to Mobile Banking
With its launch in 2017, Zelle gave users the power to send and receive money directly to and from their bank accounts in minutes, using the recipient's email address or phone number.
"There's quite a bit of press these days on Zelle and its P2P solution," said Matt Wilcox, Senior Vice President of Client Engagement for the Electronic Payments business at Fiserv. "And we're big believers in P2P and are totally supportive of what we believe is the next evolution of P2P payments, which is moving financial institutions to Zelle."
Zelle is currently used by more than 160 banks and credit unions in the US.

Wilcox said that, after years of finance experts speculating about major advances in the P2P digital payments space, 2018 is finally seeing those predictions transpire with dramatic growth in the area.
Wilcox attributed this growth to the power of a brand and the utility of speed. The ubiquity of Zelle is bringing a common brand and common experience across financial institutions, and the payment network's real-time component for P2P transactions is very appealing to consumers.
He said that, although the demand for better P2P solutions existed in the past, consumers were slow to embrace them because their look, feel, features, and other factors varied from service to service, or from institution to institution.
"Now we have one common name, one common brand with Zelle, and speed built into the application," Wilcox said.
Additionally, from the user's perspective, being able to go through their own financial institutions for P2P transactions provides an added level of security and comfort. That, in turn, means a financial institution can promote more digital engagement, and bring the customer back to use more of its services, Wilcox said.
Zelle is owned by Early Warning Services and is a continuation of services offered by Zelle's predecessor clearXchange, which phased out P2P transactions with the launch of Zelle.
Fiserv Facilitates a Convenient Path to Implement Zelle
In 2017, Fiserv announced a partnership with Early Warning Services for its Turnkey Service for Zelle demonstrating a keen awareness of the momentum of the P2P space and the advantages of Zelle.
"I've been in the industry for roughly 20 years, and I can't recall a time where there's been more demand for a solution from financial institutions to move to something like Zelle," Wilcox said.
Luckily for those institutions, that's exactly the service that Fiserv is offering. Fiserv has had its own P2P payment system, called Popmoney, since 2010, with more than 2,400 financial institutions currently using the service. Wilcox said Fiserv has been in talks with Early Warning Services for a number of years about ways to offer a ubiquitous real-time P2P payment solution.
Once Early Warning Services acquired the clearXchange platform and launched Zelle, Fiserv saw the perfect partnership opportunity.
"There is a lot of energy and demand from the banks that are in Popmoney to move to a Zelle solution because of the momentum that is in the marketplace," Wilcox said, "so that is why we built the Turnkey Service, to help the financial institutions move from Popmoney to Zelle if they so choose."

Nevertheless, Fiserv's Turnkey Service for Zelle is now available to any financial institution interested in implementing Zelle for their customers.
"I think, for the greater good of the financial services industry, everybody realized that in order for P2P to become something that is embedded into banking applications, we really need to focus our efforts on one thing to create some ubiquity in the marketplace," Wilcox said.
Fiserv's offering essentially simplifies the path for a financial institution to implement Zelle by leveraging the assets and technologies available from Fiserv.
Wilcox said the Turnkey Service ensures the financial institution will have the capabilities to send and receive money in real time. It will also help implement and integrate the proper Zelle branding guidelines into the institution's online banking and mobile apps.
Fiserv also makes sure the institution has the right support model in place.
"With our turnkey solution, we handle the risk management, we ensure that they have the right implementation guidelines and tools, and we also support them from a marketing standpoint as they launch the service and communicate that the service is available to its customers or members," Wilcox said.
Overall, Fiserv helps ensure a seamless transition for the institution and its customers, he said.
Fiserv Pushes for Real-Time Functionality in All of Its Payment Products
"Faster payments is a big component of our payment strategy, and we won't stop with P2P," Wilcox said. "We think P2P was our entry point into the faster payments realm, but we would like to — and will continue to — real-time enable other payment applications that we make."
Faster payments have become commonplace in other parts of the world due to certain mandates, Wilcox said, but the possibilities of real-time payments are just now reaching the US. Wilcox said he thinks the P2P space is just the first iteration of the widespread availability of real-time payments to US markets.
"We are continuing to drive toward a real-time payment world," he said.

Additionally, Wilcox said Fiserv will continue to work to further integrate payments.
"We want to enable a bank to have all of their customers to be able to make all their payments in one place," he said, "which is why Zelle is such an important piece for us because that's embedded into the banks' app or its website."
Wilcox said convenience is king and Fiserv is working on offering the best user experience and the most convenient payment solutions to the banks and financial institutions it partners with.
As far as the other payment applications Fiserv specializes in, the company offers a vast number of services, including Electronic Billing and Payment Solutions, Enterprise Payment Solutions, Treasury Management, ATM Solutions, Remittance Solutions, and more.
To further explore Fiserv's Turnkey Service for Zelle or any of their other payment solutions, the company can be reached via phone or through its online contact portal.
I'm sure I'm not the only property owner thanking companies like Fiserv and Zelle for bringing P2P payments into the modern era. It's not often that one can see how a company has had a direct impact on their daily lives, but in this case, the proof is in the payment.