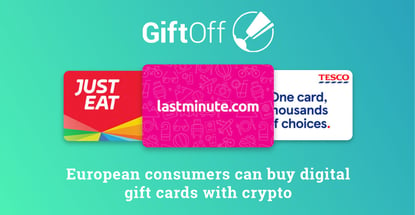 credit card news
Our experts and industry insiders blog the latest news, studies and current events from inside the credit card industry. Our articles follow strict editorial guidelines.
In a Nutshell: Gift Off provides a quick and easy way for European consumers to purchase digital gift cards using Bitcoin and certain other cryptocurrencies. Customers in the U.K. can also pay with a U.K. credit or debit card or Apple Pay. Gift Off Founder Rusty Nash aims to provide a seamless gift card purchasing experience through the platform, which offers the widest selection of digital gift cards in Europe. Customers also earn Gift Off Points with each purchase, which can be applied to future gift card purchases or given away as gifts. With most of Gift Off's business being generated by word-of-mouth, Nash said the company pays close attention to what its users want to see on the site and welcomes feedback.
Rusty Nash has been coding since he was five years old — yes, five — tapping away on the keys of one of the U.K.'s earliest PCs, a BBC Micro.
Of course, Nash has watched with keen interest the evolution of what is possible in the digital world over the past couple of decades. And in 2010, a new development called Bitcoin grabbed his attention in a big way.
"I've just always been interested in this kind of stuff. It was fun to watch," Nash said. "By 2013, I was thinking that I wanted to do something that could help in the Bitcoin community."

He said he noticed that there were very few ways to spend Bitcoin unless you were on the Dark Web, which is not exactly the kind of place where most consumers spend their time shopping or browsing.
Nash had been experimenting with ways to facilitate Amazon purchases for consumers who wanted to pay using Bitcoin, but he said he was having trouble finding a scalable solution.
"I was the head of SEO for a London digital agency, and I was driving to meet a client one day, and it suddenly occurred to me that I should just sell people Amazon gift cards," he said. "It was like a little light bulb moment."
And that's how Gift Off started. In its earliest form, Nash would basically purchase Amazon gift cards on customers' behalf, who had paid him in Bitcoin.
"In the first month, we turned over 10 grand," he said. "And I suddenly realized that this was something people really did want. We now work directly with retailers instead of buying cards on the customer's behalf."
Today, Gift Off offers the largest range of digital gift cards in Europe, including major retailers like Amazon, Currys PC World, Tesco, and Marks & Spencer. The company stocks more than 180 gift cards and accepts five digital currencies and U.K. credit and debit cards. Gift Off recently began accepting Apple Pay as well.
Purchase Digital Gift Cards with Ease
Gift Off has tried to make its service as simple as possible for anyone to use.
Customers can browse the Gift Off selection and find the gift card they want to purchase, choose the value of the card, then select the "buy now" option.
"You'll be asked to sign in during the order process, or create an account if you haven't done so beforehand. Follow our easy-peasy checkout instructions, which will be slightly different for credit/debit card and digital currency customers," according to the website. "Then, sit back and relax while we process your order."
Customers will receive an order confirmation email, then another message to let them know when their gift card is ready to use in their Gift Off user dashboard.
Nash said that, although Amazon gift cards were one of Gift Off's earliest and most popular products, last year, the retail giant changed their policy to not allow any other businesses in the world to sell Amazon digital gift cards.
This presented a good opportunity for Gift Off to further diversity their offerings, Nash said, and the company has added a number of retailers since then. (Amazon has partially reversed its digital gift card policy since we chatted with Nash, and Amazon gift cards are once again available for France, Germany, Italy, and Spain, according to the Gift Off website.)
British supermarket chain Tesco is currently one of Gift Off's most popular gift cards.
"And, weirdly enough, we sell a lot of Adidas cards — a hell of a lot of Adidas," he said. "People just seem to love shoes. We also sell a lot of holiday cards, like lastminute.com. Companies like H&M and Sports Direct are some other main players."
Gift Off seems to have become popular among beer drinkers in the U.K. as well.
"We have quite a few people dedicated to our beer-related gift cards," Nash said. "We have a bunch of those that you can spend in over 700 pubs in the U.K."
Gift Off Points Can Be Applied to Future Purchases
"Gift Off Points or GO Points are our own loyalty points to reward you for shopping with us!" according to the Gift Off website. "You can earn points on gift card purchases and see how many you've earned in your dashboard. Gift Off Points can then be used as payment towards future purchases."
Nash said the points system is a pretty straightforward and simple process.
"If you purchase a gift card using digital currency, we give you 2% of that purchase back in the form of Gift Off Points," he said. "And if you pay with fiat methods — so that's Visa, Mastercard, and we just launched American Express and Apple Pay as well — if you pay by those, you get 1% back."
Nash said users can also purchase Gift Off Points if they wish.
"There's a couple of different reasons why they do that," he said. "Some people will buy points to give as a gift to someone who can then use those to buy any gift card they choose from our website. So, if I gave you £10 of Gift Off Points, you could just choose your own gift card."
He said the other reason someone may want to buy Gift Off Points directly has to do with the value of cryptocurrency.
"If Bitcoin goes crazy, either up or down, someone can just buy Gift Off Points to lock in that price and essentially exchange Bitcoin for the opportunity to buy whatever they want to in the future," he said.
The Company Fosters and Maintains a Supportive Community
"We're very customer-focused because that's how we got here," Nash said. "Most of our business has been generated by word-of-mouth. We probably should do some marketing, but we've survived pretty well just by word-of-mouth. People are using our service and keep coming back."
The company has been featured in several articles in cryptocurrency-focused magazines and websites as well, which has helped, he said.
"I'll probably be interested in doing some marketing in the future as we want to tap the general gift card market as well as Bitcoin people, which are the foundation of the digital currency community," Nash said.
Gift Off makes a lot of its decisions with its customers in mind, including only offering gift cards that can provide a seamless digital gifting experience, he said. And the company only rolls out new features that it feels confident will benefit its customers.
"We aren't particularly in this for rapid growth or risk with quick rewards," Nash said. "We've just been creating what is hopefully a great service for the long term."
And Gift Off actively encourages customer feedback and evaluates suggestions and criticisms in its future development decisions.
Gift Off recently removed the Google reCAPTCHA feature from the login process on the website based on user feedback.
"People were just getting very irritated with the Google reCAPTCHA," Nash said. "A lot of our customers use the Tor browser and are very privacy-aware people. So people were having to fill out like 20 reCAPTCHAs before they could log in."
Nash said Gift Off also listens to requests for new gift cards to offer and will contact the suggested businesses to try to make their cards available on the website.
Nash's childhood time spent typing away on his BBC Micro eventually led to his early interest in cryptocurrency and his lightbulb moment that gave way to today's version of Gift Off. So, if you're in Europe and looking for an easy way to use crypto to purchase gift cards, Gift Off provides a solid platform with years of experience behind its helm.