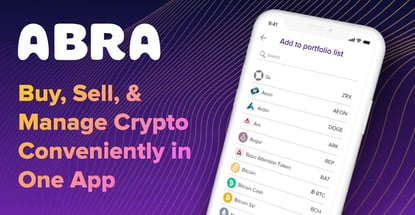 credit card news
Our experts and industry insiders blog the latest news, studies and current events from inside the credit card industry. Our articles follow strict editorial guidelines.
In a Nutshell: With the cryptocurrency ecosystem continuing to expand, Abra provides an easy-to-use platform for buying, selling, and managing digital assets. The app offers a solution for virtually every cryptocurrency need in one place. And a recent update increases user limits and delivers an even wider selection of cryptocurrencies. Abra embraces transparency and always puts users first, providing a straightforward and honest experience for customers. To this end, the company prioritizes security and customer feedback to deliver the best user experience possible.
Cryptocurrencies and blockchain technology were introduced to the world in 2009 by the elusive inventor — or inventors — of Bitcoin, Satoshi Nakamoto. A decade later, the financial world is still reverberating from the impact of these developments.
While cryptocurrencies are becoming household names, many consumers are not yet acquainted with the ins and outs of how the crypto economy works. That's because, in its early years, the technology was not easily accessed or used by the average person.

Even today, the accessibility — as well as the technology itself — continues to evolve.
Thankfully, companies such as Abra are making it easier than ever to buy, sell, trade, and manage crypto from a single interface.
"Abra was actually started to try to solve the remittance problem — typically across borders — and we thought that by using a Bitcoin as a base, it would really solve that problem by eliminating many of the currency exchange fees and costs involved," said Willie Wang, Abra's Vice President of Engineering.
Basically, by using Bitcoin, Abra would provide a very cheap and effective way to make a cross-border money transfer, he said.
The company was founded in 2014 by Bill Barhydt. By 2016, Abra had won first place in the notable San Francisco LAUNCH festival and released its app in the U.S. and the Philippines.
Today, Abra's mission is to make investing in cryptocurrency simple.
"Abra operates an easy-to-use app allowing users to buy, sell, store, and invest in cryptocurrencies, plus manage all crypto investments, in one single place," according to the company. "Our vision is an open, global financial system that is easily accessible to everyone."
We recently spoke with Wang and Julie Ingle, Abra's Vice President of Marketing, about how to use Abra, its recent major update, and how it strives to deliver a high-quality user experience.
Downloading the App and Getting Started with Abra
First and foremost, the Abra team makes it easy for users to access and use the app.
"We designed Abra to be simple and approachable for use by a broad spectrum of investors — from the revolutionaries to the entry-level experimenters," according to the company.
Once the app is downloaded, Abra users can purchase Bitcoin quickly, easily, and securely vai local bank transfer (varies by country), wire transfer, cryptocurrency, or credit card. Users will receive their U.S. dollars-to-bitcoin conversion rate upfront. If users do not already have a bitcoin address, the Abra app will generate one for them.
Abra customers can also contribute to their own crypto portfolios.
"Choose from hundreds of cryptocurrencies to build a portfolio that best aligns with individual ideas and values is simple," according to the company website. "Move between cryptocurrencies or withdraw to a supported external wallet, instantly."
The company offers a thorough investing guide on its website that covers everything from the basics, like setting up your wallet, to more advanced functions like investing in and managing cryptocurrencies.
In a February 2019 interview, founder Barhydt explained how Abra stands apart from other crypto platforms in the space.
"Abra uses Bitcoin tech to basically build the foundations for what really will be a global bank, whether it's for investing, later credits, or payments and money transfer," Barhydt said. "It's a very unique model."
At the time, Abra already had hundreds of thousands of users and its numbers were still growing, he said.
The App's Latest Version Delivers More Crypto Options and Higher Bank Limits for Users
Abra recently released a major update that builds upon the simplicity, flexibility, and accessibility it provides to the crypto ecosystem, Wang said.
"I am really excited to announce the next milestones on our roadmap of creating a globally accessible and easy-to-use crypt investing app," Barhydt wrote in a November announcement. "Starting today Abra users in the United States will have access to over 60 new cryptocurrencies, bringing the total to 96."
Barhydt announced that Abra users outside the U.S. will soon be able to invest in more than 200 additional cryptocurrencies as well.
"We are also releasing new deposit and withdrawal capabilities for a number of stablecoins. TrueUSD and Paxos are live in the app now, with Tether and DAI coming in December," Barhydt wrote. "In terms of funding options, we have doubled U.S. bank limits to $4K/day, $8K/week, or $16K/ month."
Over the past five years, Abra users have consistently requested more access to more cryptocurrencies, according to the company, which is why delivering the ability to create custom crypto portfolios has been a priority for Abra.
"And that's why I'm really happy to announce our next steps," the announcement continues. "After traveling the world and talking to hundreds of Abra users, we have found that the freedom of choice when it comes to crypto investing is of paramount importance to people."
Investing in and using cryptocurrencies is not about cashing in on get-rich-quick schemes, the founder wrote. Instead, it is about "creating alternatives and choices — and ultimately freedom. So that's what we want to offer our users — freedom to choose."
Prioritizing Customers by Delivering a Quality User Experience and Top Security Measures
"Understanding our users and the personas of the people that are using our product is essential," said Marketing VP Ingle. "We do active surveys every quarter. We do focus groups as well to truly understand our customers and their needs, what they value about the product experience and what they want to see improved."
She said because of these efforts, the company understands that simplicity and access are extremely important to Abra users.
"We are definitely one of the easiest to use apps out there. We really created a simple, easy-to-use user interface to this whole crypto ecosystem," Ingle said. "So that you're not having to deal with the complexity of an exchange or understanding an order book."
Many components of Abra's recent update were based on feedback from users and understanding the kind of experience the company's user base was interested in having.
And with its customers as its top priority, Abra works to implement strong security measures.
"We actually don't have a concept of logins and passwords," Wang said. "We leverage what's called a public key infrastructure using private keys and public keys to secure your access to your funds."
He explained that with traditional login and password security, even with second-factor authentication, hackers can still easily phish that information from users, either through email or hacking their phones.
"For us, when you create your Abra account, a local private key is actually created," Wang said. "That special key is on the physical device itself, so the user doesn't even know what that key is. So, for someone to hack into the system, they would have to physically have possession of your phone."
Making Crypto More Accessible to Consumers Around the World
Ingle explained that since its beginnings, Abra has always had a global focus. She paraphrased venture capitalist and cryptocurrency advocate Tim Draper, saying, "if you're in crypto and you're not global, you're not doing it right."
She said the company plans to go deeper into specific areas around the world to deliver more access to the cryptocurrency ecosystem.
"Just last month, we announced a partnership with 7-Eleven convenience stores in the Philippines," she said. "Filipinos can turn their cash into crypto at 6,000 7-Eleven locations across the country. Those are the kinds of solutions that we're working on — boots-on-the-ground efforts."