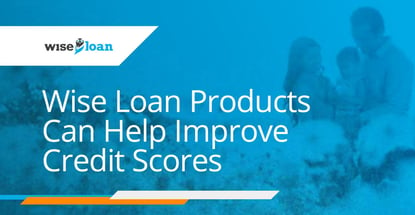 In a Nutshell: Low credit scores make securing a loan a difficult and tedious process. But Wise Loan offers consumers personal loans with transparent terms and fast payouts — in some cases, within an hour. When consumers repay these loans on time, Wise Loan reports their positive record to all three credit bureaus, helping them improve their scores. Recurring borrowers can also access lower interest rates and receive cash back on additional loans.
Those who earn less money tend to have lower credit scores and reduced access to funding. That dynamic can be especially detrimental when emergencies arise.
And when people with lower credit scores secure a loan, lenders may not disburse the funds quickly enough to suit a borrower's needs.
Sometimes situations like these prompt consumers to seek loan companies that promise to get them the money they need fast but don't have their best interests in mind. That can trap borrowers with lower credit scores into a recurring debt cycle.
Wise Loan provides a transparent, and fast alternative for those borrowers in 10 U.S. states.

"It's important to Founder and President Tommy Glenn that the company, as a whole, needs to be different than all the other lenders out there," said Elizabeth Showers, Marketing Director at Wise Loan.
Wise Loan offers loans that can range from $200 to $2,000. The company works with borrowers in Delaware, Idaho, Illinois, Louisiana, Mississippi, Missouri, South Carolina, Texas, Utah, and Wisconsin. The maximum loan amount in Illinois is $1,500. It also works with people who have fair and good scores, providing them transparent terms and rates.
Wise Loan also reports timely repayments to the three major credit bureaus, helping borrowers improve their credit scores. Better scores mean potentially receiving better rates on future loans with Wise Loan. The company offers additional perks for repeat customers.
Borrowers Can Receive Funds in as Little as an Hour
Wise Loan borrowers begin the process with a five-minute application. The lender's pricing is risk-based, so borrowers with better credit scores receive better rates — standard practice in the financial industry. Loan managers at Wise Loan review applicants' income to ensure they can afford the loan, confirm they have a valid bank account, and review their contact information.
Fund disbursal is also speedy following bank verification and a few additional steps. Once everything is in order on the customer end, the money is deposited directly into the customer's bank accoun.
Customers with a debit card can receive their money within an hour when they apply before 5:30 p.m. central time. Wise Loan also offers Instant Funding for loans approved before 11 a.m. Otherwise, loans typically pay out within 24 hours.
As with any loan, making timely payments is critical. Wise Loan borrowers can earn lower interest rates on subsequent loans by paying on time.
"Each time they open a new loan, their pricing goes down," Showers said. "We start at a certain price depending on their credit, and once they successfully pay off that first loan, we lower the cost on the next one, and then the cost for each of the next 3 loans continues to lower. Our long-term goal is to reduce the cost even lower for our best customers."
Wise Loan rewards its loyal customers according to tiers, known as Wise Owl tiers: Bronze, Silver, Gold, and Platinum. A customer's rewards level is based on the number of loans he or she has repaid in full. Wise Loan implemented the Wise Owl program in July 2020, and it will be the basis for additional rewards in development.
"We plan to offer even more benefits with these levels," Showers said.
Credit Reporting and Nest Egg Programs Reward Timely Loan Repayment
Beyond providing loans and incentives for repeat business, Wise Loan helps its customers improve their financial footing in general. It accomplishes that by reporting on-time payments to all credit bureaus. That can improve client credit scores and help them qualify for other loan products in the financial space. It also opens the door to credit diversification, which is another effective way to improve scores.
Wise Loan recommends customers use Experian Boost, which can increase their credit scores. The service reports payments on utility, phone, and streaming service bills, helping them raise their FICO score with timely monthly transactions.
"When someone gets declined, we direct them to Experian Boost to improve their credit," Showers said. "We will also soon include it in the application process. And we're beginning to include this new offering in more of our customer communications. This will make our customers aware of the variety of incremental things they can do to improve their credit."
Wise Loan's Nest Egg cash back program helps further improve a borrower's financial health. It is available to all borrowers who successfully repay their first loan and continue to do so with subsequent loans.
The program pays out $1 to $5 — equal to the number of previously paid-off loans — for every $100 borrowed and repaid. Borrowers can access those funds directly or put the money toward paying down current or future loans.
Customer Care and Outreach Ensure Quality Service
Taking out a personal loan can sometimes indicate the borrower is in financial trouble. The money from a loan may pay for a bill that has come due, but it won't solve a borrower's long-term money problems. For some borrowers, repaying a loan may prove challenging. Wise Loan doesn't penalize or punish customers who have trouble making payments. The company is more interested in finding a mutually beneficial solution.
"Our retention team works with customers if they're challenged to make payments. We get good customer feedback scores on our collections group. Our customers are happy with them," Showers said.
Wise Loan's customer service team prioritizes kindness, patience, transparency, and a calm attitude when dealing with borrowers. Customer service isn't just for customers who are having trouble with repayments; it's outreach to those who have expressed negative feedback or concerns about their loans.
"If there's one customer who seems unhappy with us, one of our lead people in the call center, or the call center manager, will contact that person to have a conversation with him or her immediately," Showers said. "This is one of our company values — to have open, honest, clear communication with the customer. We do our best to be as clear and concise and transparent with them as possible."
Wise Loan also conducts unprompted outreach. As of late 2020, the company is increasing its proactive contact with customers to solicit feedback and suggestions. Glenn takes the lead in that effort.
"He had his first interview this morning. I think the customer was really surprised the CEO and Founder was calling him just to understand his experience, to get feedback from him," Showers said. "The good, the bad, all of it."
Wise Loan: Bringing Bigger Rewards to More Borrowers
As 2020 draws to a close, Showers said Wise Loan is looking to the past to improve its future. The company is now in the process of refining its statement of customs and values. Those include creating a worthwhile experience for customers, focusing on positive outcomes, maintaining transparency, and offering beneficial options to borrowers.
"We just edited our company customs and values again to make them more concise," Showers said.
Wise Loan is refining its Nest Egg program and expanding the scope and range of the rewards program it offers to customers. Those benefits are structured according to the lender's customer rankings — Bronze, Silver, Gold, and Platinum — to provide even more value to borrowers.
Wise Loan is also working to expand its coverage to other states to bring its benefits to more people in need of fast, transparent lending. The company also reinforces positive behavior to help customers get back on solid financial footing.
Advertiser Disclosure
CardRates.com is a free online resource that offers valuable content and comparison services to users. To keep this resource 100% free, we receive compensation for referrals for many of the offers listed on the site. Along with key review factors, this compensation may impact how and where products appear across CardRates.com (including, for example, the order in which they appear). CardRates.com does not include the entire universe of available offers. Editorial opinions expressed on the site are strictly our own and are not provided, endorsed, or approved by advertisers.