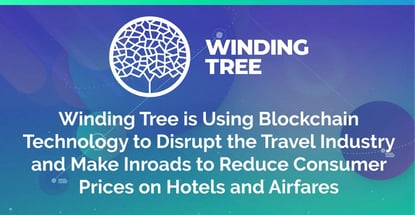 credit card news
Our experts and industry insiders blog the latest news, studies and current events from inside the credit card industry. Our articles follow strict editorial guidelines.
In a Nutshell: Winding Tree is a nonprofit working to bring innovation to the travel industry through open-source and blockchain technology. The industry is currently dominated by a handful of intermediaries connecting service providers and consumers. We spoke to Winding Tree CEO Maksim Izmaylov about how blockchain can help lower barriers to entry for travel industry newcomers. He also discussed the philosophy behind the company's nonprofit status and how its LIF token will be used to help govern the platform.
Planning and booking trips has never been easier thanks to the internet and the broad access it gives travelers to price options for hotels and airlines.
But the folks at Winding Tree will tell you that, while booking travel online may seem convenient, the travel industry has evolved into a nearly monopolized ecosystem that does not have the customer's best interest at heart.

"In the U.S., 92% of all hotel bookings go through Priceline or Expedia and the vast majority of flights are booked through a handful of global distribution systems," said Maksim Izmaylov, CEO of Winding Tree.
Winding Tree is a nonprofit that is implementing blockchain technology and open-source protocols to introduce innovation into the travel industry. This will enable more connections between consumers and suppliers and return power to hotels and airlines.
In the end, Winding Tree's approach could help bring new and innovative ideas to the travel industry, bring lower prices to consumers, and higher profits to service providers and suppliers.
We recently had the chance to speak with Izmaylov about how his company plans to take on the travel industry, from Winding Tree's technology-forward approach to restructuring the industry hierarchy.
By Reducing Barriers to Entry for New Companies, Customers Benefit from New Technology and Lower Rates
Izmaylov has experience being an outsider in the travel industry. He said it's very hard for newcomers to break into the industry — an insular world that is not open to new ideas. He eventually succeeded with his previous startup, Roomstorm, but not without great effort.
With Winding Tree, Izmaylov said his goal is to foster innovation and new ideas in the travel industry by promoting open-source technology and open collaboration.
"As an avid traveler and a person who knows technology, I'm very frustrated with the state of technological progress in travel (or lack thereof)," Izmaylov wrote on his personal website. "One of my goals is to move the industry forward through the various projects that I'm currently working on."
He said by promoting new technology, Winding Tree can help lower barriers to entry and give new voices and ideas a chance to be heard in the travel industry.
"Completely new people will do things we haven't imagined in the space," he said.
Winding Tree achieves its mission through the use of blockchain technology, which Izmaylov said is just one means to help change the structure within the industry.
With the current industry organization, the companies that sit between consumers and hotels or airlines are taking up to 25% commission fees. Additionally, Izmaylov said the online travel agencies and global distribution system leaders force hotels and airlines to offer the same prices as they do, so the consumer has no motivation to go directly to the service providers for booking.
"Blockchains are fundamentally designed to remove intermediaries from many areas of human life and by doing so solve problems (like inequality) that exist only because of centralization of power," Izmaylov wrote on his website.
By applying blockchain to the travel industry, hotels and airlines can cut out the intermediaries, such as Priceline and Expedia, and reach the consumer directly.
"Let's say you started a hotel business tomorrow," Izmaylov said. "You could work with a large online travel agency where they charge you 15% or 25% or, for a fraction of a percentage point, you can use blockchain technology. You would want to use the platform that's cheaper and will not take advantage of you in the future."
As a Nonprofit, Winding Tree Operates Under a Different Philosophy than do Many Silicon Valley Startups
"The Silicon Valley model of capitalism is fundamentally flawed," Izmaylov said. "I've lived in Silicon Valley, built startups there, and hung out with those people. The philosophy of a Silicon Valley-funded startup is to try to become a monopoly."
He said the strategy is even detailed in many venture capitalist fund manifestos.
But, monopolies are fundamentally bad, Izmaylov said, because a monopolized industry leads to a situation where the company is not building a product or service designed for people to actually use but rather to make the stakeholders money.
He said some people may think he's crazy or call him a communist, but Winding Tree's goal is not to make a profit — it is to enable innovation in the travel industry through collaborative projects.
"Winding Tree is more like a movement than a company," the CEO wrote in a blog post. "We are convinced that, without open data, innovation in the travel industry won't be possible, therefore the first project that the foundation created is an open-source blockchain-based marketplace for travel inventory (hotel rooms, airline seats, etc.)."
The nonprofit funded its initial phase in 2018 via ICO (more about Winding Tree's LIF coin below) in which it raised 16,278 ETH and went from 736 backers to 13,860 backers.
"We plan to use the funds raised in the ICO to fund the development of the protocol for the first 4 to 5 years," Izmaylov told Forbes. "After that, the nonprofit will be sustained through donations from travel companies. It's the same model that the W3C and the Linux Foundation use."
Additionally, Winding Tree plans to continue to generate funding through consulting services and the development of proprietary software products for travel companies, with the focus on projects built on top of the Winding Tree platform.
The LIF Token is Used for Payments and Platform Governance
Winding Tree's 2018 ICO generated nearly 25 million LIF tokens. While the initial idea behind LIF was that it would be used for payments, Izmaylov said the use cases for the token have expanded in recent months.
He said that, as a form of payment, LIF does not offer any advantages over Bitcoin or Ethereum. Additionally, only a few airlines or hotels accept cryptocurrency as payment because of its volatility.
But Winding Tree will be using LIF for token-curated registries, a concept that's been widely discussed recently in the cryptocurrency community.
The LIF token is the most important underlying technology of the Winding Tree platform, according to the website.
"The token will be used in this registry of travel companies to instill trust," Izmaylov said. "If you think about what it means to exist in a decentralized ecosystem, there is no gatekeeper function so this is a way to provide governance."
Izmaylov provided a hypothetical scenario to illustrate the use case.
"Let's say someone wants to start a hotel business and wants to register on the Winding Tree platform — no one can tell them that they cannot register. And they should be able to register, anyone should," he said. "But that also means all sorts of scammers and hackers could theoretically register as well."
To solve this problem and ensure travelers that an entity is legitimate, the person must use the LIF token to join the registry. And the person must maintain a certain LIF balance on the registry to prove his or her company is a legitimate player and not a scam.
Winding Tree's technology is open and available for anyone to use, Izmaylov said. The more voices working to innovate and improve the industry the better.
"You don't have to ask us to use our technology," he said. "We have all kinds of documentation online. Go for it. Just do it."