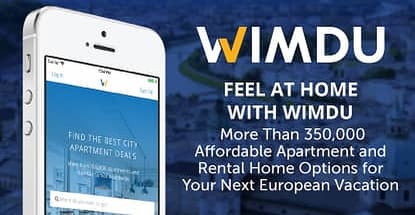 credit card news
Our experts and industry insiders blog the latest news, studies and current events from inside the credit card industry. Our articles follow strict editorial guidelines.
In a Nutshell: Vacations are supposed to be a time to relax and accrue more memories than debt. But the rising cost of accommodations in many popular overseas destinations makes it difficult to save money while having an enjoyable time. Wimdu's home-sharing platform has helped 2.5 million users experience more than 10 million nights in rental homes and apartments in the most popular European destinations. Rental prices are set by the owners, with most charging a fraction of what a hotel would cost while allowing travelers to live like locals during their stay.
Taking a vacation is supposed to be a relaxing experience. After all, what's the point of spending months at work to save up for a trip if you can't let off some steam while you're away?
The bulk of expenses for trips overseas is spent on transportation and accommodations. Choosing the right place to stay can make or break a vacation — especially if you wind up at a hotel where what you saw online is not what you got or the buffet line is long enough to make your breakfast a brunch.
Wimdu's home-sharing platform allows vacationers to save money and live like locals in any of the 350,000 apartment and vacation home rental properties listed on its website. The German company estimates about 35% of the properties available to rent on its platform are located in Italy and Spain, with Croatia, France, Germany, Denmark, Portugal, Switzerland, UK and The Netherlands making up a majority of the remainder.
The platform also offers accommodations in North and South America, as well as other popular global destinations.

Property owners set the cost for rentals, with most charging a fraction of what hotels in the same destinations charge. The accommodations range from a vacant room in a family's home to an entire unoccupied residence for the length of a vacation.
"We offer all kinds of options, from a simple room with a bed up to a villa where you can accommodate 30 people and still have a lot of space and a large swimming pool," said Robert Soyka, PR and Offline Marketing Manager at Wimdu. "Whatever you need, you can find it on our website."
Since 2011, Wimdu has helped 2.5 million users enjoy more than 10 million nights in locations as varied as Berlin, Croatia, or the coast of Spain.
"Our website is not just for vacations in big cities," said Soyka. "We also have options for trips to the coastline, in the mountains, or in rural areas. We have so much more than just cities."
Soyka doesn't just work for Wimdu, he also uses the website for his personal vacations. He pointed to one exceptional deal he found on the site for a trip he took with his family to Croatia.
"We stayed in a beautiful home and only spent an average of 15 Euros ($17.69 USD) per person, per night," he said. "There's no hotel where you will pay so little."
Visit Private, Prime Locations for Less Than a Hotel Stay
Apartment owners can list their properties on Wimdu by signing up for an account, uploading photos, and adding a description of the home. The host then sets an asking price for each night's stay.
"If you put a price that is too high, you won't get any business," Soyka said. "That means owners must compete, especially in bigger cities, by offering the best rates. That helps the customer who wants to find affordable accommodations for their trip."

Soyka pointed out that every property listed on Wimdu is vetted so prospective renters can feel secure they won't encounter any problems.
"We implemented a procedure to avoid fraud," he said. "Identities are checked before the listing goes online. It's not like other websites where people can just take some photos from the internet and create a fake account that goes online without any check and start collecting money for something they don't have."
Home Sharing Provides Cost Savings Beyond the Rental Rate
Soyka noted that some Wimdu users — including many people who travel for business and need extended accommodations — book apartment stays that can last for weeks or longer. Many apartments offer price breaks for longer stays, with some providing perks, such as rentals equipped with washing machines, to make those stays more convenient.
Almost every apartment or holiday home offered on Wimdu includes a kitchen and private dining area, which reduces trip expenses by eliminating the need to eat at a restaurant multiple times each day.
"You have more privacy through home sharing," Soyka said. "That's nice when you want to eat or to have alone time. You have your own kitchen and your own room. It's not like a hotel when you have to go to a large room with hundreds of other people who are trying to get something from the buffet. You have the same privacy here that you have at home."

And while all of the properties listed on Wimdu are privately owned, some are owned by professional rental companies that purchase apartments and homes in popular destinations and rent them out year-round. Many other rentals are simply vacation homes the owners rent out to earn passive income when they aren't using the residence.
"We have very different kinds of offers," Soyka said. "We not only have home-sharing offers, but we also have many people who offer accommodations professionally — so you won't necessarily live in another family's home."
Wimdu Helps Create Memories, Not Vacation Debt
While Wimdu rentals are almost always cheaper than hotels in similar destinations at any time of year, tremendous deals can be found if travelers are flexible with their rental dates.
Off-season dates vary by location, but Soyka said the months between September and April, with the exception of Christmas and New Year's, are almost always the cheapest times to travel.
"Often these holiday homes have an owner who may live there for a few weeks each summer," he said. "For the rest of the year, the home is totally empty. Many rent out the home through Wimdu, and during the off-season, they often charge very little for use of the home."
And while those months are often associated with colder weather, Soyka said the change in temperatures is welcomed in some areas.
"The thing is, Spain is usually so incredibly hot that it's often better to book certain areas during the off-season," he said. "The Canary Islands, for example, can be very enjoyable during the off-season because it's still warm enough to swim in the ocean."