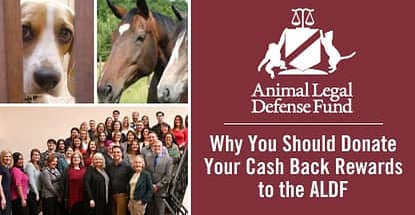 credit card news
Our experts and industry insiders blog the latest news, studies and current events from inside the credit card industry. Our articles follow strict editorial guidelines.
In a Nutshell: Every year, millions of animals face neglect or death because of abuse, exploitation, or laboratory testing. With the US court system overwhelmed with human cases, seeking legal action to prosecute animal cruelty often receives limited attention. The Animal Legal Defense Fund (ALDF) is a nonprofit 501(c)(3) charitable organization whose mission is to protect the lives and advance the interests of animals through the legal system. The ALDF is currently involved in a number of cases that deal with companion and captive animals, agriculture, and pet store owners who sell neglected or sick animals from puppy mills.
In the last month, the power of social media helped the world get to know Kokito, the 10-month old French Bulldog who died when a United Airlines flight attendant required the dog's carrier be placed in an overhead bin for the duration of a three-hour flight.
The tragic story trended worldwide and garnered enough attention that two US senators introduced a bill to prohibit similar practices by airlines. This is in addition to the FBI tracking acts of cruelty against animals, counting them alongside felony crimes like arson, burglary, assault, and homicide.
Still, nearly 2,000 animal abuse and cruelty cases are reported in the US media each year. More than 100 million mice, rats, dogs, cats, rabbits, monkeys, and other test animals are killed in US laboratories annually. Unknown millions of other animals, whose stories the public never hears, are subjected to cruelty, abuse, or exploitation.
The Animal Legal Defense Fund (ALDF) is a nonprofit 501(c)(3) charitable organization and relies almost entirely on individual, tax-deductible contributions from caring members and donors. The Fund's mission is to protect the lives and advance the interests of animals through the legal system.

To achieve that goal the ALDF uses legislation, litigation, and enforcement of laws, as well as working to grow the field of animal law. To date, the ALDF is the only nonprofit organization dedicated solely to helping animals through the legal system.
In 2014, the ALDF filed the first ever case on behalf of captive animals under the Endangered Species Act and had a wide-ranging victory that freed several endangered animals from zoos. Today, the Fund is working to bring national attention to animal abuse cases and put the spotlight on pet stores that sell dogs raised in puppy mills or other neglectful conditions.
We're highlighting the ALDF's work as part of our series on ways consumers can donate their credit card rewards and receive tax advantages while helping a worthy cause.
Donations received from consumers contribute to the ALDF's annual budget, more than 80% of which goes directly to its program work. The ALDF is also a four-star Charity Navigator rated nonprofit, Gold-level GuideStar Exchange participant, a Better Business Bureau Accredited Charity, and has been awarded the Independent Charities Seal of Excellence, ensuring that it meets the highest standards of public accountability, program effectiveness, and cost-effectiveness.
Changing the Legal Perception of Animals as "Things"
The federal government's interest in animal neglect cases stems mostly from scientific research showing that people who abuse animals are more likely to be violent toward people. With the court system already filled with cases involving humans, offenses against animals, in the absence of a media spotlight, are often dismissed with minor punishments.
"The fundamental problem for animals and for the Animal Legal Defense Fund's work is that our laws still consider animals as 'things'," said Stephen Wells, Executive Director for the Animal Legal Defense Fund. "That is, animals are property according to the law. It's a holdover from the past, and as our understanding of animals and our attitudes have changed, our laws haven't caught up."
Some states are starting to see the benefit of enacting laws that protect animals. Both Illinois and Alaska have amended divorce laws to take into account the well-being of pets when determining custody.
For the last two decades, the ALDF has filed amicus (or friend of the court) briefs in custody cases asking courts to consider the "best interests" arguments that are beginning to be codified in the law. In those briefs, the Fund did not favor either party in the dispute but argued that courts have the authority to treat animals more like dependents than property, and should do so.
The briefs are just one of the many creative angles the ALDF takes toward aiding animals through the courts.
Current Cases Focus on Animals In and Out of Captivity
The ALDF is currently involved in a number of cases targeted to help companion and captive animals, factory farmed animals, and beyond. Over the summer, the Fund runs its Dogs in Hot Cars campaign to educate pet owners of the dangers of leaving their dogs in their cars.
"We also educate people about their rights when they see a dog locked in a hot car," Wells said. "Some states allow good Samaritans to break a window to save a dog's life."
The ALDF also has an ongoing lawsuit against Petland, the chain pet store that features an assortment of puppies and other animals for sale. The lawsuit, filed on behalf of Petland puppy and kitten purchasers, allege the pet store's sales policies constitute racketeering.
The ALDF alleges that Petland sells dogs born in puppy mills — mass commercial breeding operations known for having inhumane conditions, inbreeding, and cruelty to the mother dogs who are forced to give birth over and over. The lawsuit is bolstered by the accounts of several pet store customers who bought puppies who died from illnesses shortly after purchase and were not allowed refunds or other compensation.

The Fund is also working to ban Greyhound racing in Florida, one of only five states that still allows such activity. State Senator Tom Lee introduced Proposal 67, which the ALDF supports, to ban Greyhound racing in the state.
"Greyhounds used for racing are kept in conditions which would be unthinkable for our companion animals," Wells said. "They are kept in cages for more than 20 hours per day. They are often drugged to improve performance. Every three days, a racing Greyhound dies in the state of Florida."
In 2014, the ALDF led a campaign against Cricket Hollow Animal Park, a roadside zoo in Des Moines, Iowa, over its mistreatment of their animals. The Fund successfully sued the USDA for reissuing Cricket Hollow's license despite frequent violations  — including inadequate staffing, filthy enclosures, and deficient veterinary care — recorded by USDA inspectors.
The case was the first under the Endangered Species Act brought on behalf of captive animals and had wide-reaching implications, including the acclimation of endangered animals into their natural habitats. The same legal strategy has already been used to free additional endangered species from other zoos.
Help a Movement Change the Lives of All Animals
Since 1979, the Animal Legal Defense Fund has worked to advance the interests of animals through the legal system. Today, the Fund is active in shaping the emerging field of animal law and provides resources and learning materials to law schools around the country.
The nonprofit maintains a how-to page on its website for consumers who would like to make a tax-deductible donation of their credit card rewards or any other funds.
"My goal is for the Animal Legal Defense Fund to keep filing groundbreaking lawsuits on behalf of animals and increase their legal protections," Wells said. "We are leading a movement to change the lives of all animals. As the public becomes more aware of animal suffering and how powerful the law is as a tool to protect animals, the movement will continue to grow."