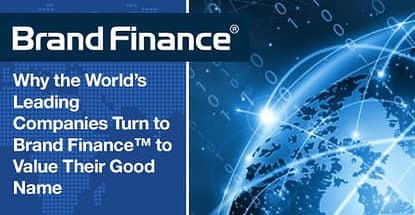 credit card news
Our experts and industry insiders blog the latest news, studies and current events from inside the credit card industry. Our articles follow strict editorial guidelines.
In a Nutshell: Playing a unique role in evaluating and determining the intangible value of a company's brand image, London-based Brand Finance is the world's leading brand and branded-business valuation company. The information provided by Brand Finance allows its clients to make informed decisions about the future of their brands, and where to focus their marketing efforts. It also allows companies, such as credit card issuers, to see where new technologies might be eroding the value of their brand image. Brand Finance evaluates more than 3,500 brands each year, across multiple sectors and geographies. Its highly transparent and accessible evaluation methodologies allow companies the confidence to build strategies and make decisions around this highly specialized data.
When we think of the best-known brands in the world, we're really not thinking of the name of the product, but of the way we feel about it. Consider iconic brands like Coca-Cola, Nike, Disney, Apple, and countless others.
These names evoke a feeling about what they represent to us. They are aspirational brands in the minds of consumers, and therefore carry a premium over similar but lesser-known brands. The question is; how do we place a value on this premium? That's where consultancy services come in.
Brand Finance was founded in 1996 with its headquarters in the historic Brand Exchange in London. The consultancy now has offices in more than 20 countries around the world, all sharing the goal of delivering objective, unbiased advice on brand valuation.
The idea behind Brand Finance is raising awareness of brands as valuable business assets, and to provide companies with actionable metrics to support brand marketing decisions. Through a mixture of financial analysis and market research analysis, Brand Finance helps companies make decisions for the future direction of a brand.

David Haigh is the Founder and CEO of Brand Finance. He sat on the committee that devised the global standards on monetary brand valuation. This standard, known as ISO 10668, defines the six evaluation methodologies by which brand valuation can be determined.
David recently told us, "Our primary interest at Brand Finance is looking at the business case and the financial case of things to do with marketing and brands. It involves a heavy element of econometrics and market research analysis, which we use when we do brand evaluation."
It's through this detailed technical analysis and highly professional approach to marketing accountability and brand evaluation that Brand Finance is able to accurately value these intangible assets. The result is a more targeted and efficient use of resources, and better overall management of the valuable brand image of companies.
Brand Finance Helps Companies Focus Marketing Dollars Where They Matter Most
The concept of brand valuation is not a new or even a complicated one. The more a brand is recognized and respected, the more likely consumers are to choose it. If they remember hearing positive comments or exceptional results, they will be drawn to purchase it over competing products. But just how do brands get to be so well regarded and recognized? In a word, through marketing.
Companies engage in brand valuation to help them determine where to focus their marketing efforts, and how much of their budget to allocate to a particular brand.
Consider an enterprise like Procter & Gamble, with individual brands ranging from Dawn dish soap to Gillette razors and Pampers diapers. Determining where to split its marketing and advertising dollars among brands can be a complicated task. Using the methods developed by Brand Finance, P&G can see where it is gaining or losing market share, and can allocate marketing dollars accordingly.
As David states it, "We look at each brand in the portfolio of a company like P&G as though it's a business, and to a large extent, that's how the companies look at it, too. If one of the brands is weak, they decide to either invest in it, or perhaps sell it off. They ask the questions. Should we advertise more? Should we do more social media or PR? Do we need to reposition? Is the segmentation right? Those kinds of things."
Only through an objective and unbiased view of the brand can these questions be answered. Based on the value of the brand relative to its peers, the company can determine the right approach to either prop up the brand or not. If the company determines the brand is worth investing marketing resources, then a campaign can be devised. And this is how brands gain traction in the minds of consumers.
How Mobile Apps are Driving the Brand Valuation of Credit Card Companies
Another effect from brand valuation is it lets companies know where they stand in terms of their name recognition over time. If their ranking among consumer-recognized brand names indicates a downward trend, they can direct efforts toward discovering why, and what to do about it. This is the potential case with the two largest credit card issuers, Visa and Mastercard.
David puts the issue this way, "First, there were bank cards. Then, affinity cards. Now, it's payment delivery systems built into apps. Cash is disappearing in favor of mobile payment systems. When people sign up for an app, like Uber, they put in their credit card numbers, and very few actually ever change that."
Historically, the Visa and Mastercard brand names were in front of consumers' faces each time they pulled a card from their wallet. Even if subconsciously, we were presented with the branded logo image each time we paid for something with these cards. Now, users are simply clicking on their app or swiping their phone to pay for purchases or services. As a result, the branded card issuers are having to rethink their marketing strategies.
According to David, "The advent of apps is driving the card companies, like Visa and Mastercard, away from conventional bank issuers, and toward companies like Uber. That's because this is the area that's growing the fastest, along with services like Apple Pay."
As consumers become more comfortable with the idea of digital wallets and paying for goods and services using their mobile devices, branded credit card companies will need to evaluate their business models.
Why Brand Valuation is Important and What Companies Do with the Information
The standards committee has approved six methodologies for valuing brands. They are the price premium method, volume premium method, income split method, multi-period excess earnings method, incremental cash flow method, and the royalty relief method.
Of these, the royalty relief method is the most widely accepted. This method determines the value a company would be willing to pay to license its brand as if it did not own it. This approach involves estimating the future revenue attributable to a brand, and calculating a royalty rate that would be charged for the use of the brand.
Brand Finance uses the royalty relief method in valuing its clients' brands, but just what do companies do with this critical data? Product managers and marketers are tasked with the challenge of growing their brand awareness — and therefore brand value — within an organization.
The data provided by Brand Finance allows them to know definitively where their brand stands in regard to the competition, as well as to historical trends. And, because marketing and brand awareness are driven primarily through advertising dollars, budget decisions can be made more effectively.
Another way clients of Brand Finance use the brand valuation metrics provided to them is in monetizing their brand on the balance sheet. This is generally done using the Brand Strength Index measurement, which benchmarks the strength, risk and future potential of a brand relative to its competitors.
Turning a brand into a measurable asset is an important way that Brand Finance helps create value for its clients. That's why it's critical that individual brand valuation remain as high as possible. For companies large and small, as well as for sports franchises and even countries, maintaining a positive brand image isn't just a benefit; it's crucial to the success or failure of their enterprises. And that's what makes Brand Finance such a valuable partner.