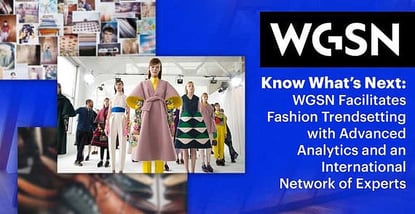 credit card news
Our experts and industry insiders blog the latest news, studies and current events from inside the credit card industry. Our articles follow strict editorial guidelines.
In a Nutshell: Treasured by fashion industry professionals, the World Global Style Network (WGSN) has a lengthy track record of validating style decisions. The company employs more than 200 experts who are spread out across the world, and pay close attention to emerging trends in the fashion world. The knowledge base that emerges from this fashion full-court press is what WGSN uses to keep retail executives, designers, and merchandisers two years ahead of schedule so they always know what's coming next. Through their subscription products and consultancy services, WGSN is giving retailers the tools they need to beat their competitors to market.
Fashion designers and retail companies are expected to be trendsetters, but how do they know what's going to be popular before it hits the market? Manufacturing large clothing orders isn't cheap, and it's crucial that whatever apparel manufacturers produce doesn't collect dust on the shelves.
Designers have refined fashion instincts, which is why they got into the industry, but retail company executives want concrete evidence that something will sell before placing an order. These decision-makers rely on WGSN, the top fashion forecasting company on the planet, for validating choices that may mean the difference between profit and loss for their businesses.
"Our mission is, 'Create Tomorrow,'" said Emily Spiegel, Head of Content and Product Marketing at WGSN. "We're very much about empowering our clients to have the confidence to create the designs of the future."
One company that has benefited from WGSN's fashion forecasting services is sports apparel company, Fila. In 2009, Francine Candiotti was charged with reviving sales for Fila as its new Head of Apparel Design.
Using WGSN's extensive design library and collaboration tools, Francine created presentations backed up by substantiated research that she used to win over the board room. Her collections were featured in major publications, and Fila vendors purchased her apparel in record numbers.
"Of course, I can design without WGSN," Francine told WGSN for a case study. "But it's like being a surgeon without the best technology and the best medications; why would you?"
Going beyond tools for creators, WGSN's services also benefit retail company executives, marketers, buyers, and merchandisers by helping them beat competitors to market with trendsetting designs.
Emily told us WGSN always remains at least two years ahead in terms of planning and forecasting. So, for instance, in the winter of 2016, experts from WGSN already had plans and forecasts for the 2019 spring season. Being first is important in the fashion world, and WGSN gives industry professionals a proven advantage.
"If you wait until it's on Instagram, it's too late," Emily said.
Executives Trust WGSN to Validate Product Decisions
Founded in 1998, WGSN has earned the retail industry's trust by employing 200 global style experts who stay on top of what's happening in the most popular buying markets in the world — from the traditional fashion meccas of New York, Paris, and London, to emerging markets such as Brazil and China.
For a clearer picture of its reach, WGSN has 14 global offices with product subscribers in 94 countries. The company offers five subscription services (Insight, Fashion, Lifestyle & Interiors, Instock, and StyleTrial), publishing about 400 articles per month.
"We have eyes and ears everywhere," Emily said. "Our employees are on the ground every day looking at what's going on artistically, culturally, and politically. If someone is doing something new in the fashion or retail space, we know about it first."
Actively recruiting top fashion talent, WGSN develops a knowledge base that drives ROI and product decisions for retail executives across the world. According to an internal study, 93% of executives who use WGSN say the service has strongly influenced their sales, with 84% reporting they saved money, mostly through buying fewer samples and getting more efficiency out of shopping trips.
Within the fashion industry, it's essential that executives and marketing teams have the resources to stay connected to what's going on within their markets and elsewhere while remaining informed of upcoming trends.
"It's about having one eye on the future so you're not only focused on the present, but you're also keeping a pulse on today's market," Emily said.
WGSN publishes around 40 reports per month through Insight. This big-picture content, which focuses on consumer insight, marketing, retail strategy, and future innovations, caters to decision-makers.
For executives seeking a more tailored approach, WGSN makes its experts available through another service it calls Mindset.
"We're known for our network of experts and extended group of freelancers," Emily said. "If you want to leverage them for a specific project, then we do one-off consulting. For example, our experts can help determine a color forecast that's specific to your company based on your market needs."
Buyers Understand the Market Better with WGSN's Analytics
WGSN offers two resources that are specifically helpful to retail buyers and merchandisers.
The first, Instock, analyzes more than 100 million SKUs and 12,000 products and brands in key markets, presenting real-time data through a highly visual dashboard. The information gives buyers a clear picture of inventory, pricing, and which brands and colors are selling out. This can be invaluable data when buyers and merchandisers are choosing what apparel to order and determining competitive pricing.
"We help them look at discounting and what's selling out to get a better idea of what products are moving," Emily said.
Going a step further into validating product decisions, WGSN has partnered with SoundOut, a company that specializes in using online focus groups to determine the singles that record companies should choose from artists' albums. The same concept goes into Styletrial, except it's applied to merchandising choices.
Styletrial subscribers upload images of their apparel and choose target demographics within SoundOut's more than 2 million panelists, receiving data on how each group is responding to each design.
This type of crowd-sourced testing tends to happen closer to market, giving retail buyers and merchandisers a high level of confidence when it comes time to choose what to display in their stores.
Tools & Resources Help Designers Collaborate on Projects
Executives, marketers, merchandisers, and buyers all play essential roles in fashion, but the designers are the superstars. Even the most fashion-backward citizens have probably heard the names of Ralph Lauren, Giorgio Armani, Donatella Versace, and Marc Jacobs.
A trusted source for designers across the globe since 1998, WGSN's Fashion product validates designers' choices while also providing software to aid collaboration for their teams, helping designers achieve star status.
"We have a lot of tools on the back end that help our clients communicate with each other," Emily said. "We have a workspace tool where you can create folders and collaborate on projects."
Fashion is the company's original product, and it includes trend reports and intelligence on basic apparel, footwear, accessories, kidswear, menswear, and women's wear. Designers also benefit from more efficient shopping trips.
"One of the favorite features on WGSN is our city guide, which provides breakdowns for each major buying destination," Emily said. "A city guide includes what stores you need to go to, what cultural events you might want to see. It basically allows you to map out your trip."
The biggest benefit designers get out of Fashion is validation for their style choices.
"In today's market, a small design decision can be the difference between success and terminal stock," Emily said. "So it's really important that they are on trend, at the right price, at the right time, and not just going on whims."
A Trusted Trendsetter that's Always Two Years Ahead of the Game
When Emily tells us WGSN is always at least two years ahead of trends, it's not hyperbole.
This is apparent during WGSN's trends days when its editors and experts from each market meet to discuss emerging topics within the industry.
"They come together twice a year, and they distill all that information into what they feel is the overarching message that's going to filter down into all areas of design and commerce in two years' time, and they put together four specific trends for that," Emily said.
WGSN also hosts an event it calls Futures, in which it invites speakers to discuss upcoming fashion topics, giving members of the public a window into the industry.
WGSN's commitment to identifying trends based on expert observations is crucial in validating decision-making at every level within the retail industry. And it's clearly working. Emily told us WGSN has more than 6,500 global customers and a customer value retention rate of 92%. Going beyond numbers, WGSN believes in its product because of the feedback it receives from industry professionals, who trust its services to inspire, validate, and benchmark design and commercial decisions.
Emily told us WGSN has more than 6,500 global customers and a customer value retention rate of 92%. Going beyond numbers, WGSN believes in its product because of the feedback it receives from industry professionals, who trust its services to inspire, validate, and benchmark design and commercial decisions.
"We were just interviewing a client, and he said the reason that he loves WGSN is he really feels it's his window to the world," Emily said. "Without having to leave his desk, he can get an idea of what's going on in Tokyo, what's going on in Melbourne. Everything from around the world is brought to your desk."