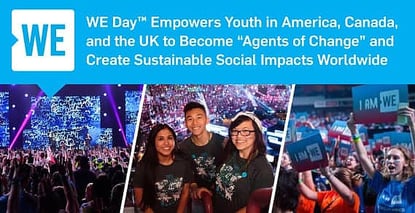 credit card news
Our experts and industry insiders blog the latest news, studies and current events from inside the credit card industry. Our articles follow strict editorial guidelines.
In a Nutshell: Creating positive social change around the world is something everyone wants, but nobody can tackle the issue alone. The WE Movement is one that inspires youth to become change-makers within their communities and across the world through service and leadership. WE Day events are the celebrations of this movement in cities across the US, Canada, and the UK, bringing together hundreds of thousands of people who are making a collective difference. These events feature marquee musical acts and inspirational speakers, and the only way to get a ticket is by earning an invitation through service work.
Craig Kielburger was inspired to fight against child labor when he was just 12 years old, but he knew this wasn't an issue he could solve alone. With a keen determination to make a positive difference in the world, he enlisted the help of his brother, Marc. Once the Kielburger brothers got their friends involved, and those friends brought in more friends, it set in motion a movement that's now celebrated across the globe.
The WE Movement, formerly known as Free The Children, invites young people to promote global change by implementing service-oriented programs in schools, hosting events, and organizing volunteer trips. As social entrepreneurs, humanitarians, and activists, Marc and Craig stand by the belief that they can inspire today's youth to collectively make a lasting global impact. Out of the WE Movement grew WE Day, a series of annual celebrations where students come together to celebrate the positive changes they've made through service projects.
"WE Day celebrates the amazing young people who have taken action at home and around the world to create sustainable change for a better tomorrow," Craig said. "It is the celebration of WE. It is the Super Bowl of doing good. The Academy Awards of changing the world."
WE Day aims to promote the idea of altruism, and WE Day events have inspired change in communities across the UK, America, and Canada. For example, more than 875 schools and groups across California volunteered more than 600,000 hours during the 2015-16 school year, raising in excess of $825,000. The funds raised benefit 615 organizations working to alleviate social issues, such as hunger, homelessness, and bullying, in addition to supporting youth advocacy, education, and literacy.
With modern challenges like the uneven distribution of wealth and widespread threats to the environment, it's become increasingly important for people to take action toward creating change. Children and teens are ideally positioned to make a difference in their communities and beyond their own borders. Instilling these principles of empathy and leadership qualities in them at an early age is the goal of the WE Movement, and the success of its service projects provides evidence of the program's success.
WE Day Gatherings Connected with WE Schools: A Free Sponsor-Supported Learning Program
WE Schools is a program that encourages youth to identify community and global issues that they're passionate about. It empowers them to take action by providing the tools, education, and support they need to develop the skills necessary to make a difference. WE Day works in conjunction with WE Schools to inspire change with events that motivate kids to do their part.
The WE School program is active in over 12,000 schools across North America and the UK, and includes a full calendar of campaign ideas for educators to use when designing their curriculum. Through the program, students can take leadership in addressing social issues both in their community and globally.
WE Schools not only affects the causes supported, but it enables educators to teach social justice issues by creating a service-based curriculum for their students. Thanks to the program, 87% of educators have reported that their students felt more connected to their local communities, and 77% said that the program engaged youth who were previously uninterested in these issues.
The WE Movement also brings students together at its Youth Summits, where they hear stories from public speakers and participate in hands-on workshops that help them realize what they're capable of doing to promote positive social change.
Filling Stadiums with Passionate Young Change-Makers Inspires a Collective Consciousness
By creating environments where hundreds of thousands of youth come together to celebrate unity, the WE Movement is raising a new level of consciousness. WE Day fills stadiums with these young "Agents of Change" and works to instill the belief in millions of people that it's possible to make a difference when everyone works together toward a common goal.
"Standing in a stadium full of passionate youth will affirm your belief that real change can happen — and is happening every single day right here in California," Craig said.
One recent WE Day California event was attended by 16,000 youth, and featured performances by artists such as Alicia Keys and Selena Gomez. Also present were inspirational speakers, including Mpumi Nobiva — a South African orphan who promised her mother, who was dying from complications of AIDS, that she would continue to work hard in school and remain true to her faith. Mpumi, who was 9 years old when she lost her mom, went on to become a graduate of the Oprah Winfrey Leadership Academy for girls and a role model for overcoming adversity.
"[WE] is really teaching young people to take responsibility for their own lives and to do something for others, and that fits right in line with what my dad and his team and my mom advocated," said Martin Luther King III, in an interview with ABC 7 Chicago, in regard to the impact that the event has on youth.
The movement includes 3.4 million young people and supports more than 2,500 charities. Some of the organizations that benefit from WE contributions are doing important work, like providing clean water, building schoolrooms in developing areas, and providing education for those who need it most. These WE Day events are raising awareness for the movement, while rewarding children and teens for their efforts to make the world a better place.
Students Earn WE Day Tickets by Making a Positive Impact within Their Communities
Students who attend WE Day aren't allowed to pay for their tickets. They must earn them through service work, and it all starts in the classroom. WE Schools offer students opportunities to volunteer their time within their communities, and dedicating enough time and effort toward service earns these kids tickets to the party.
"Every year, more than 200,000 students from over 10,000 schools around the globe earn their tickets to WE Day through the yearlong WE Schools program, creating positive impacts in their communities," Craig said.
Before applying for WE Day tickets, schools and groups must commit to the WE Day program and take the pledge. Once they've completed one local and one global action related to any social justice issue they choose, students become eligible for tickets. The event is free to students who are approved, and WE does its best to accommodate as many eligible students as possible.
More Than 200,000 Students Every Year Take a Stand for Global Change
Many people want to help make the world a better place, but knowing where to begin can be daunting, particularly when you're going it alone. Having a team of change-makers beside you can make all the difference, and the WE Movement gives young people the opportunity to take action together.
Organized WE Day events allow people to spread their ideas, share their stories with one another, and hear from inspirational speakers. Through the broadcast of these events, the positive messages from this event can spread even further.
The movement starts right in your own community, and WE Day brings together over 200,000 students each year to work toward common goals. Through service projects, many of these students become leaders in local and global communities, providing examples to others to spur change and work toward a better tomorrow.