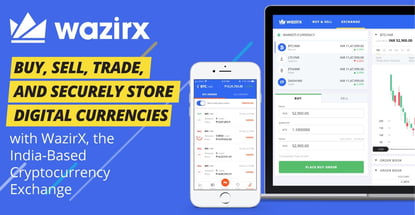 credit card news
Our experts and industry insiders blog the latest news, studies and current events from inside the credit card industry. Our articles follow strict editorial guidelines.
In a Nutshell: WazirX is a secure and efficient cryptocurrency exchange based in India. The company was founded by a team of tech entrepreneurs who saw success with their previous platform, Crowdfire, after identifying a need in the Indian crypto market. The company also developed WazirX P2P, the first auto-matching P2P engine. Users can trade fiat for crypto and vice versa while WazirX serves as an escrow account for the funds. WazirX prioritizes security and is dedicated to delivering a high-quality user experience.
The world first learned about Bitcoin a decade ago and in the ensuing 10 years, cryptocurrency has become a household name with the industry seeing enormous growth in a relatively short period of time.
Countless startups scrambled to learn how to harness blockchain technology for new and exciting purposes, and consumers invested in cryptos as if they were buying stock in the next Amazon.

Over the past few years, cryptocurrency exchanges have popped up all around the world, and blockchain technology has spread beyond crypto and is now used in a range of applications across numerous industries.
"I've been a believer in blockchain for many years," said Nischal Shetty, Founder of the India-based social media management platform Crowdfire. "But it was in 2017 that I really went down the blockchain rabbit hole. I tried using Indian cryptocurrency exchanges and was disappointed with the UX (user experience) and lack of transparency."
Shetty realized that, having successfully launched Crowdfire, he and Crowdfire Co-Founders Sameer Mhatre and Siddharth Menon had a unique understanding of what it takes to build and scale a global tech product out of India.
"Hence, we took the challenge to build WazirX — a cryptocurrency exchange for India which offers people world-class UX, transparency, and trust," said Shetty, who also serves as the CEO for WazirX.
The Platform Brings a Fast, Efficient Crypto Exchange to India
"We're a team of hardcore traders and passionate blockchain believers," according to the website. "We understand exactly what you need. Powerful graphs, mobile apps, etc., are features being built into WazirX from day one."
The company is billed as India's most trusted Bitcoin exchange, and users can easily buy, sell, and trade other cryptos as well, including Ethereum, Ripple, Litecoin, and more.
The platform is designed for traders at all levels of expertise.
"We're building an exchange that will bring anyone who believes in crypto to join the digital cryptocurrency revolution," according to the website. "The world is moving on to this revolution at an unprecedented pace. Now is your time…Whether you're a first-time investor or a professional trader — WazirX has got you both covered!"
The crypto exchange features an advanced trading interface with rich features, including its Live Open Order book system that allows users to trade digital assets.
"You can deposit and withdraw cryptocurrencies with amazing ease and speed, as well as securely store your digital assets in your WazirX wallet," according to the website.
The WRX token is the platform's utility token and the backbone of the WazirX ecosystem. And users can have a chance at snagging some free WRX.
"We're giving away WRX tokens to our early adopters as a reward for believing in us, and participating in our success," according to the company. "When we list WRX, the token holders will benefit hugely with use-cases like paying trading fees, airdrop and more."
The company has announced that there will be a maximum of 1 billion WRX ever created and 15% of those — or 150 million — will be awarded to those who sign up for the WazirX platform early.
WazirX P2P is the World's First Auto-Matching Engine
Shetty said one of the platform's standout features — and user favorite — is WazirX P2P.
"We innovated and launched WazirX P2P — the world's first auto-matching P2P engine — shortly after the Indian central bank imposed a banking ban on cryptocurrency exchanges in India," he said.
The P2P engine has been a game-changer and tremendous success for the company, he said.
"Today, WazirX P2P is the cheapest, fastest and simplest way to buy/sell crypto using INR (Indian rupee) in India," according to Shetty. "We're seeing several P2P trades happening every minute, and rapid growth in our P2P volume every month."
WazirX P2P helps users convert their money to crypto (or crypto to fiat) instantly, while WazirX acts as an escrow for safekeeping of the transaction, according to the company. Additionally, the service is 100% free.
He said that, because of its unique nature, WazirX P2P is the best solution to the fiat-crypto conversion problem around the world. The platform has launched in Indonesia, Russia, Ukraine, Nigeria, Italy, Turkey, and Saudi Arabia.
"We want to expand WazirX P2P to even more countries and make it the default way to convert fiat to crypto and vice-versa," Shetty said. "The fiat-crypto conversion problem is real, and it's worse for developing and underdeveloped countries. Having already successfully solved this for Indian users, we're confident that WazirX P2P will solve it for more countries."
WazirX P2P uses the stable coin USDT to keep the process as simple as possible and to ensure very high liquidity. The P2P engine has facilitated more than $18 million in P2P trades to date.
Prioritizing a Safe, Quality User Experience
"Keeping your WazirX account and funds safe is always our topmost priority," according to the company website. "You form an important part of the effort and together we can keep WazirX as the most secure exchange in India."
The company regularly invests in security audits to ensure the platform remains highly secure for its users.
"We've left no stone unturned to make WazirX India's most secure exchange," according to the website.
Shetty said time is also valuable for users, which is why WazirX provides an efficient KYC process.
"Top of the line identity verification systems process your KYC within a few hours of signing up while ensuring the right KYC protocol," according to the website. "We're building in robustness to sharply reduce verification times."
The company also uses two-factor authentication protocols.
"Two-Factor Authentication (2FA) provides an extra layer of security for your account by requiring a second step of verification when you log in or perform some specific actions," according to the website. "In addition to your password, you'll also need an OTP (one-time password) received via SMS/Email or an OTP generated by apps like Google Authenticator, Authy etc."
WazirX users who need help can visit the company's support center, and if they are unable to find an answer to their problem, they can submit a request online. The support team is operational from 4:30 a.m. to 1:30 p.m. UTC, Monday through Sunday.
Shetty said all of this is balanced with WazirX's drive to provide a high-quality user experience at all times. He and the WazirX team appreciates feedback on what it is doing right and how it can improve, he said.
"We love hearing from our users. We encourage them to reach out to us on social media," Shetty said. "We also conduct regular surveys among our users to understand what they think about WazirX and where we can improve."
Most of the company's new feature launches are based on user feedback and demand.
"We're humbled by the love and response we keep getting from our users," Shetty said.