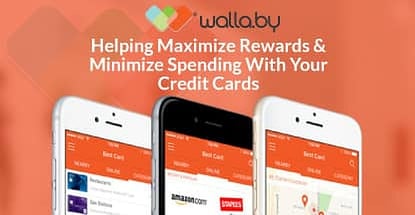 credit card news
Our experts and industry insiders blog the latest news, studies and current events from inside the credit card industry. Our articles follow strict editorial guidelines.
In a Nutshell: Wallaby Financial is a free app and browser extension that can save you hundreds of dollars a year by showing you the best credit card in your wallet to use at any given time. Through advanced algorithms and an extensive credit card database, Wallaby considers the factors of each of your cards to maximize your rewards and minimize your spending.
I own a handful of credit cards and I'm definitely not alone here. A Gallup survey conducted in 2014 found that the average American cardholder has 3.7 credit cards, and that statistic is actually at an all-time low. Yes, we Americans lead charge-happy lifestyles.
But how privy are we to our credit cards' rewards programs? I'll be the first to admit I'm not as aware as I could be. I may receive 3-percent cash back at the grocery store on my American Express, or double points at the same grocery store on my Visa, oblivious to which is the better deal. Unless you only have a single credit card to swipe, it can be challenging to stay up-to-date on rewards, interest changes, and all of the accompanying factors of credit cards.
A few years ago, CEO & Founder of Wallaby Financial Matthew Goldman, ran into this problem when he went to put gas in his car and after seeing an ad on the pump a little too late, realized he didn't use the right card to pay with, causing him to miss out on some savings.
"I forgot which card was my gas card, and I thought, 'Why is it so hard to keep track of which card to use?' So I went to look to see if there was a tool out there that could help me, and I didn't find anything. That's when I decided to build my own solution," Matthew told CardRates.
And that's how the Wallaby app was founded — on the premise that there has to be an easier way to keep track of the ever-changing rewards programs, interest rates, fees, and other various components of credit cards.
Data & Mathematical Algorithms Determine Your Best Card
"Wallaby Financial helps consumers get the most out of their credit cards by optimizing usage based on individual preferences. Through our products, you can optimize your credit card usage for rewards, credit limit, statement due date, linked bonuses, and other factors," states the company's website, Walla.by.
When you're in a store, restaurant, gas station — really almost anywhere you spend money — Wallaby will alert you as to which credit card is the best to use at that location.
Wallaby is Your Intelligent Everyday Spending Assistant
Wallaby boasts the largest and most comprehensive database of credit cards in the U.S. There are currently over 3,000 individual credit card profiles in Wallaby's CardBase® system, and for each card there are "dozens and dozens of attributes and informational features," Matthew told us.

"We have structured information about how the cards actually work, and we take that data and we pair it up with the data about where you're shopping — whether that's a URL for online shopping or a physical location that you can see in the mobile app — and we mix all of those things together. The algorithm is able to calculate the cards in your wallet, how they work, and what merchant you're shopping at to find you the best value," Matthew explained.
"And that can be very customized, whether it's the highest reward rate or 'the highest reward rate where payment isn't due in three days and I'm not near my credit limit.' We can mix all of those things together and come out with an optimal solution for you," he added.
As you can see, Wallaby lives up to its name as "Your Intelligent Everyday Spending Assistant."
 
3 Ways to Use Wallaby: Smartphone, Desktop, Smartwatch
The smartphone app was introduced in 2012 and is great for when you're out and about, but the Wallaby team soon realized the need for a home shopping solution. And thus the browser extension was introduced in 2014 to maximize rewards for online purchases. Just shop online as usual and when you're ready to check out, simply click the Wallaby icon and the best card for that purchase, based on the most rewards and cash-back offers, will appear.
"We're just happy to help people save money." — Matthew Goldman, CEO & Founder
Wallaby is also compatible with select smartwatches, allowing you to locate the best way to pay in a few simple clicks. You'll be alerted to special deals right on your wrist. Wallaby is currently available for the Apple Watch, Pebble, and select Android and Galaxy smartwatches.
Stringent Compliance Standards Ensure Top-Notch Security
When it comes to sharing personal financial data, people tend to be rightfully wary; but Wallaby doesn't need your credit card numbers themselves, which is a big component of its security.
"We never ask you for your credit card number. We do optionally allow you to connect to Wallaby from your credit card issuer so you can download transactional information, and that helps us make better decisions on your behalf. We put that information in our secure database which is PCI Level 1 Compliant," said Matthew.
In order for a company to be Level 1 Compliant, the most stringent level of card security standards, it must have annual on-site audits and a required network scan by an approved scanning vendor. This is to review all policies and procedures, as well ensure data is stored in the safest way possible.
Swiping the Right Card Can Save You Hundreds Each Year

Overall, Wallaby is an intuitive, free tool designed to help people get the most value out of the card they already have.
"In our analysis — and of course everyone's individual results vary — the average person can save hundreds of dollars a year by using the right card. Whether that's from avoiding fees or also optimizing rewards, it's a pretty substantial amount of money when you add it all up," said Matthew.
He then explained that it is especially beneficial for large purchases or for regularly occurring purchases such as gas. "We're just happy to help people save money."
"For people like me, with horrible memory and poor attention to credit card details, this app is awesome — I can't believe how long I've been swiping the wrong cards." — Andrew Waage, Google Play Review
Wallaby is available for download in the App Store and Google Play.