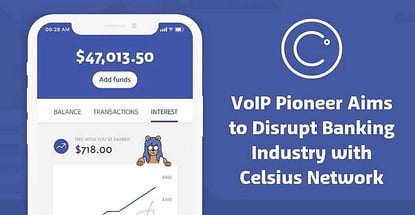 credit card news
Our experts and industry insiders blog the latest news, studies and current events from inside the credit card industry. Our articles follow strict editorial guidelines.
In a Nutshell: In the early 1990s, Alex Mashinsky was essential to the dissemination of Voice over Internet Protocol (VoIP) technology. He was the author of the VoIP's foundational patents and a pioneering entrepreneur in the field. With his latest venture, Celsius Network, Mashinsky is aiming to take the VoIP model to the finance world with Money over Internet Protocol (MoIP). Celsius Network lets users earn interest on their cryptocurrency deposits, secure low-interest crypto-backed loans, and access CelPay — a free, instant P2P payment network. The Celsius Network philosophy is to function in the crypto community's best interest.
Once upon a time, when people wanted to call a friend or family member outside of their area code, they would be charged by the minute for the conversation. These were long-distance calling rates — a concept that now seems as antiquated as, well, a landline telephone.
The rise of cellular technology and Voice over Internet Protocol (VoIP), which converts voice data into packets that are transferred over the internet, contributed to the decline of the landline and long-distance rates.
Alex Mashinsky — a VoIP pioneer who wrote foundational patents for the technology in 1994 — is gearing up to bring the VoIP concept to the financial world with Celsius Network. Just as VoIP made the traditional billing system for phone calls obsolete, his Money over Internet Protocol (MoIP) seeks to disrupt the current fee structures in the financial industry.
"Seeing digital currencies evolve is kind of like watching the same movie a second time — you know how it ends so you can skip through some parts and still know what's happening," Mashinsky said, comparing today's blockchain technology evolution with developments in early internet technology.
With Celsius Network, Mashinsky is jumping straight to the plot resolution with a platform where the end user can store cryptocurrencies while earning interest, access loans in fiat currency, and easily send payments. All without having to know anything about how the whole process works.
"When you make a VoIP call, you just click on somebody's name or picture. All the complexity behind it is hidden — people don't need to know it," Mashinsky said. "We need to hide all the complexity of blockchain with simple pictures and links, just like we did with the internet."
Users Can Earn Interest on Crypto, Secure Competitive Loan Rates, and Access a Free, Instant P2P Payment Network
"The traditional bank's job is to make you trust them with your money," Mashinsky said. "You deposit your paycheck, the bank pays you nothing — or 1% per year at best — then, they turn around and lend out your money and charge a high percentage rate. They collect most of the value from your money."

Mashinsky and the Celsius Network team are using blockchain technology to create a financial institution that works in the interest of the holders rather than the institution, he said.
With its competitive rates and ease of use, Celsius Network presents a convincing case for the future of finance.
1. Deposit Bitcoin, Ethereum, or Litecoin and Earn Up to 7% APR
Celsius Network users can treat the platform like a savings account for their cryptocurrency. Currently, consumers can deposit either Bitcoin, Ethereum, or Litecoin and earn an annual percentage rate of up to 7%.
The exact rate is subject to market conditions and demand, but according to the Celsius Network website, a $10,000 deposit would earn about $475 a year in interest. And holders can withdraw their assets at any time with no fees or penalties.
Users who download the Celsius Network app will receive a weekly notification to let them know how much interest they have earned.
2. Use Your Crypto as Collateral and Receive Dollar Loans as Low as 5% APR
Celsius Network's next major feature allows consumers to use their cryptocurrency assets as collateral on dollar loans with highly competitive rates, as low as 5%, depending on market conditions.
"Instead of depending on outdated credit scores, with Celsius it all comes down to the LTV (Loan-to-Value) Ratio," according to the Celsius Network website. The LTV is 33%, so for a $10,000 loan, a user will need to offer the crypto equivalent of $30,000 as collateral.
This approach allows users to access the value of their cryptocurrency without having to sell it. And, Celsius Network strives to make everything as simple as possible with plain language and no hidden fees.
3. CelPay Lets You Send Payments Instantly with No Fees and No Crypto Wallet
CelPay is Celsius Network's P2P money transferring service. The app allows crypto holders to send and receive assets instantly and with no fees. Users can send assets via Messenger, email, or social media platforms.
The app supports ETH, BTC, BCH, LTC, XRP, OMG, and CEL (Celsius Network's own crypto coin).
An added perk is that the recipient of the CelPay payment does not need to have a crypto wallet.
A Platform with the Cryptocurrency Community's Best Interests at Heart
"Effectively, we're doing this for the community," Mashinsky said. "We're a community-based organization with the best interest of the community at heart, and we want to take the power away from the banks."
He said since Celsius Network's soft launch only four months ago the company has about 14,000 registered users. It has received $55 million in deposits to date, and it has processed more than $500 million worth of loans.
"We haven't really marketed it yet, or done any advertising or pushed it hard in any direction," he said. "We want to make sure everything works. Every country has their own regulations, their own restrictions, their own issues. So, we want to be thorough."
Mashinsky said he has faith in the crypto community that is investing in Celsius Network. He said he has generally seen two types of crypto investors — tourists and holders.
"Tourists are the people who jumped onto a plane from fiat land to crypto land, and they thought everything they touched was going to turn into 50,000 Bitcoin, he said. "They got burned and flew straight back to fiat land."
Then, there are the holders — or hodlers as they are known in the crypto community — who understand that cryptocurrency is a long-term asset class, Mashinsky said.
"Celsius Network doesn't have any speculators," he said. "Even when crypto prices drop, they look at the market and say, 'I'm going to buy more coins at these low prices.'"
Mashinsky said he has faith in the community that is supporting the Celsius Network. "The community is growing rapidly — we're getting more deposits every day," he said.
Reaching 100 Million People and Beyond
When Mashinsky launched his latest company, he announced a goal to bring 100 million people to cryptocurrency via Celsius Network.
While that may sound overly ambitious to some, Mashinsky quickly puts the goal in perspective, then broadens it.
"Look, VoIP is used by over 3 billion people around the planet today," he said. When I'm saying we want to bring 100 million people to crypto, that's probably too small. We need to raise our target here because it should be billions of people, not millions."