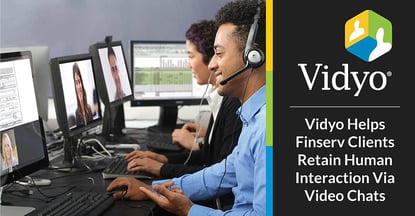 In a Nutshell: The near-instant communication the modern digital landscape provides makes the world a much smaller place, but it also robs people of the benefit of human interaction. Financial service providers are in a race to digitize their products and services, but many struggle to keep their customers engaged and happy. Many large institutions, as well as small and medium-tiered banks and credit unions, turn to Vidyo to reduce costs while increasing customer satisfaction. Many Vidyo clients have seen branch upselling and cross-selling increase by as much as 20% compared to phone-based customer service. Clients use Vidyo's services to enable in-home and in-branch banking while streamlining employee productivity with internal video meetings and training sessions. Vidyo clients say their customers report a 90% satisfaction score and their businesses have seen between a 20% and 30% increase in Net Promoter Scores. //
On a recent trip to Phoenix, the agency I rented a car from picked me to be a part of a research study it was conducting. All of the customers in line to pick up their cars were ushered toward a row of booths lined with screens and telephone receivers. One employee stood nearby to offer assistance to anyone who needed it.
When I picked up the receiver, a smiling face instantly popped up on the screen and walked me through the process of picking up my car. Darlene, as I got to know her, was located in an Oklahoma City call center. We had a nice chat about the weather and our families as she processed my credit card and showed me a digital map that pointed to the location of my rented vehicle.
I initially didn't want to be a part of the study and instead hoped to simply get my car and be on my way after a cross-country flight. By the time I hung up the receiver, I had a smile on my face and realized the check-in time was a little shorter than my average counter experience at a rental agency.
All across the country, businesses in almost every vertical are searching for ways to push digital transformation initiatives while maintaining human interaction with customers. In financial services, this process is even trickier with the miles of red tape and regulations each institution must adhere to. That dilemma is one Vidyo solves as it helps to change the way customers interact with their institution.
Headquartered in Hackensack, New Jersey, the venture-funded Vidyo provides software-based collaboration technology and product-based visual communication products to several industries. A large portion of the company's clientele comes from the medical field and financial services.
"Sometimes, in this digital world, we forget how important it is to be able to look somebody in the eyes," said Elana Anderson, CMO at Vidyo. "We help our clients retain that human interaction in a world where everyone is busy and on the go."

I recently had the chance to meet with Anderson using the company's online video chat platform and found the experience to be clearer, and just as pleasant, as my rental car encounter.
Many banks and credit unions that test the video communication product have the same takeaway. Vidyo has seen more than 50% growth in the number of financial institutions adopting its video-enabled customer engagement solutions between 2016 and 2017 and 2018 is looking like it will be an even more productive year for the company.
"More than 80% of banks, from the mid-tier all the way to the largest banks, are either rolling out, piloting, or plan to pilot in the next 12 months, some sort of video banking initiative," Anderson said.
If Anderson has her way, those institutions will call on Vidyo's services.
Anderson pointed to the benefits of video that go beyond the improvement clients have seen in their Net Promoter Scores. Real-time, high-quality video chats with bank specialists or wealth advisors mean one less trip to the branch — something customers with busy schedules appreciate. And Vidyo clients won't need to have multiple experts on hand at every location.
"Video doesn't make sense for everything, but for complex transactions or potentially emotional or difficult interactions, it makes sense to have video so your customers can look at a human," Anderson said.
In-Home, In-Branch, and Internal Chat Solutions
Vidyo's solutions for financial services are based on three tiers — in-home and in-branch banking, as well as internal capabilities that make large companies much easier to manage.
The customer-facing tiers make banking more convenient while also personalizing the process with a face-to-face service instead of a nondescript voice over the telephone.
"Most banks have high on their agenda a digital initiative to allow customers to interact with them from anywhere," Anderson said. "Integrating video, so clients can meet with a financial advisor or apply for a mortgage from the comfort of their own home, is a major focus area for many top-tier banks."
Anderson said many smaller-tier banks and rural credit unions turn to video conferencing to give members access to experts on a large host of topics to help them meet their financial goals.
"They've created some really nice video rooms, where customers or members can meet with specialists that tackle their problem through a video chat," she said.
Feedback from clients and their customers shows that Vidyo conferencing not only increases member satisfaction but also helps institutions better manage their resources and costs. Clients achieve further savings when they take advantage of Vidyo's option to conduct meetings, training sessions, and other internal events remotely.
Vidyo meetings allow institutions with branches spread throughout a region to operate like a smaller company by bringing everyone together, into the same virtual meeting room. This eliminates the need to juggle conflicting schedules or ask meeting participants to commute to a centralized location.
20% Sales Boost and Higher Customer Satisfaction Scores
Vidyo clients are discovering new and innovative ways to integrate the technology into customer-facing situations. While certain processes, like filling out a mortgage application or requesting a vehicle loan, have proven to take less time and be more manageable through video chats, not every problem requires a friendly face to solve.
"Some interactions, like changing an address or contact information, can be handled over the phone," Anderson said. "But for more detailed issues, like applying for credit or an emotional event like a customer's cards being stolen, having that face-to-face interaction with a video advisor can be so much more powerful."
Some of those interactions can be more profitable for an institution, too. Pennsylvania-based Diamond Credit Union, a Vidyo client, attributes its increase in upselling and cross-selling to the video conference's human touch.
In early 2018, Diamond CU reported a 12% increase in debt protection insurance — something it attributes to Vidyo's platform.
"We're also seeing very significant Net Promoter Score (NPS) improvements as well as average call handling time reductions," Anderson said. "The simplicity of being able to look at someone in the eye, see how they're emotionally responding to something, and understand what they're really trying to achieve helps complete the process and reduces interaction time significantly."
Anderson said most customer problems are handled on the first call when Vidyo is used. Customers who use the platform report a greater than 90% satisfaction score after the video interaction. Most clients have seen a 20% to 30% increase in Net Promoter Scores and double-digit growth in add-on sales when using the product.
"We haven't found any variation in age or demographic in terms of willingness to try video," Anderson said. "The banks are doing a managed, concierge-style interaction. They're not just kicking customers into a room to fend for themselves. The whole experience is being handled in a way that pleases customers and solves their issues."
Video is a Critical Piece of Banks' Digital Initiatives
Using video to interact with customers is gaining momentum across today's business spectrum — whether it's for applying for a loan or renting a car — but Anderson said the US hasn't even begun to scratch the surface of what the platform is capable of.
"We're seeing tremendous growth in financial services, and we're still only in the early stages," she said. "Today, if you look at the maturity, you'll see that most banks are piloting or testing some sort of video banking, but few have really rolled it out on a massive scale. This requires some cultural changes because it's very different than a phone-based agent."
But Anderson said she doesn't expect to see science fiction-like banks with screens instead of tellers in the coming years when solutions like Vidyo's chat conferencing have matured and become a regular part of a consumer's interactions.
"I don't see video totally replacing branches any time soon," she said. "We're all looking to find the right channels to engage customers at the right time. Video is a critical part of an omnichannel strategy. For digital-only banks, this can be the only human interaction channel."
Advertiser Disclosure
CardRates.com is a free online resource that offers valuable content and comparison services to users. To keep this resource 100% free, we receive compensation for referrals for many of the offers listed on the site. Along with key review factors, this compensation may impact how and where products appear across CardRates.com (including, for example, the order in which they appear). CardRates.com does not include the entire universe of available offers. Editorial opinions expressed on the site are strictly our own and are not provided, endorsed, or approved by advertisers.