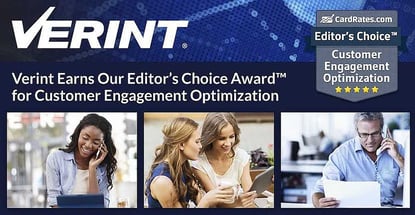 credit card news
Our experts and industry insiders blog the latest news, studies and current events from inside the credit card industry. Our articles follow strict editorial guidelines.
In a Nutshell: Retailers today strive to provide quality customer service and act quickly on feedback that is gathered across a variety of digital channels. What makes that more challenging is the rising expectation of consumers to give feedback on their own terms. Verint is a company that helps retailers gather actionable data on consumers while avoiding interrupting their journey. With a focus on connecting a variety of data points, Verint's tools are built to unearth insights from a variety of channels — including voice, video, and text. And Verint's Workforce Optimization suite helps companies more efficiently gather — and act on — its analytics. For its holistic approach to gathering and analyzing consumer data, Verint has earned our Editor's Choice Award™ for Customer Engagement Optimization.
As consumers become increasingly independent, they want to interact with brands on their own terms — which includes providing feedback — not have those terms dictated to them. But businesses need that feedback to continue improving products and services, so having a customer experience strategy that meets those needs is vital.
Forrester found that consumers want an experience that is easy, effective, and makes them feel good, as emotion can be a key driver of loyalty — if it is positive, of course. Many customer analytics solutions can help retailers master ease and effectiveness in consumer experience, but those that really differentiate themselves take a more holistic approach to service that includes emotion and engagement.
That is the view of Verint, a company that helps businesses consolidate data channels and gather deeper, more connected insights to better know and serve their customers.
"We have a strong focus on customers because their experience can be a very significant differentiator for retailers," Brian Koma, Verint Vice President & Customer Experience Practice Leader told us. "That is why we have invested in technology that allows us to foster customer-initiated feedback, which also ties in with the digital transformation that many organizations are undergoing."
Its solutions center on satisfying the modern consumer's desire for digital engagement across multiple channels by gathering information in a way that doesn't slow them down. The ultimate goal is to create a seamless — and satisfying — experience while also providing businesses with the customer analytics needed to grow.
That is why Verint brings data together from a variety of different channels, services, and sources within its Actionable Intelligence platform. And to help retailers steer clear of intruding on the consumer journey, it acquired OpinionLab, a tool to help gather feedback within the flow of a customer's digital interaction with a brand.
Engaging customers dynamically and on their own terms is more effective — and actually requires less effort — than a strategy built around intruding on their journey. Verint's solutions include customer-initiated feedback tools, the ability to analyze an array of multi-channel data, and even workforce optimization to make sure associates are on the same page as consumers.
In recognition of its platform's ability to help businesses interact positively with today's digital consumer, Verint has earned our Editor's Choice Award™ for Customer Engagement Optimization.
Digital Engagement Strategies Help Retailers Provide Better Customer Service
Retailers often serve a diverse consumer base, and while their desired channels of interaction vary, the trend is moving to digital — tablets, mobile devices, and even in-store self-service. And consumer expectation is to be provided with the same level of service across each channel.
As they make that digital move, the burden on retailers is eased because it lowers the service cost structure and allows them to interact with a brand on a 24/7 basis. But there is a real challenge that can result if a business doesn't take any action.
As more people move to digital interactions, consumers are less willing to provide feedback on those interactions because they find response methods — traditionally, pop-up surveys — to be disruptive to their shopping flow.
Those pop-ups may be easy and effective for retailers to implement, but interrupting the consumer journey leads to negative emotional reactions. Verint found that digital consumers need to be approached more respectfully to provide them with service and enhance the opportunity for customer-initiated feedback.
Verint looked into developing the digital tools for this interaction but ultimately decided to acquire OpinionLab.
"OpinionLab gave us the unique ability to capture digital feedback when the consumer wants without being intrusive and tying it to all those other analytics components behind the scenes," Brian told us.
That technology allows retailers to solve complex customer service issues based on data points that are better connected, providing more insights. For example, Brian told us about one of Verint's clients — a big-box retailer — that was seeing digital feedback popping up from mobile users in a particular store about items that were out of stock. In a more disconnected system, that feedback may have fallen through the cracks, but because Verint brought it to the attention of the retailer, it was able to look at remedies to the situation.
"That gave executive management an opportunity to take a closer look and ask, 'what kind of supply chain issues are we having?" Brian said. "That kind of responsiveness translates into companies better meeting consumer expectations."
Having that information also allows for faster resolution of problems that aren't isolated to one user. And Verint's platform is built to help retailers compile, analyze, and act on that data immediately — from every channel of interaction a consumer may choose.
Analyzing Data Across Channels — Voice, Video, and Text
For many larger retailers, consumer data is always pouring in from different channels, but not every business is equipped to harness and analyze much of that valuable information. Verint gives retailers the opportunity to learn from interactions in channels they may not have been analyzing before.
"Customers are always interacting with a brand, whether they're chatting with you or calling a contact center," Brian told us. "With Verint, millions of calls and chats are being analyzed and used for follow-up actions so we can understand spikes."
A plethora of information can be gained from a customer call, including the identification of service issues and even the emotional state of the caller. Verint uses speech analytics to unearth — and act on — these insights from data that was once indecipherable.
"Being able to understand that unstructured data is important," Brian said. "But a business also has to act on it. If you are just listening to customers and not resolving anything, those customers are going to go to a competitor that will act on their feedback."
By analyzing calls — as well as chat — businesses can act quickly, resolving issues and, most importantly, keeping customer emotions positive. And to make the data most effective, retailers need to learn from each experience to predict what issues will affect sales and consumer loyalty in the future.
Verint also analyzes video data to help retailers. Video analytics devices can be installed in-store to analyze traffic patterns or wait times so that a business can evaluate the brick-and-mortar customer experience.
Information from all of those channels can be viewed in one dashboard, which Verint calls the customer experience command center, and a business can easily interact with the data that is coming in. That consolidation gives companies a complete view of their customer service operations.
Gathering data is an important part of a future-focused strategy, but being able to serve customers properly is an area that can't be overlooked. While consumers have their own feeling about where in their journey they will interact with a brand, when they do, the experience should be satisfying.
Helping Workforces Evolve with Customer Expectations
With all of the different touchpoints consumers are engaging with, having associates who deal with only one type of feedback — like email, social media, or phone calls — is outdated. Verint helps businesses move beyond call centers to contact centers, where associates can analyze and resolve any issue a consumer might have on any channel.
With its Workforce Optimization tools, Verint enables associates to manage all types of customer interactions effectively. The software gives retailers the ability to predict high-volume service times and understand what kind of staffing needs to be in place. Verint also enables businesses — and associates — to adapt to trends and issues that are affecting the bottom line in real time.
Keeping consumers happy also means a workforce is staying on top of problems that arise, and context can sometimes play a significant role. When an issue is pushed to a contact center, it has often been dealt with on an individual basis to remediate a single problem. Instead of acting on each interaction individually, Verint lets associates connect those consumer friction points, allowing companies to solve bigger problems quickly.
"Customer feedback can be tied to e-commerce or a retail location because it is important to see where it originates," Brian said. "Our geolocation capabilities can show if it is an issue in Virginia or in Arizona, and if the store is company-owned or a franchise. That data provides context around it."
Infusing the Human Element into Actionable Insights
Because consumers expect a transaction to be easy, effective, and emotionally satisfying, businesses must have a focus on responsive customer service. But the trend toward more digital interactions makes that customer experience all the more challenging because it needs to be unintrusive yet inviting.
That human touch is why the company offers Workforce Optimization to help associates learn how to provide a personalized experience across all channels. Verint's suite of products helps businesses take consumer emotion into account while also obtaining the necessary feedback and analytics to fix problems and address concerns.
"Rarely do people remember what a company did for them, but they absolutely remember how they felt during the process," Brian told us.
With Verint, a retailer can get more data out of the interactions it has with customers —even on phone calls. For its ability to help businesses get better feedback while respecting the consumer journey, Verint earns our Editor's Choice Award™ for Customer Engagement Optimization.