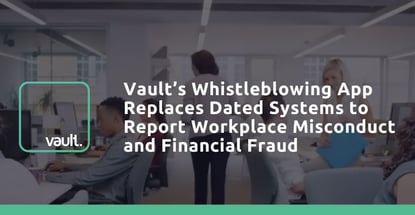 credit card news
Our experts and industry insiders blog the latest news, studies and current events from inside the credit card industry. Our articles follow strict editorial guidelines.
In a Nutshell: Vault Platform is a secure, confidential mobile app that allows employees to report organizational misconduct, either anonymously or with attribution. The app keeps all data completely private until the employee submits a report. Vault helps financial firms overcome the shortcomings of older reporting procedures such as hotlines or clunky forms. Company stakeholders benefit from Vault because it gives organizations the opportunity to fix problems before regulators become involved.
Some financial institutions have a history of dishonesty. Recall the case of a huge bank that puffed up profits by opening unauthorized accounts for customers. When they were caught, they had to pay millions in fines and fire thousands of employees. The cost to its reputation was incalculable.
No internal whistleblowing system in the world could have helped in this scenario because the bank's management was corrupt. In other words, an employee would have to contact a regulator to report misconduct. That is a problem.
Here's a slightly different problem: A well-meaning financial institution strives to maintain a positive reputation for fair dealings and tight controls. However, it has an antiquated system for employees to report misconduct, fraud, and abuse within the organization. Occasionally, bad things happen, but the whistleblowing systems are either not used or are not effective in alerting management.

Vault Platform is a mobile app that helps employees report workplace misconduct safely and confidentially. The app is complemented by an enterprise-grade resolution hub for companies that want to catch problems early without involving external entities.
The company was founded in the wake of the #MeToo movement in 2017 when Harvey Weinstein was in the news every day for sexual harassment. The world quickly realized that sexual harassment was rife in many industries and had been for a long time.
Sexual harassment was the misconduct du jour in 2017.
"If you go back to, say, 2008, just at the height of the financial crash, you have lots of headlines that focused on corporate financial misconduct, corruption, bribery, and fraud," said James Middleton, Vault's Global Marketing Lead. "That was the misconduct of the time. Today, with the reignition of the Black Lives Matter movement, there's an increasing corporate focus on tackling discrimination and systemic racism within workplaces. Vault operates in this space with a platform designed to help organizations tackle any form of misconduct and support any whistleblowing requirements."
75% of Misconduct "Doesn't See the Light of Day"
The old methods of whistleblowing include anonymous hotlines and written reports. Hotlines are a favored way for financial institutions to report misconduct in the workplace.
Unfortunately, employees often find hotlines less than optimal. To start with, employees must know a hotline exists and how to access it. Hotlines are often outsourced with staff who are not employed by the company and may not understand the context of the incident. Some hotlines may also make it difficult for employees to report misconduct anonymously.
Finance is one of the few sectors that has regulatory requirements that protect — and even reward — whistleblowers. But when hotlines were first deployed as a solution, they were done so as a passive mechanism — a check-box exercise — to meet a requirement but not necessarily to be used.

The response to an employee complaint also depended on the corporate culture. Limiting the information flow to a single person was perfect if corporate culture were to sweep problems under the rug.
From the corporate compliance viewpoint, the hotline ticked a regulatory box that allowed employees to leave a tip regarding misconduct. Upper management had a solution that let them cover their behinds because they had something in place. There is no requirement to encourage utilization.
Keeping the hotline a secret would be natural for a company that wants to ignore problems. Vault's Middleton recalled an interesting example.
"Lloyd's of London was called out last year because someone had forgotten to pay the phone bill for their anonymous tips hotline, and it had been out of action for 16 months," he said. "Now, that tells you something about how little the hotline was used. In these situations, one question is whether a company cares enough about it to solve the problem? Or a tool was so little used that no one noticed. It turns out that about 75% of misconduct doesn't see the light of day in terms of a report."
Before Vault Platform, filing a whistleblower complaint might require printing out some clunky forms (and hoping the printer has ink). This wasn't conducive to anonymous tips, as anonymous-only mechanisms are notorious to substantiate and to follow up on. Furthermore, there's no way to tell the reporter that action was taken.
Vault Platform Benefits Employees, Management, and Compliance and Legal Departments
Clearly, having an anonymous pipeline to upper management can empower employees by providing a safe method to voice complaints. Furthermore, Vault Platform resolves numerous issues associated with employees calling into hotlines and call centers, including:
agent availability
making time during the workday
privacy
difficult communications between the employee and agent
external, third-party agents may not understand or care about your organization, as they are employees of an independent call center
employees can't be sure that their calls are kept secure and confidential
lack of tracking and follow-up can demoralize employees
employees may not want to pick up the phone for a minor incident, even if multiple "minor" incidents have occurred
you can't submit physical evidence, such as screenshots, over the phone
a call center agent is an intermediary between the employee and management, creating an opportunity for confusion and miscommunication
Vault Platform addresses all of these issues by allowing employees to anonymously report incidents at their convenience, at a time and place of their choosing. With 24-hour access and the ability to attach evidence, such as screenshots and photographs, Vault Platform puts the power in the hands of the employee.
HR departments benefit from using Vault Platform by streamlining complaint procedures and reducing the workload required to process misconduct reports. Each complaint is timestamped to ensure an accurate timeline of events.
The security and privacy afforded by Vault Platform make it more likely for HR to learn about problems within the organization. As soon as HR receives a complaint, Vault Platform's case management system coherently structures the data to manage the situation. Vault Platform also provides analytics and reports so that HR can assess the company's work culture regarding diversity, inclusivity, and trust.
Other important stakeholders reap benefits from Vault Platform as well. Board directors can access information about diversity within the organization and signs of potential dysfunction. Furthermore, Vault helps boards and compliance departments track harassment charges and unethical behavior.
Coupled with strong anti-corruption programs and ethical guidelines, complaint reporting can reduce the incidents of unwelcome behavior and the associated legal risks. Catching misconduct before regulators do helps financial companies avoid bad publicity and costly fines. For CEO's, the ability to spot and remove problematic employees can help improve the company's productivity and staff retention.
"You've got a massive amount of stuff happening that you don't know about," warned Middleton. "One bad incident can destroy all of your positive brand sentiment, and people who are up to no good tend to be serial offenders. Vault helps management engage with employees so that they come forward and say something."
Vault Overcomes Reluctance to Report Abuse, Fraud, and Discrimination
The Vault app supports employee reporting via remote, anonymous submission of whistleblower complaints without the need to print out forms. Furthermore, any company serious about responding to complaints can set up their routing to multiple case managers, either automatically or at the discretion of the employee. This feature can give employees the confidence that their complaints won't be buried.
Another Vault Platform feature, GetTogether, submits an employee's report only when that employee is not the first or only person affected. This helps overcome an employee's reluctance to be the only one to report misconduct against a particular individual.

Employees can submit complaints anonymously if they choose. Any information entered into the app is stored locally on the user's mobile device, invisible to the organization until a report is submitted.
Case managers field employee complaints on Vault Platform. The managers can then communicate with the complainant and ask questions, even if the complainant chooses to remain anonymous. The manager can send updates to the complainant, which helps build trust in the reporting process.
Data maintained in Vault Platform is fully secured using the Advanced Encryption Standard (AES-256), meaning no one can read an employee's data until a report is submitted. All data access is monitored and logged.
An organization that deploys Vault Platform gives employees a safe way to report misconduct internally.
"This is especially pertinent because of all of the exposés we see in the media," commented Middleton. "It's better to optimize your internal processes and catch misconduct before it goes nuclear and ends up on Twitter or on the front page of The Wall Street Journal. It just makes commercial sense."