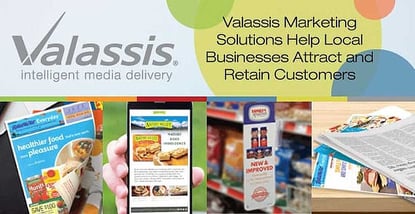 credit card news
Our experts and industry insiders blog the latest news, studies and current events from inside the credit card industry. Our articles follow strict editorial guidelines.
In a Nutshell: All brick-and-mortar businesses want to drive foot traffic and sales while building a loyal customer base — but some are better equipped to do it than others. SMBs serving local communities often lack the marketing resources to go up against large, national brands with internal resources at their disposal. That's where Valassis comes in. A leader in intelligent media delivery since 1970, Valassis offers custom print and digital marketing solutions that deliver affordable, big-brand impact to thousands of local advertisers. A team of more than 600 Valassis representatives placed strategically across the US provide personal consultations to better understand client needs and objectives before crafting and executing marketing strategies on their behalf. The result is powerful messaging that targets the hyper-local audiences SMBs need to reach and retain to be successful.
Small retail and restaurant owners wear a lot of hats — there's always something to do and never enough time to get it done. Along with acting as the principal strategist and planner for the business, owners often handle finances, ordering, customer service, personnel, and much more.
And then there's marketing and promotion. Every aspect of entrepreneurship is important, but if customers don't know about the great deals a business is offering or what distinguishes it from the competition, success can be fleeting.
The franchisees who own and operate more than 40 Bono's Pit Bar-B-Q and Willie Jewell's Old School Bar-B-Q locations across the Southeast are as busy as they come. Every day, they compete for hungry lunch and dinner guests with large chain restaurants down the street and across town that want to win customers just as badly.
Luckily, the Bono's corporate office has their back, offering support ranging from employee training to marketing. With sales growth as the goal, Bono's partnered with Valassis digital services provider, Total Loyalty Solutions, to develop a mobile app and online ordering platform for both of its restaurant brands.
"Total Loyalty Solutions monitors the health of our merchants' accounts to ensure they're finding success," said Valassis Local Solutions President Steve Hauber. "Bono's worked closely with our coaching team to promote the apps, and the results have justified the effort — online orders are increasing every month."
And Bono's President Josh Martino likes what he sees: "Total Loyalty Solutions by Valassis has helped us grow, and their unmatched customer service has made the effort seamless. We look forward to improving this segment of our business for years to come," he said.
Valassis applies that same personal approach to thousands of SMB client relationships, offering print and digital solutions that reach nine out of 10 American households but that target hyper-local audience segments. "High-quality, customizable direct-mail and digital products by Valassis help local advertisers compete with national brands without breaking the bank," Steve said.
Targeted Direct-Mail Services That Increase Local Visibility and Sales
Clipper Magazine remains the flagship Valassis brand for targeted direct-mail services aimed at new customer acquisition. The large family of magazines that compose the Clipper brand features 524 local editions and specialty publications that reach between 50,000 and 120,000 homes every issue. And readers tend to keep the well-designed glossy magazines, which extends their average shelf life up to eight weeks.
"Small businesses don't have graphic designers, copywriters, and media buyers on staff," Steve said. "Working closely with our clients, our team of designers creates more than 95% of the advertising that runs in Clipper magazines. That allows us to follow industry best practices to design coupon-based ads that drive transactions and deliver results."
Supplementing and extending the Clipper brand are a variety of direct-mail inserts that reach even smaller audience segments. For example, the Clipper team can design, print, and mail a separate, full-color, glossy postcard to reach a minimum of 10,000 households.
Card-stock postcards and multi-page inserts printed on standard-weight paper include options that allow them to be sized or placed to stick out on the side or top of the magazine. This increases the likelihood that the reader will see and hold onto the piece for future reference.
"Clipper Magazine has been — and remains — the leader in coupon advertising, ideal for introducing new products, announcing specials and sales, presenting seasonal promotions, you name it," Steve said. "The magazine looks great and is well-organized, making it an enjoyable reading experience for potential customers. That translates into increased readership and greater coupon redemption rates."
Digital Apps and Tools That Create Lasting Customers
While Clipper Magazine is aimed at driving store traffic and generating new sales, digital services from Total Loyalty Solutions (TLS) help SMBs engage with existing customers.
Thousands of small businesses use TLS branded mobile apps, which support push notifications, custom digital loyalty and reward cards, and mobile coupons on iOS and Android. The apps also support the TLS online ordering platform along with many other third-party reservation and booking platforms. Menus presented within the apps are easy to edit and update, and built-in links point to additional products, services, photos, and even a suggestion box.
TLS digital products incorporate a dashboard for analytics and reporting, which can be integrated into a TLS-supplied email marketing program.
Products and services from TLS are designed to be turnkey, with TLS coaches and account managers handling everything from start to finish. To draw in-store attention to their new online offerings, clients also receive branded printed promotional material — handout cards and table tents — and have the option to order TLS-designed posters, window clings, check stuffers, menu inserts, flyers, and stickers. And every digital service can work in conjunction with a print campaign.
"We're big believers in end-to-end solutions that attract and retain customers," Steve said. "Our reps are in the field, on the streets, working hand in hand with businesses to develop custom print and digital advertising strategies. Solutions that are 'set it and go' are imperative. That's what makes it possible for SMBs to compete on the same level as national brands."
Leveraging Digital to Supplement the Staying Power of Print
According to the 2018 Valassis Coupon Intelligence Report, while 83% of US shoppers switch between online and offline channels on their path to purchase, local merchants, in general, are still far more likely to choose print-based marketing over digital. This phenomenon is something Steve refers to as being "digitally deficient," a negative trend many small businesses, like Bono's Bar-B-Q, are working to address with help from channel partnerships.
"The report data impressed upon us the need for a more integrated approach," Steve said. "And, because we understand the importance of that online presence, we've developed our products to make sure that every one of our clients — and every offer — has a digital component. Now more than 90% of our clients distribute their offers online. TLS and other Valassis digital vehicles enable SMBs to leverage online solutions that are a force multiplier for their promotions and that offer additional savings and engagement opportunities to customers."
That said, print isn't going away. Direct delivery to customer mailboxes still carries a lasting impact. Use of printed coupons — even among the millennial generation — is increasing.
"Ultimately, we're very merchant-centric," Steve said. "We focus on the challenges our clients face and on finding ways to meet them through marketing. We look pragmatically for solutions that lower the cost of customer acquisition and enable SMBs to grow more quickly."
To make that happen, Valassis has a product management team that stays up to date with industry trends and focuses on the future of marketing for small businesses. That team continually works on building a more effective — and integrated — Valassis product suite.
The common factor on the customer side — across generations and purchase channels — is the quest for savings. And, as it has been for almost 50 years, Valassis has remained a reliable partner to its clients, bringing deals to wherever a customer may want to find them.