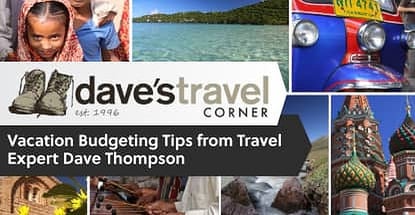 In a Nutshell: For adventurous world explorers looking to get the best bang for their buck in every corner of the world, Dave's Travel Corner is a must-visit site. Dave Thompson caught the traveling bug in 1996 during a trip to Nepal and began to document the trip and his successive travels in a personal journal. From these humble beginnings, Dave's Travel Corner has grown into a leading independent travel platform that uses a combination of video, photography, and written content to access over 430,000 travel enthusiasts across the globe. For travelers looking to maximize credit card travel rewards, a little advice from the journals, guides, links, and interviews hosted on the site goes a long way in choosing the next destination. Readers can also soak up tips from travel pros on how to save money along their journeys by poking around the fascinating nooks and crannies of Dave's Travel Corner. //
Being carried down the Himalayan mountainside following a severe bout of altitude sickness and food poisoning isn't the ideal way to catch the travel bug — but every journey must begin somewhere. For Dave Thompson, founder of Dave's Travel Corner, the journey began with a miserable high-altitude illness and a bowl of frozen vomit, a mountain guide with shoulders strong enough to carry him down Mount Everest, and the travel journal he filled with memories from this life-changing expedition.
"While one might assume I would have been completely turned off by travel after becoming deathly ill and needing to be carried down a mountain all day on a woman's back to a lower elevation, due to my severe weakness and complete inability to walk — this trip had the opposite effect," Thompson recalled.
"It was my first trip to a part of the world that wasn't western-centric, and my eyes were opened by authentic experiences, culture, food, and the massiveness and sheer beauty of the world's greatest mountains. I wanted more of this in a big way."
In the two decades since his first fateful trip to Nepal, Thompson has collected experiences, and stories from every corner of the world. Thompson and other writers with Dave's Travel Corner distill their knowledge into travel journals, guides, interviews, and more.
Travel tips and insights from Dave's Travel Corner provide unique opportunities for adventurers seeking off-the-beaten-path travel experiences with their travel rewards — without breaking the budget.
Explore Spaces that are Out of the Ordinary: What to Look for in a Travel Destination
Prior to his trip to Nepal with a group from his college in 1996, Thompson had traveled just twice outside the US: to Canada and Costa Rica. He recalls his sense of adventure being awakened by the rugged, challenging landscape and authentic, local culture he encountered in the Himalayas. Since then, Thompson has made it a point to scout extraordinary locales where he can immerse himself in unique and exciting journeys.
"I combined my new-found love of travel with my existing passion for writing and began jotting my notes online as a personal website," Thompson said of the origins of Dave's Travel Corner.
Thompson encourages fellow travel enthusiasts to find their own Nepal '96 — or their own Cape Agulhas, as DTC contributor, Pete Martin, discovered outside of Cape Town, South Africa. In other words: seek out-of-the-ordinary locales that possess, in character, what they may lack in tourist attraction.
"I love places that are off the beaten path; locations which aren't necessarily people's first choice. Often at major tourist destinations, one loses a sense of what the place was like before it was discovered. Once a destination becomes discovered, prices go up and you often lose the original feel of the place," Thompson said.
His recommendation for such travel in 2018?
"Countries like Oman and Georgia are perfect examples of this type of travel. Both are very safe, and offer a diversity of affordable experiences and activities for first-time visitors," he explained.
How to Cut Back Expenses without Sacrificing Experiences
Beyond the thrill and bragging rights of visiting relatively unknown places, traveling at least slightly away from mainstream destinations is one of the best ways to cut traveling costs. Dave's Travel Corner's link index includes helpful categories, such as Backpackers & Budget, and the Travel Blogger Directory that offer an abundance of tips for thrifty international travel that highlights authenticity.
"Use secondary, smaller airports in conjunction with budget airlines. This works well in Europe and parts of Asia. Just be aware that sometimes secondary airports are a bit further outside of cities than primary airports," Thompson advised.
Depending on the location, flying into smaller airports can require some flexibility — a characteristic that Thompson notes often pays off for wallet-conscious travelers.
"One of the most important tips for saving on airfare is to be flexible on the dates you can fly. Two sites I personally use for checking prices of airfare are Google Matrix and Skyscanner," he said.
Thompson also suggested traveling with a companion to split the cost of accommodations, and said that eschewing hotel packages in favor of home-sharing options like Airbnb can be a significant cost-cutter in many places.
"I am always amazed how one can find reasonably priced rooms or even a couch — helping save significant costs while traveling — especially in major cities."
As a final piece of advice, he suggested travelers use bigger bills as a strategy to stretch pennies when exchanging currency.
"When it comes to exchanging money, I've found that a number of countries give better exchange rates for large denomination bills," Thompson said.
Seek One-of-a-Kind Activities Near Home and Abroad
No matter where he goes — from Everest Base Camp to the street markets of Serbia — Thompson makes sure to schedule activities that are as uncommon as the remote places he visits. He advises that other travelers approach their trips with a similarly open-minded philosophy.
"I immediately look for unique experiences and activities — something that I won't get to regularly experience or have never experienced on my travels. Examples would be swimming with stingrays in the Cayman Islands, floating with hundreds of stingless jellyfish in Palau, or enjoying a meal with Bedouins in remote northeastern Yemen," Thompson said.
Thompson's idea is to explore not just outside of the geography to which you're accustomed, but also outside your comfort zone. Booking international airfare is not even a requirement!
"One can find unique experiences much closer to home: An example would be going on a foraging class with Urban Outdoor Skills, based in Los Angeles, and then enjoying a private meal from the wild ingredients gathered. It's sure to be among the most unique dinners you will have ever had," Thompson said.

Whether your travels carry you halfway across the globe or to an unexplored space in North America, tips from Thompson himself, as well as the hundreds of contributors on Dave's Travel Corner, are an invaluable resource for mapping out your next adventure. Make the best of your earned travel rewards with an unforgettable trip of a lifetime.
Advertiser Disclosure
CardRates.com is a free online resource that offers valuable content and comparison services to users. To keep this resource 100% free, we receive compensation for referrals for many of the offers listed on the site. Along with key review factors, this compensation may impact how and where products appear across CardRates.com (including, for example, the order in which they appear). CardRates.com does not include the entire universe of available offers. Editorial opinions expressed on the site are strictly our own and are not provided, endorsed, or approved by advertisers.