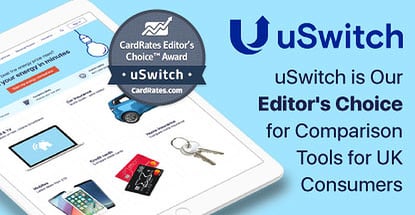 credit card news
Our experts and industry insiders blog the latest news, studies and current events from inside the credit card industry. Our articles follow strict editorial guidelines.
In a Nutshell: The internet has made comparison shopping easier, but the process isn't always a snap. Many comparison websites feature solid information but without personalization tools that consider the financial needs and goals of each individual user. uSwitch is changing the status quo with a platform that allows consumers to compare credit cards, insurance, loans, and even internet service providers to receive a personalized analysis of available deals. And, once an offer is selected, uSwitch makes it easy for the user to switch to, or sign up for, the chosen product or service. The company helps UK consumers save money every day, and that's why uSwitch is our Editor's Choice for comprehensive comparison and switching tools. 
I'm not too keen on sinking hours into shopping. When I need something specific, like toothpaste, I tend to just grab the first thing I see on a store shelf instead of spending time comparing products and, more importantly, pricing.
While that convenience-focused mindset may be okay for smaller purchases, big decisions, like a new TV, require far greater attention to detail.
Luckily, the internet has made comparison shopping much easier. Now, whenever I need to make a big purchase, I can spend as much time as I need to compare deals and similar products — all from the comfort of my home.
It feels natural, these days, to turn to Google, Amazon, or YouTube for reviews, but some products and services are still a challenge to compare. Specifically, the advertising around credit card offers, cable and internet service, insurance products, and cellphone service can confuse consumers with introductory deals that don't translate well for a true, apples-to-apples comparison.
As in the US, shoppers in the UK have numerous credit card options to choose from, and, while many cards have similar features and perks, small deviations in terms can be the difference between getting rewarded and getting a big bill.
CardRates' editors scoured the internet for the best comparison sites for shoppers in the UK. What we found was that many platforms made promises but few delivered results that could meet the individual needs of customers.
What's refreshing about uSwitch is its ability to provide personalized recommendations over a wide variety of products and services you would traditionally need to compare through multiple websites, like car and home insurance, credit cards, internet and cable TV service providers, loan products, and mobile phone services.
"The site is designed for people who already know a little bit but also need a little bit of education around the credit card market," said Tashema Jackson, uSwitch's Money Expert. "We understand just how complicated that market can be."
The power of uSwitch's platform lies in its ability to isolate similarities among products and highlight details within those similarities that singles out the better deal for the user.
Once you've found the best offer for you, uSwitch makes it easy to do exactly as its name implies. After filling out a short form, uSwitch handles the rest of the work to get you into your new service or product.
"People want to have the ability to compare things," Jackson said. "We look for the similar features within each card so the customer doesn't feel like they're being bamboozled — they feel like they're making the right choice."
Credit Card Comparisons Show Differences in Similar Cards
The uSwitch platform compares a wide array of credit cards and scrutinizes important categories — including balance transfers, purchases, bad credit options, credit builder, rewards, and cash advance — to determine which card best meets each consumer's need.
Jackson said balance transfers are the most sought-after offers on uSwitch, with many users looking for ways to move their current credit card balance to a new card with a lower rate.
"If you have a credit card, ultimately, the only way to create savings is to do a balance transfer," she said.

While uSwitch already covers a large segment of the credit card market, the platform always looks to add to its offerings.
"There are some banks that chose not to use product comparison websites to market their business — which is fine," Jackson said. "But we want to work with all of the banks so we can list as many as we can and show customers a larger portion of the market."
Savvy Shoppers can Find Exclusive Deals on uSwitch
While consumers can sign up for credit cards or other services through several websites, uSwitch makes it worthwhile to use its platform to compare and switch. The company often negotiates exclusive deals with the companies it works with to give uSwitch users improved terms over the ones offered to the general public.

Jackson gave the example of a credit card issuer that may be offering a standard balance transfer promotion, but gives an extension of that promotion for anyone who acquires their card through uSwitch.
In other cases, banks may offer vouchers for popular websites, like Amazon, to customers who switch using the platform.
uSwitch Offers Personalized, Intelligent Services
Comparison tools can be great for ensuring you get the best deal when making a big purchase. But those tools are only useful if the platform takes into consideration each user's individual financial situation and needs. After all, a great deal for me may not be as good of an offer for you.
The uSwitch platform continuously works to improve the personalization capabilities of its services. Jackson said future tools and data will continue to focus on consumers individually to ensure they find what they're looking for.
"We focus on personalizing the journey," she said. "That's what people are increasingly crying out for when it comes to their financial service products. They want to go through a really intelligent or clever website that understands their needs as a customer and presents them with results that give them a choice and allows them to compare."