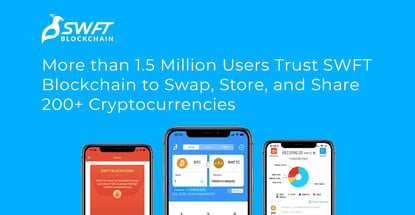 credit card news
Our experts and industry insiders blog the latest news, studies and current events from inside the credit card industry. Our articles follow strict editorial guidelines.
In a Nutshell: The SWFT Blockchain allows users to swap one cryptocurrency for any of 240 other cryptocurrencies in a matter of seconds. The platform also provides a wallet, an exchange aggregator, a money transfer system, and the proprietary SwftCoin (SWFTC). Those who hold the platform's token pay only 0.1% for swaps — some of which can process as quickly as between 10 and 15 seconds. Users can also share and claim Red Packets, links to cryptocurrency named after the traditional Chinese New Year children's gift, that entice new crypto investors and engage veteran traders.
Anyone who has ever attempted to day trade stocks understands the importance of speed. When you're quickly moving in and out of a stock or commodity, a few seconds can mean the difference between record gains or staggering losses.
In many ways, cryptocurrency investing acts the same way. Popular tokens, such as Bitcoin, occasionally experience as much as a 20% fluctuation in value in a single day. But shifting holdings from one token to another can take hours — or longer — and waiting that long can kill a profit rally.
That's why SWFT Blockchain created a swaps market that, depending on the token, can help investors move from one currency to another in a matter of seconds — and pay only one low fee instead of paying fees to multiple exchanges to complete the transaction.
"We started out in 2017 as just a simple cross-chain swap platform that made it easier to get from currency A to currency B," said Ramble Lan, Founder and CEO of SWFT Blockchain. "It worked because it's hard to find the best rate if you're moving out of one currency in an exchange and into another currency in a different exchange."
In the past, cryptocurrency investors would have had to sell one token on a platform, then transfer the proceeds of the sale to a different platform to conduct the next transaction.
"We started building on top of that," Lan said. "We've added a wallet, an exchange aggregator, and a money transfer system that's similar to Venmo."
Currently, 154 countries allow access to the platform via its mobile application. Depending on the country's laws, users may not have access to certain features.
"We have to make certain features available in some markets and roll them back in other markets because of regulations," Lan said.
The platform's 1.5 million users can also trade the company's proprietary ERC-20 token, SwftCoin (SWFTC), on 24 different exchanges, including Huobi, OKEx, and the SWFT Blockchain.
The platform's rapid rise has it moving an average of 171 BTC each day. By current valuation, that's $1,577,746.89 in that token alone — and the SWFT Blockchain allows swaps in 240 other currencies as well.
Instant Cross-Chain Swaps and Payments
To date, 30 wallets have integrated SWFT's swap API. These include Ellipal, MathWallet, TokenPocket, AToken, Bepal, and Hoo. SWFT Blockchain also supports 58 public chains by cross-chain protocol and wallet.
Individual users can access a simple, easy-to-navigate interface that includes every feature approved by their country.
"All of the features work inside one account," Lan said. "The most popular feature, by far, are the swaps. That's what we started with, and it's our main business. Our main goal remains giving users as many tools as possible and as much as they need. That's why we built so many things on top of our swaps."

Another key feature, the SWFT Wallet, allows users to make faster swaps than on just about any platform. That's especially important if you're making investments that rely on speed and accuracy as opposed to a long-term, HODL strategy.
"Swapping from Bitcoin to Ethereum on the SWFT Blockchain takes only 10 or 15 seconds," Lan said. "If you swap without the SWFT Wallet, either on the SWFT Blockchain or on a competitor swap provider, you could spend 15 or 30 minutes."
And, while you're benefiting from speedy swaps, you can also take advantage of some of the lowest swap fees in the market — which makes it even easier to get the most out of your cryptocurrency.
SwftCoin Holders Pay as Low as 0.1% Per Swap
Swaps through SWFT typically require a 0.2% fee. But if you're a SwftCoin holder, you can cut that fee in half.
"That's big because our fees are already lower than just about all of our competitors," Lan said.
With a 0.1% fee per swap, you can move from currency to currency in a matter of seconds without paying dearly for the privilege.
"If you compare our fees to other platforms, you can find fees that go up 0.5%," Lan said. "Some may not even do a percentage fee, but charge a variable flat-rate fee that's pretty high."
Lan also noted that maintaining a proprietary token allows SWFT an opportunity to grow the company faster and offer better fee structures than other platforms that only deal with outside currencies.
"The convenience that we provide with having an all-in-one platform makes us unique," Lan said. "But our token also gives us extra liquidity sources that our competitors may not have. That helps us get the best rates."
It also allows the company to initiate popular programs, such as the rapidly growing Red Packets feature.
Red Packets Add Engagement to Online Communities
Modeled after the traditional Chinese red envelopes, Red Packets allow users to share currencies with a single link that allows anyone who clicks the link to collect whatever currency connects to the URL. Users can share these packets with friends, online chat groups, or other communities.
Users can set packets to distribute a set amount of currency or a random amount up to the user's chosen maximum distribution — known as lucky packets — for any person who clicks the link.
"After we released them, the packets became really popular in our partnered communities," Lan said. "They acted as a way to keep the people in the community engaged and wanting more. It was exciting because you don't know how much you're going to get when there's a lucky random Red Packet."
The packets not only resonate with veteran cryptocurrency investors, but they helped bring a new group of sideline observers into the crypto fold.

"It's an easy way to share and get people started with cryptocurrency," Lan said. "A lot of people don't know how to get started. It's not an easy thing to figure out."
Lan noted that many new users join the platform because they receive a Red Packet link from a friend. Clicking the link gives them their first exposure to cryptocurrency.
And, as many crypto enthusiasts understand, all it takes is one taste to ignite the passion. And SWFT Blockchain is all about fueling a passion for cryptocurrency.
Whether you're trying to move quickly in and out of currencies to take advantage of a bull market, or you just want to get a small share of various tokens to expand your portfolio, the SWFT family of products and services makes it easy — and affordable — to use cryptocurrency and learn at the same time.