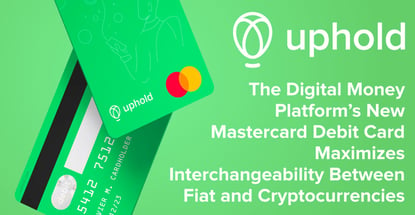 credit card news
Our experts and industry insiders blog the latest news, studies and current events from inside the credit card industry. Our articles follow strict editorial guidelines.
In a Nutshell: While cryptocurrencies are enjoying more mainstream success than they did in previous years, the blockchain-based infrastructures do not always easily integrate with traditional finance systems. Uphold is helping to bridge this gap with its future-focused approach to drive more mainstream adoption of cryptos. In March 2020, the company launched its crypto-connected Mastercard debit card, which allows users to switch seamlessly between fiat, crypto, and even precious metals. The company's aim to provide a truly frictionless and borderless experience is evident not only through the company's stated vision and its new debit card but through the more than 1,000 trading pairs that Uphold supports on its platform.
With cryptocurrencies gaining a foothold among more mainstream consumers in recent years, many in the financial services space are predicting that digital currency could become the future of money.
That may be the case — but how long will it take to get there? Sure, our current, fiat-based financial system could probably do with a nice spring cleaning in some ways. But nobody is going to flip a switch that takes the world economy from fiat mode to crypto mode immediately.

In reality, there will likely be a long transition period. Perhaps even more likely, the future world of finance will actually be made up of some combination of legacy structures and blockchain-based technology.
And companies like Uphold are already positioned to serve the world economy version 2.0 with its dynamic platform that allows users to easily transition between fiat money, cryptocurrencies, and even precious metals.
"We're a digital money platform that is really building the bridge between old and new money systems," said Michelle O'Connor, Uphold's Vice President of Communications and Community. "Our goal is to provide future financial services with real-world connectivity."
Since the platform launched in 2015, Uphold has powered more than $4 billion in transactions.
"Uphold empowers innovation in financial services through a platform approach where app developers and fintech partners can leverage Uphold's reach through licensed relationships with banks and financial services partners around the world," according to the company.
The platform is built on a core of proprietary technologies and e-money apps, according to the Uphold website, and embraces a future where people and businesses around the world have access to safe, transparent, fair and affordable financial services.
Easily Toggle Between Crypto and Fiat Spending Using the Uphold Mastercard
In March 2020, Uphold announced the launch of its crypto-connected Mastercard debit card, O'Connor said.
"The Uphold debit Mastercard® is a world-first multi-asset debit card that allows anyone to spend crypto, national currencies, gold, and other precious metals at nearly 50 million merchants and ATMs worldwide with zero foreign transaction fees," according to a company press release.
O'Connor said the card's full potential is realized through the app connected to it in which users can toggle between any of the types of currency supported by Uphold.
"So, instead of having Bitcoin, moving it to U.S. dollars, and then spending it, you can just toggle in your app and say, 'Hey, today I want to spend Bitcoin,' or, 'I was just at CVS, but now I'm going to lunch and I want to go from BAT to XRP,'" she said.
And switching between currencies takes place immediately, in real time, O'Connor added.
"The Uphold Card is available as a physical and virtual debit card that makes otherwise unspendable asset classes usable in everyday transactions," according to the company. "Cardholders can toggle between 50+ assets seamlessly within the Uphold Card App, as well as tap to spend using their virtual card."
O'Connor said the company is rolling out the card to users in tiers, with active beta users receiving cards first. She said this approach is being applied to avoid the potential of overloading the system, if say, 10,000 users signed up for the card all at once.
"We don't want anybody to have a bad experience — we always try to avoid that as much as possible," she said.
The card will initially only be available to Uphold users in the U.S., but O'Connor said the company plans to eventually make it available to users all around the world based on partnerships and accessibility.
A Platform That Bridges Old and New Financial Systems
Cryptocurrency has endless potential — the problem is that at the moment it doesn't seamlessly connect to legacy banking," O'Connor said. "So, right now if you get paid in BAT, it's a wonderful asset but currently you can't pay your rent with BAT — yet. Or you can't run out to the corner store and spend that BAT; unless you have the Uphold Card."
But Uphold is building that important bridge between legacy systems and blockchain-based digital currencies, she said, as well as facilitating borderless connectivity.
"In the U.S., we don't really have the burdens that some other economies and regions have as far as simple access to banking services — the ability to earn interest, the ability to take out loans, or the ability to send money instantly and transparently," O'Connor said.

And even in the U.S., money transfers aren't always necessarily transparent, even if we tend to have faith that the transaction will occur when using trusted banking institutions.
"I don't have any insight or transparency, nor does the recipient," O'Connor said. "So we're improving that and really making it easy for anyone to send value to anyone with just an email address — anywhere in the world."
The platform's mission to bridge old and new financial institutions is also evident in the newly launched debit card which will waive foreign transaction fees. O'Connor said the feature is live at launch, and the fee will either be altogether waived or in some cases will be reflected as a refund at the end of each month.
"It's really our goal to make this a borderless card for our users," she said.
Another goal folded into Uphold's approach to create a seamless experience between old and new is to drive more adoption of cryptocurrencies, O'Connor said.
"We've always looked at how to push forward mainstream adoption and how to bring the connectivity and functionality and benefits of digital currencies and blockchain technology as well as the functionality of structures that have been established for hundreds of years," she said.
She explained that Uphold doesn't expect these separate systems to work perfectly together overnight, but it anticipates some significant milestone adoptions in the near future that will move the ball forward.
How Uphold Stacks Up to Other Leading Exchanges
With its goal of ultimate interchangeability between currencies and types of currencies, it makes sense that Uphold trades one of the most diverse currency lineups when compared to many of the biggest crypto exchanges out there today.
Uphold currently trades in 27 national currencies, 30 digital currencies, and four metals, making for more than 1,000 trading pair options.
Other well-known exchanges trade in between one and 18 national currencies, five to 15 digital currencies, and no metals.
Uphold also has blockchain access on seven networks.
"We also have one of the biggest footprints in our space as far as global accessibility," O'Connor said. "We're in over 180 countries with customers in over 50 countries with bank connectivity. It's a pretty big footprint. And we have expansion plans for Latin America as well as expansion in some Asian markets as well."
And as far as customer service and security procedures, Uphold is implementing practices in line with other market leaders.
"I care about what our users want, as does our entire team all the way up to our CEO," O'Connor said. "If we see things coming through where people are having problems, we escalate it and deal with it quickly."
She said Uphold is very much driven by what its community of users need and want.
For example, the company launched a Twitter poll in 2018 asking which new currency the platform should support.
"I think we had over 13,000 Twitter replies to that, and the resounding response was that people wanted XRP," O'Connor said. "And we were the first in the U.S. to list XRP connectivity."
While some crypto exchanges are focused solely on the digital ecosystem, Uphold is striving to unite the old and the new to deliver a seamless, borderless finance experience to consumers all over the world.