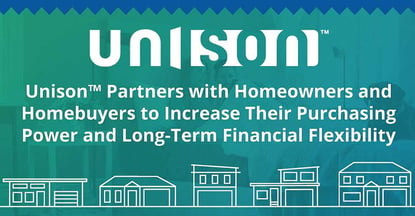 credit card news
Our experts and industry insiders blog the latest news, studies and current events from inside the credit card industry. Our articles follow strict editorial guidelines.
In a Nutshell: For an increasing number of Americans, buying a home and maintaining a desirable quality of life is becoming financially impractical. But in a growing number of markets, Unison offers a solution. In return for a portion of a home's appreciation when it's sold, Unison invests alongside homebuyers and homeowners. This can lower mortgage payments and eliminate private mortgage insurance for buyers and advance owners up to 20% of their home's equity value. And because they are investments, not loans, Unison products carry no interest charges or monthly payments.
Home prices are reaching new heights in many of the most high-demand markets. Home inventory across the country is tight, mortgage rates and construction costs are rising, and wages are failing to keep pace. The best homes are often out of reach for most buyers. At the same time, current homeowners find themselves sitting on equity with no good way to convert it into usable cash.
These bottlenecks in the housing market prevent families from living the lives they want. Unison breaks those bottlenecks by providing both homebuyers and homeowners with the financial flexibility they need to realize their dreams.
"With inflation outpacing earnings, homeownership is one of the hardest milestones to achieve," said Ayesha Dillon, Unison Director, Head of Partner Channel. "So many people are having a tough time getting into a home or accessing the equity from their home."
The challenge takes many forms, which is why Unison offers a variety of solutions. The company provides money for both homeowners and homebuyers, who repay the money — along with a percentage of the property's appreciation — to Unison after the home is sold. That means homeowners and homebuyers need not worry about monthly payments, late fees, or costly interest charges.
The results can be dramatic. One family in the San Diego area worked with Unison to upgrade from a small starter home into a more spacious property in a family-friendly neighborhood. Unison enabled the family to retain cash to make needed improvements to the house and pursue long-term financial goals on behalf of their three children.
A couple moving from Kansas City to Chicago wanted a property close to transportation in a mixed commercial-residential area. Despite having excellent credit, they were stymied by high prices in the Chicago market until Unison enabled them to comfortably put down 20% on a home that fit their lifestyle.
And a California retiree living on a fixed income in his family home partnered with Unison on an equity investment that put enough cash in his pocket to repair the home's roof, install new windows, paint inside and out — and even put in a jacuzzi. After all that, he still had money left over to enjoy his retirement.
"Before Unison arrived, there was a gap in the real estate industry," Dillon said. "Now, buyers and owners have the opportunity to form a new kind of partnership and do the right thing for themselves and their families."
Helping Consumers Buy Homes with Less Debt and Risk
Aspiring homebuyers contemplating a traditional mortgage in today's market often have to consider compromising on the property or location they want or taking on a higher down payment and more debt than they can comfortably afford. With its HomeBuyer product, Unison helps by entering the purchasing transaction as a third-party investor, alleviating the burden for the buyer in return for a stake in the home's appreciation.
In the ideal purchasing scenario, the buyer puts at least a 20% down payment. Putting down less than 20% means either paying more per month or downgrading the purchase.
For example, on a $500,000 home, if Unison invests 10% — or half — of the 20% down payment, the buyer saves $50,000 upfront along with more than $500 in monthly payments.
If that sounds too good to be true, it isn't — because Unison is rewarded for its investment later, when the home is sold. Most of Unison's deals in which it doubles the homebuyer's portion of the down payment result in it receiving 35% of the home's appreciation in addition to its entire original investment. If after 10 years the home sells for $600,000, Unison receives $35,000 in appreciation along with its original $50,000. The owner takes the remainder.
Unison is also there to mitigate the owner's loss in case of a market downturn. If the home sells for $400,000 after 10 years, Unison absorbs $35,000 in depreciation, losing money on the deal, while the owner absorbs only 65% of the loss.
That's why Unison is highly interested in its investments. Unison applicants agree to work within a network of approved lenders, purchase a Unison-approved property, and maintain and improve their home in a reasonable fashion. Unison also won't assume a loss on any decrease in value if the buyer sells within three years of the investment.
Typical Unison customers have high credit scores and exhibit a certain set of core preferences. "We don't rule anyone out, but we work with a lot of savvy millennial up-and-comers," Dillon said. "Maybe you're looking to leverage what you made from your first home and get into the right home for you and your family. Or, you want to get closer to the city center. We're here to partner with all of those folks."
Homeowners Can Leverage Existing Equity with No Interest or Payments
Traditionally, homeowners looking to access the equity they've built up in their home have had to turn to second mortgages and home equity lines of credit (HELOCs). These instruments give the homeowner access to funds, but they all carry interest and payment obligations that put the owner's home — and future — on the line.
Unison HomeOwner, a practical alternative for accessing home equity, is similar to the arrangement Unison makes with homebuyers. After providing all necessary documentation and completing a full application, homeowners receive a formal offer that can amount to 20% of the home's value. "It's an ideal arrangement for people who are looking for flexibility in their day-to-day financing," Dillon said. "Maybe they're sending a kid or two to college; maybe they're looking to do a remodel. Or maybe both."
As with its homebuyer product, Unison earns its compensation only after the home is sold, benefiting when the property appreciates but sharing in any losses when it declines. During the application process, the homeowner chooses how much money to receive within an approved range, thereby raising or lowering the percentage due back to Unison at the sale. "The choice ultimately depends on what you need financially and where your comfort level is," Dillon said.
Unison HomeOwner gives homebuyers an alternative to a mortgage loan — and the credit risks that entails — and can make a huge difference in people's lives.
"Imagine a scenario where a member of a credit-strapped family is diagnosed with a catastrophic illness," Dillon said. "We've had folks like that come to us, up to their ears in debt, trying to take care of small children. And we've helped them stay in the home their children have grown up in, pay the medical bills, and live life as they were before. Stories like that keep us in our seats every day."
Unison: Pioneering New Ways to View Home Finance
In return for a new kind of financial empowerment that helps people live the kind of lives they want to live today, Unison asks for a small stake in their tomorrow. And Unison investment services mean they don't have to keep up with monthly payments for years to come.
"We've hit upon what we think is a smarter, better way to buy a home or leverage equity in one," Dillon said. "We're now in 22 states with openings in another seven or eight right around the corner, so people in most major metropolitan areas can now access our services. That speaks to the level of excitement we're seeing among people who are open to gaining the flexibility that comes from a new kind of ownership model."
Because thinking about homeownership in terms of a shared partnership is such a new concept, Unison goes to great lengths to ensure that its clients fully understand the advantages and obligations inherent in the relationship.
The company prides itself on transparency and connects every customer with a program specialist who explains the entire process.
The customer completes a top-to-bottom educational experience on how to buy a home: what to do, what to look for, and the financial implications of the partnership," Dillon said. "We make sure everyone we work with understands how our products work and how they're benefiting when they co-invest with us."
As a partner over the life of a home, Unison is uniquely invested in the homeowner's success. For those just embarking on family life, interested in enjoying the fruits of their labor, or looking for a way to preserve their traditions, Unison provides an appealing alternative to credit-based borrowing.