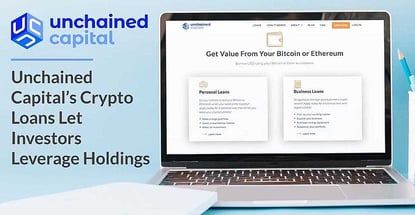 credit card news
Our experts and industry insiders blog the latest news, studies and current events from inside the credit card industry. Our articles follow strict editorial guidelines.
In a Nutshell: Investing in Bitcoin and other cryptocurrencies as a long-term strategy to grow funds has recently become more popular with consumers. One problem that existed in this strategy was that active investors could not actually make use of their crypto funds without selling them. Unchained Capital is a company that helps solve this problem with its crypto-secured loans. Investors can now make use of the value of their cryptocurrency holdings and maintain the benefits of crypto ownership. Unchained Capital stands apart from other crypto loan companies with a stronger focus on developing its own technology, and by maintaining cryptocurrency custody in-house with its multi-signature, multi-institution storage method, rather than outsourcing it to a third party.
Consumers who like to invest and grow their money usually like to make their funds work for them in some capacity. Savvy investors and businesspeople borrow against their stocks all the time while the stocks continue to grow.
However, in the world of cryptocurrency, this investment approach was not an option until just recently when companies like Unchained Capital came onto the scene to solve the problem.
When Bitcoin hit the scene a decade ago, early adopters used the digital currency for the peer-to-peer transfer of funds.
Over the years, the applications for Bitcoin have evolved into more commercial uses, with businesses and financial institutions throwing their hats into the blockchain ring. These days, consumers can use cryptocurrency to buy crafts from Etsy sellers, airline tickets, online games, and tons of other goods and services.
But, another interesting thing happened as Bitcoin and other cryptocurrency gained popularity in recent years. Their value began to rise and consumers were buying Bitcoins not to actually spend them, but to save them as an investment. These crypto holders were playing the new currency field like the stock market by viewing their cryptocurrencies as financial investments that would grow and reap big rewards at a later time.

Experts have expressed broad-ranging speculation about the long-term merits of investing in cryptocurrency. But, cryptocurrency prices have remained relatively steady after leveling off following a boom in value in late 2017. So it seems that with the understanding that any investment — in fiat money or cryptocurrency — comes with inherent risks, cryptocurrency seems to be here to stay as a way to grow funds.
A Mission to Help Long-Term Cryptocurrency Holders Get Value From Their Investments Today
Joe Kelly and Dhruv Bansal bought their first Bitcoins in 2013, right around the time the business partners sold Infochimps — the data technology company they had co-founded.
Like many first-time cryptocurrency buyers, it was an exciting experience. But there was one problem.
"We looked at how we used our Bitcoin, and we came to the obvious conclusion that we didn't really use it," Kelly said. "We just sort of sat around on it as this sort of long-term speculative investment."
As entrepreneurs, Kelly and Bansal were also exploring ideas at the time for their next business venture.
"We had been interested in Bitcoin for a while; it was too fascinating to ignore," Kelly said. "When we thought about the different kinds of things we could build in that world, we wanted to create something that we would use ourselves."
Kelly said he and Bansal looked at their own relationship to Bitcoin and wondered if other Bitcoin purchasers were approaching the cryptocurrency as a long-term investment, as they were.
"We were data guys, so we set aside time and downloaded the Bitcoin blockchain," Kelly said. "We did some analysis to see how many people were just sitting on their Bitcoin. That was around 2016, and we discovered that at the time, essentially 60% of all Bitcoin hadn't moved in a year or more."
He said that amounted to a whole lot of monetary value that was just sitting in storage and not doing anything for anybody. Kelly and Bansal decided there needed to be some financial product options brought to the cryptocurrency ecosystem to make that Bitcoin move again and produce value for the owners.
And the idea for Unchained Capital was born.
Kelly said not only does Unchained Capital supply crypto-backed loans, but it hues to a philosophy that helps investors maintain sovereignty over their wealth by keeping them as close to their investments as possible and minimizing the role of third parties in the process.
"We wanted to deliver these financial services in a way that kind of bridges the cryptocurrency world and more traditional investing businesses," Kelly said.
The company delivered its first loans in the summer of 2017 and ramped up the company's marketing efforts and visibility in November of the same year.
Facilitating a Fast and Secure Process for Personal and Business Loans
"From the beginning, we wanted our focus to be on high-touch client services, so we like to work with folks who tend to take out larger loans — folks who are high net worth individuals or institutions," Kelly said.
To that end, Kelly said about 40% of Unchained Capital's loans are applied toward some type of real estate investment. He said about 30% are for growing a small business or other assets, 20% goes toward personal or household use, and 10% of loans are for margin trading or buying more cryptocurrency.
"In many cases, people are getting these loans in order to put their capital to work so they can have another income stream," he said. "One individual has taken out over $1 million in loans for several homes to flip in Northeast. The person has been pretty successful so far. I think that's a pretty cool use case."
Kelly said the loan process is fairly straightforward, and in most cases, very fast. He said users can complete all the loan steps through the Unchained Capital website. Customers complete a profile in which they provide basic identity and income information, then they submit their loan request.
"For loan requests between $10,000 and $1 million, we'll generally approve them within the same day or within 24 hours after they get through our anti-money laundering process," Kelly said. "We can do loans greater than $1 million, but it just takes a little longer."
He said some users have received their loans in as little as five hours after submitting the request.
I used a loan from Unchained for some home remodeling and the purchase of a car, and find them super easy to use, with great customer service. It feels great to be able to put my dormant Bitcoin to use, and I feel comfortable with their custodianship.

-DGF, Personal Loan Customer in Arizona
Unchained Capital is currently set up to provide commercial loans in 44 U.S. states and jurisdictions, including Washington, D.C., with a slightly smaller subset of those areas currently available for personal loans as well, according to Kelly.
As with any investment, cryptocurrency values are subject to wide variation, and Unchained Capital has policies in effect that protect investors as well as the company. The organization requires a 200% collateralization, or a 50% loan-to-value ratio.
If crypto values rise, and the user's collateralization reaches 250%, the loan holder may make a withdrawal once every 30 days to bring the collateralization back down to 200%. If the crypto value falls, the loan holder will receive notifications at predetermined points as the collateralization falls below 200%. The loan holder may top off the collateralization value or liquidate the loan. If no action is taken within two days, Unchained Capital will declare the loan in default.
Kelly said so far, loan holders have responded well to fluctuations in collateralization percentages, and the company has not had to default any loans.
Unchained Capital Built Its Own Custody Platform for a Unique Approach Among Crypto Lenders
Kelly said one of the major factors that differentiate Unchained Capital from other cryptocurrency-backed lenders is its focus on technology. He said that, while most other cryptocurrency lenders outsource their custody duties to third parties like BitGo or hold it in an exchange, Unchained Capital stores the cryptocurrency itself.
When lenders outsource custody, the lender is very dependant on the outside party, which can lead to problems, he said.
"You're trusting that an executive at a third party who might log in to monitor collateral balances will not ever lose his or her phone or password, or any other number of things that can cause login to be compromised," Kelly said.
Instead of depending on a third party, Unchained Capital built its own secure custody platform that uses industry-leading best practices, he said. The platform takes a multi-signature and multi-institution approach to storing cryptocurrency.
"We allow people to use Trezor or Ledger wallets to protect their collateral," he said. "Now, you can send it to an address where you need two of three keys to spend from it, and you can maintain one of those keys. We'll maintain one key, and then we have a third-party key agent that maintains a third."
Kelly said this protects the customer's assets, because if Unchained Capital were to go out of business, the loan holder and the third party can still cosign a transaction to move the collateral out of holding.
"It's this really interesting three-party setup that keeps the collateral safer for longer-term loans like this, and it still lets the client keep a hand on his or her collateral," he said.
Additionally, Unchained Capital stands apart from other cryptocurrency lenders because the company does not use tokenization to secure its funding, Kelly said, referring to the process where investors may purchase "tokens" to invest in a company.
He said there have been cases where consumers who purchased tokens lost a lot of value from their original investments. This can be unfair to investors so Unchained Capital decided this approach is not necessary for its funding.
"We wanted to start a more traditional business that provides a valuable service for which we get paid," he said.
As Cryptocurrency Evolves, Unchained Capital's Financial Services Will Grow
Just as consumers continue to discover more applications for Bitcoin over the years, Unchained Capital plans to apply its multi-institution, multi-signature platform to other financial services.
Kelly said that, while Unchained Capital is not making any public announcements on services at this time, those interested should keep an eye on the company's website for future developments currently in the works.