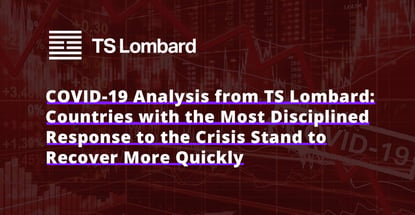 credit card news
Our experts and industry insiders blog the latest news, studies and current events from inside the credit card industry. Our articles follow strict editorial guidelines.
In a Nutshell: The unprecedented global challenge brought about by the COVID-19 pandemic has rightly raised concerns among investors and policymakers. Data tracked by independent economic and political forecasting consultancy TS Lombard shows that most governments are responding with creativity and vigor. But given the logistics, nations with preestablished agencies and programs capable of addressing the crisis are doing a better job of mitigating the effect the pandemic is having on their economies. Moreover, quicker overall recoveries are happening in nations with the most comprehensive and disciplined public health response.
Spring 2020 will always be remembered as the season of coronavirus. In a matter of months, the COVID-19 illness caused by the virus spread across the globe, infecting millions and severely curtailing commerce and trade as nations instituted travel restrictions, stay-at-home orders, and social-distancing guidelines.
These unprecedented events have engendered opportunities to measure the effectiveness of different national responses to a common crisis. Along with tragedy and economic dislocation, the coronavirus is giving rise to insights about the comparative state of politics, society, and culture in 2020.
In that regard, macroeconomic research consultancy TS Lombard is ideally positioned to make an authoritative contribution to world knowledge. TS Lombard has a 30-year-plus track record of producing data-driven research and analysis in economics, political policy, and markets for executives and investors — including half of the world's top 100 asset managers. And it has established a leading standard in forecasting comprehensiveness and independence.
Research analyst Constantine Fraser covers European politics, policy, and political economy at TS Lombard. Fraser has weighed in on Brexit and the politics of the euro as well as on a variety of national political issues within the EU.
Since the pandemic began to gather steam, Fraser has also contributed to TS Lombard's Government Policy Responses to COVID-19, which charts the monetary and fiscal reactions of the world's leading economies to COVID. That data, and Fraser's insights, highlight a remarkable consistency among nations in terms of policy responses while raising important concerns.
"Governments and central banks have been extremely active and have responded on a scale we've never seen before," Fraser said. "The biggest question is how rapidly life gets back to normal from a public health point of view."
TS Lombard: Global Analysis on Politics, Economics, and Finance since 1989
TS Lombard was formed from the 2016 merger of markets analyst Trusted Sources and Lombard Street Research, which was founded in London in 1989 to supply actionable macroeconomic forecasting to asset managers, hedge funds, pension funds, central banks, private equity funds, investment banks, and corporations.
Lombard Street took an internationalist research approach to mitigate the limitations of the mainly local market-based analysis available in the increasingly globalized economy of the 1990s. It also worked to restore the importance of the monetarist economic viewpoint alongside traditional Keynesian analysis.
Keynesianism tends to emphasize activist government fiscal policy-making as the fastest way to overcome economic downturns, while monetarists believe that money supply is the primary demand driver and look to central banks to encourage lending and consumption while controlling inflation.
Lombard Street's balancing of fiscal and monetary factors was instrumental in its forecasting of key events, including the Asian financial crisis of 1996-97 and the global financial crisis of 2007-08.
Its track record of these and many other successful forecasts, large and small, is recounted on the TS Lombard website, substantiating the growing importance of the interplay of politics and economics, even in emerging markets.
Now, COVID-19 puts TS Lombard's interconnected mission to perhaps its greatest test, with analysts monitoring developments in leading economies on behalf of its large client base. Fraser said he sees much to overcome.
"The recession, at least in the short term, will be extremely deep," he said. "Because that's the point — governments are trying to stop economic activity and keep people home. There's going to be a very deep recession."
Government Policy Responses to COVID-19
The policy response table is the tip of the iceberg when it comes to TS Lombard's analysis of the impact of the coronavirus. Business-email trial access to all of TS Lombard's research is available, including material addressing the virus's implications on growth and asset prices.
That said, the table supplies a lot of information that prompts additional study, with separate sections listing monetary and fiscal policy responses for China, the EU, the U.K., South Korea, Japan, and the U.S.

"It's been a rolling project — since mid-March we've been updating," Fraser said. "And, whereas in 2008-09 governments were a little bit reluctant to really pull out the big guns, here, straight away, what's interesting is that they have all acted extremely rapidly."
On the monetary side, the table reveals a willingness to grant central banks more leeway in managing assets and rates across the board. China, for example, has delayed implementation of new asset management regulations, relaxed reserve requirement ratios, and cut bank loan rates to historic lows.


The countries are also instituting various open market and quantitative easing strategies, purchasing and influencing the purchase of securities to infuse banks with more cash for investment.
On the fiscal side, nations are universally embracing new spending, including safety-net expansions and protections for households, support for businesses, and regulatory relief.
"The idea is to put enough money in the economies now to essentially keep them alive," Fraser said. "It's a sort of hibernation for a few months while they try to get the pandemic under control."
"And then, hopefully, the recovery will be a lot sharper than it would otherwise be," Fraser said. "So, they're all essentially trying to shift the cost of the shutdown for a few months, straight onto the governments' balance sheets, to prevent layoffs and bankruptcies."
Best Practices in Crisis-Fighting and Recovery
While essential workers, the elderly, and the infirm everywhere bear the brunt of the pandemic, the highly contagious coronavirus affects everyone. Until a vaccine or treatment is developed, individuals remain vulnerable.
Fraser said that fact puts a premium on the quality of a government's response, a conclusion supported by analysis of data collected by TS Lombard. Both the effectiveness of economic mitigation and efforts to shorten the pandemic's course in each country are under scrutiny.
But although economic activity is beginning to recover, the damage from the pandemic will take a while to repair.
On the policy side, Germany is a standout nation, Fraser said, because it essentially prepared in advance for the crisis.
"It takes a while to roll out a new program of assistance, to get new systems set up — governments can only work so fast," he said. "And Germany has a lot of institutions and programs that were already in place. So what they did as soon as the crisis started, was expand the scope of those to provide a huge amount of guarantees and loans for businesses."
Many EU governments have copied Germany's long-standing furlough program whereby the state simply pays employee wages rather than seeing them through to the unemployment system.
In terms of the pandemic and its citizens' health, South Korea's response is unmatched, Fraser said. "They just have a very effective program of testing and tracing and have managed to keep the pandemic at a very low level, and life at least relatively normal," he said.
TS Lombard analysis reveals this combination of crisis-fighting preplanning and unified public health response to be the sweet spot governments — and societies — should aim to blunt the effects of future crises.
"Governments can do quite a bit to tide the economy over for a month or two, but they can't do much if it lasts for several months of shutdown and then six months of people being too scared to go out," Fraser said. "The length and depth of the recession will depend ultimately on the public health situation."