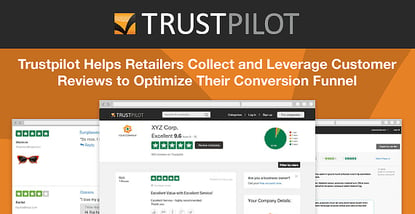 credit card news
Our experts and industry insiders blog the latest news, studies and current events from inside the credit card industry. Our articles follow strict editorial guidelines.
In a Nutshell: Trustpilot helps businesses collect a higher number of customer reviews, which provides a more accurate online representation of their brand. Using the Trustpilot business platform, companies discover the right time during the customer journey to ask for a review, maximizing positive feedback. Companies can then use the platform to integrate that feedback into their marketing campaigns, turning customers into brand advocates.
After hearing some strange noises coming from our kitchen in the middle of the night, my wife and I decided to replace our refrigerator with one made this millennium. We settled on a price range, a list of features we wanted, and a color, and went straight to the online reviews. Some were very helpful and gave us an extra metric to decide which refrigerator to buy. Others descended into venting about how a five-layer cake couldn't fit nicely into the side door.
Word of mouth has helped consumers decide which products to buy and which ones to avoid for centuries. Before the invention of the World Wide Web, reviews were very personal and might have come in the form of advice from a neighbor, a barber, or a friend who had an opinion on a product's quality. Now, reviews of every product you can think of are readily available on the internet, from soap bars to luxury cars to companies themselves.
Online product and business reviews are a vital component of today's consumer economy, especially locally. According to a study by BrightLocal, 91% of consumers read online reviews, and 68% of those surveyed say positive reviews make them trust a local business more.
With such credence placed on online reviews, it makes sense for a business to ensure that those reviews are reflective of the real consumer experience. This is where Trustpilot comes in.

Trustpilot uses reviews to help consumers make better buying decisions while also helping businesses grow and improve. Starting with a company's process, Trustpilot ensures that the reviews are representative of the average customer experience, not weighed down with negative reviews that may be anomalies.
"If a customer has a more positive experience, they may not be so quick to leave feedback, so we help businesses capture that," Trustpilot Director of Marketing Jordan Garner told us.
Trustpilot teaches companies how to use the right techniques to secure timely and frequent reviews, and leverage them to market to customers on their journeys toward a purchase.
Leveraging Reviews Across Customer Touchpoints Boosts Conversion Rates
Reviews do not just have to be feedback; they can be used to actively grow and expand a customer base. By integrating reviews into different touchpoints along the customer journey, a retailer can market something that is nearly as important as the product itself: a positive experience.
With Trustpilot, reviews are placed seamlessly into searches, both paid and organic, to become the first thing consumers see during their buying journey.
"Search is the first place you want to make sure your reviews are available," Jordan said. "Trustpilot can help you get reviews and ratings in that critical area, as well as many others."
Another critical review location for a business is the homepage on its website. Retailers are very familiar with reviews on product and category pages, but the homepage is important as well. The homepage is typically the first point a potential customer will see if they are coming from somewhere outside the property. Trustpilot also sees reviews keeping consumers on pages that typically have a high bounce rate, such as form pages.
"If there are a lot of fields to fill out, reviews could be an excellent way to keep them moving through the process," Jordan said.
But reviews aren't just for website pages; they can be woven throughout a company's marketing campaign to make it more powerful.
"That could be through retargeting ads, banner ads, social media posts, or email," Jordan told us. "Retailers are always looking for new content to include in email campaigns that interest customers. Reviews are a great way to encourage action from emails."
Trustpilot has a wealth of case studies in which reviews have served to dramatically improve conversion rates. Kilt makers MacGregor and MacDuff, based in Europe, employed Trustpilot to help build customer trust. Not only did  the company get meaningful feedback from customers, MacGregor and MacDuff was also able to boost its conversion rate 40% and increase revenue 30% in just over a year.
Those marketing opportunities for reviews extend to television and print advertisements. After all, what better to include in an advertisement than a review from a real interaction with your company?
The effect of customer reviews on conversions can be astounding, and Trustpilot helps businesses boost both through its timely review collection process.
Asking for Reviews at the Right Time Can Lead to a Higher Response Rate from Customers
Just because a customer has a positive experience doesn't mean that they will leave you a positive review. Sometimes, a business needs to be proactive. Trustpilot knows that asking for a review at the right time is the key to meaningful feedback.
"Taking the review experience and naturally embedding it into their existing customer journey is important," Jordan explained. "Leaving a review should not feel abrupt or annoying, and it should come at a time when the customer feels informed enough."
Finding the right medium for collecting reviews is more business-specific, whether it is email, an embedded form, post-purchase, or behind a login portal, there are many options.
"The more natural you make it for a customer to leave you a review, the more reviews you will get," said Jordan. "As you see your response rate go up, you will see reviews work harder for you because quantity is imperative. There are numerous studies which show that consumers look for a certain number of reviews and also recent reviews. You can't have old reviews."
Trustpilot helps a business get the right quantity of reviews that are more representative of their business. Many companies are beset by negative reviews that don't reflect the totality of their customer base. Unsatisfied customers may only be a fraction of their base, but online, negative reviews can seem outsized, especially with all of the weight given to them.
"A Nielsen study showed that after personal recommendations, the second most trusted content was online reviews," Jordan told us. "So, the ultimate goal of every online company is to transform those happy, loyal customers into advocates who help do their marketing for them."
Trustpilot's platform can connect that gap by helping consumers make better buying decisions and helping businesses grow and improve through reviews.
An Efficient Platform Offering Intuitive Tools, Integrations, and Plugins
Trustpilot uses Trustboxes, widgets that integrate reviews on a web page, to show reviews to customers at many different points. A business can customize a Trustbox to fit on its site and even select which reviews will show up in it. What shows up in the Trustbox can be sorted by most recent reviews, star rating, or favorite reviews may  be selected that capture the essence of a retailer.
Trustpilot built its platform for customization and A/B testing with a comprehensive dashboard that makes finding the right Trustbox position more intuitive.
"We have a dashboard with an A/B testing tool, and we have over 20 Trustboxes that can be tested throughout a website," Jordan told us. "We even have a dashboard that helps you understand how your reviews show up in Google and how many impressions they are getting."
Trustpilot is also integrated with some common e-commerce platforms like Magento and Shopify, as well as customer service platform Zendesk, and provides a social connection through Hootsuite. The integrated nature means that reviews can show up in shopping carts and social media and become a part of an ongoing customer conversation. All of this integration fits into a company's existing business processes and provides a way to mine insights and trends from reviews.
"We do a lot of reporting with our customers on review trends and key topics that are recurring in feedback," Jordan said of Trustpilot's platform. "That can lead to improving your customer experience and cost savings when you can react to that quickly."
All of Trustpilot's services revolve around one primary goal: customer satisfaction. When a company satisfies its clients and shows that to potential customers, growth and improvement are possible.
Reviews Can Grow Bottom Lines and Businesses
My wife and I are quite happy with our new refrigerator, and reviews played a big part in our decision-making process. Reading the experiences of others made us feel much more comfortable with our purchase. That is the power reviews have.
With 9 out of 10 people reading reviews before making a purchase, it is imperative for businesses to make sure that their reviews are representative of real customer experiences. Trustpilot knows that many great companies are being weighed down by bad reviews and that the best way to combat that is with more customer reviews.
"A lot of businesses that come to work with us are nervous because a lot of the feedback they have gotten is negative," Jordan said. "The reaction when they start getting back reviews are surprise, delight, and excitement to see how much positive feedback there is."
Nearly 90% of the reviews on Trustpilot are 4 or 5 stars, and that is a product of Trustpilot's process of collecting them at the right time. Trustpilot gives customers a voice, and when enough of those voices come together, they can echo into future prosperity for a business.