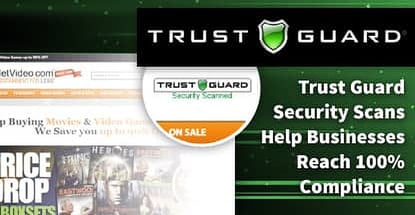 credit card news
Our experts and industry insiders blog the latest news, studies and current events from inside the credit card industry. Our articles follow strict editorial guidelines.
In a Nutshell: Maintaining security compliance is the most important step toward building a successful online business. Without the proper certifications, customers won't trust you and payment processors won't work with you. Malicious hackers discover new vulnerabilities every day, which makes regular PCI scans from Trust Guard even more important. Trust Guard's scans are among the most thorough in the industry and are available daily, weekly, monthly, or quarterly. More than 80% of new customers fail their initial scans, which helps businesses identify their biggest security issues and fix them promptly. Once a business passes its scan, it can begin using Trust Guard's Trust Shield, which, on average, increases conversions by 15%. Trust Guard backs its promise of higher conversions with a 60-day double-your-money-back guarantee.
Entrepreneurs sometimes go looking for new business ideas, but sometimes the business ideas come looking for them.
Such was the case in 2006, when the father-son team of Dave and Scott Brandley sought ideas for a new online business. The duo had already created and sold two successful online ventures and wanted to make their third business the biggest one yet.
The plan they settled on didn't require in-depth research or call for commissioning expensive studies. The Brandleys simply listened to what people said they needed — and Trust Guard was born.
"We would go to internet conventions and found that very few people were doing what we're doing now," said Luke Brandley, CMO at Trust Guard, LLC. "Still, every company we talked to said security was their biggest problem."

The family decided to develop a solution to protect companies and individuals while filling the demand for more cost-effective online trust seals.
Today, Trust Guard is an industry leader in website security scanning. The third-part scans, conducted by Clone Systems, take approximately two hours to complete and provide a full report of potential vulnerabilities within a website or host.
Once an online business passes a scan, it can begin displaying Trust Guard's Trust Seal on its website, social media, and other marketing materials.
"The Trust Seal lets online shoppers know the site they're transacting with passed a Trust Guard security scan," Brandley said. "Doing that builds consumer confidence. Our clients who display the seal enjoy, on average, a 15% higher conversion rate compared to sites without the seal."
Trust Guard's scans are among the most comprehensive in the industry, providing compliance with rigorous PCI, HIPAA, GDPR, and SOX standards for businesses of any size.
"We can do something as small as one IP to as large of a company as there is in the world," Brandley said. "We scan large organizations like Blue Cross Blue Shield and small Mom-and-Pop shops."
The secret to Trust Guard's success is its powerful and user-friendly backend interface that allows payment processing companies to view all of their merchants at one glance to tell if they're compliant.
Processing companies can also receive their compliance reports and Self-Assessment Questionnaire (SAQ) form from the single screen.
80% of New Customers Fail Their First Scan
Trust Guard claims its scans are among the most thorough in the industry. New customers figure out right away just how deep the scans go.
"About 80% of our new customers fail their first scan," Brandley said. "That's whether or not they were with one of our competitors. Our scan is very robust and we look for so much more than what other scans are trying to detect.
"The most common problems we find deal with the hosting company — these can be a SQL hole or other such vulnerabilities. These hosting companies love us because we help them find and fix those holes, and once they're fixed, they're fixed for everybody on that host."
Brandley said the average scan takes approximately two hours to complete and has almost no bearing on the website's servers or functionality. Still, many Trust Guard clients opt to schedule their scans for evenings or off-hours when they won't affect business.
Trust Guard offers unlimited free rescans for clients who do not pass their initial test. Scan reports include all issues detected within the scan. Most clients copy and paste the info and send it to the hosting company, which handles the fix.
Clients who pass a scan can use the company's Trust Seal an unlimited number of times.
Weekly Scans Keep Customers Ahead of Malicious Hackers
The new client onboarding process takes a matter of minutes and scans can begin right away.
"Signing up is super simple," Brandley said. "New customers only have to provide us with the IP address or website they want to be scanned, and we go to work immediately. The process is all automated."
Customers must have a Secured Socket Layer (SSL) on their site to pass a scan. Brandley said that Trust Guard will let clients know ahead of time if the SSL isn't found.
Trust Guard suggests clients get scanned weekly, which is the company's most popular service. Larger corporations often opt for daily scans, while some choose the monthly or quarterly options.
"The PCI Security Standards Council requires at least a quarterly scan to remain compliant," Brandley said. "So we offer that option, but suggest you get scanned more often than that."
More frequent scans help clients stay ahead of the malicious hackers who are constantly finding new ways to enter a previously secured website.
"We find new vulnerabilities every single week and suggest you get a scan at least once a week to keep up," Brandley said. "The people who are getting scanned daily usually get vulnerabilities patched the same day we discover them. We have clients that pass their scan, and then get scanned a week later and fail because of new vulnerabilities."
Double-Your-Money-Back Guarantee Promises Conversions

Trust Guard is so sure that its Trust Seal will improve client conversions that it backs the claim with a 60-day double-your-money-back guarantee.
Not only is the company sure that conversions will improve, but the added compliance will give website owners and managers peace of mind knowing they're protected with the most recent patches.
Scans are GDPR, HIPAA, and SOX Compliant
Trust Guard is always in search of new website security vulnerabilities to help its clients maintain compliance and stay ahead of emerging standards in the US and around the globe.
"Right now, the European market is required to be General Data Protection Regulations (GDPR) compliant. Our scan is already compliant with that. This is a super-rigorous set of standards that everyone in Europe is freaking out about because they aren't compliant with it."
Trust Guard scans are also HIPAA and SOX compliant, but as Brandley said, "they're super-detailed scans, but we make it very comfortable and easy for the end user on the backend."
Trust Guard is committed to being the best in the industry by providing the best products and services — something that is reflected in the company's positive reputation among online businesses.