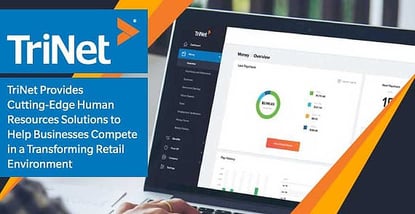 credit card news
Our experts and industry insiders blog the latest news, studies and current events from inside the credit card industry. Our articles follow strict editorial guidelines.
In a Nutshell: Business owners and managers face daily human resources challenges. They need to compete for the best staff, retain star employees, and build and maintain healthy work environments. Additionally, they have to keep track of a wide variety of regulations, from overtime pay to minimum wage to health care. That's why companies turn to TriNet for HR solutions that help quickly onboard new talent, keep administrative costs down, and inform and educate employees through an easily accessible mobile app. Whether a company has a staff of three or 2,000, TriNet provides valuable resources in a fast-moving, competitive space.
Dave Yarborough founded D&B Tile Distributors in the 1960s with the goal of passing a successful operation down to his children. His daughter worked for the business until she retired and his son Harold is now CEO, but the business landscape is far from what it was in the 1960s.
Today, D&B Tile Distributors is an international company with 150 employees and nine locations across South Florida. But it's also still a family business with a focus on personal service and operational simplicity.
Over the decades, it has become more complicated to sustain growth — and that family feel — with new technologies and regulations constantly popping up. The company has faced many of the same growing pains experienced by other expanding companies.
"The challenges we faced were ones common to most businesses: time and cost. We have one person who manages our HR, and she was spending far too much time on paperwork and day-to-day employee issues when we really needed her to spend time on helping us recruit and retain employees," said Rudy LLerena, Chief Operations Officer at D&B Tile Distributors.
To stay true to its family history while tackling complex 21st-century challenges, D&B Tile Distributors turned to TriNet. The professional employer organization helps D&B stay ACA compliant, deal with workers' comp cases, address payroll, facilitate the employee onboarding process, and handle HR needs.
"Whether you're a one-person or a 200,000-person company, you need these solutions," said Aubrey Smoot, TriNet's Vertical Product Executive. "Our product, TriNet Main Street, addresses the core HR challenges these clients face. We also offer services such as performance management, learning management, and applicant tracking for those clients that would like additional HR tools."
Aubrey said that the most important question the TriNet team asks is, "How can we provide unique, differentiated, and true value to our clients?" His answer — the company starts by developing a deep understanding of clients' critical challenges.
Retail's Biggest HR Challenges: Competing for Staff, Retention & Trust
"Think about when you walk down Main Street. You see lots of different stores, including retail outlets, automotive dealerships, hotels, and restaurants. All of these businesses have the same HR challenges — whether it's process to manage wage and hour rules and regulations or benefits such as the Affordable Care Act and there are significant opportunities for TriNet to help," Aubrey said.
By working with retail clients and studying the industry, the TriNet team has identified key obstacles every business has to overcome:
Competition for Employees
"I spend a lot of my time traveling and talking to owner-operators. An owner in Houston told me, 'Come, take a look at this' and walked to the window. 'You see all the cranes out there,' he said. 'Every one of them is building a new facility that's going to draw from the same population for its staff. The number of businesses is growing, but the pool of employees isn't increasing proportionally,'" Aubrey said.
Potential employees don't sit and wait for employers to call them back. They walk out of one job interview and into another. Everyone needs income, which means that owners and managers who quickly onboard staff will have the easiest time recruiting talented employees. Employers who move slowly may have to choose from who's left.
Employee Retention
"When a business loses an associate, the owner spends time recruiting a replacement, paying for the onboarding process, and waiting for the new employee to get up to speed.
"That adds up to a lot of lost revenue. If you can reduce attrition just a little bit, you're saving a whole lot," Aubrey said.
Establishing and Maintaining Trust
"A retail outlet manager told me about an employee who came into his office furious because his paycheck was half of what it had been the week before. That employee really believed his employer was taking advantage of him. The manager looked through the records and saw that the employee had only worked half the hours, so the employee's anger was misplaced," Aubrey said. "The employee was so embarrassed that he left the job. Because of a small misunderstanding, hard-won trust between the employer and his employee was destroyed."
All healthy workplaces are built on healthy relationships. If staff is confused and left in the dark, those relationships quickly break down.
How TriNet's Tools Solve Complex Human Resources Problems
The TriNet team has developed a solution that tackles all of these challenges and more. "What I love about the retail marketplace is that owners appreciate the fact that their staff is the face of their business. For that reason, they'll do anything to strengthen their relationship with employees and improve the work environment. Our entire job is to support that process."
"The more information owners give their staff, the more this generation trusts their employers. That's why our app keeps them informed, for example sending notices when paychecks are deposited." — Aubrey Smoot, TriNet Vertical Product Executive
TriNet's real-time information tools help managers create complex schedules, balancing issues like staff shortages and overtime pay. Its mobile app delivers timely and useful information to employees.
"The more information owners give their staff, the more this generation trusts their employers. That's why our app keeps them informed, for example sending notices when paychecks are deposited," Aubrey said. "Staff can also look back over months of paychecks, reviewing the number of hours they've worked, which tax thresholds they've crossed, and get a clearer understanding of their take-home pay."
With the TriNet app, employees can also see how much time off they've accrued, request vacation days, and stay on top of their work schedules.
A Long-Term Strategy to Provide True, Lasting & Differentiated Value
While businesses like D&B Tile Distributors turn to TriNet to handle the everyday tasks that — combined — can become highly overwhelming, the business also wanted a solution that would provide value over the long haul. And TriNet is committed to innovation and adaptation, helping bring businesses into the 21st century with its products and services.
Take Jacksboro National Bank, which was founded in 1905. Still in business 100 years later, the bank faced several challenges in 2005. Employee benefits were raising costs, staff demanded more flexible benefit plans, and repetitive administrative tasks were eating up hours that management wanted to dedicate to new strategic initiatives.
In 2006, the bank joined forces with TriNet. "Upon our initial conversion to TriNet, we experienced a drastic reduction in the cost of providing benefits to our staff," Jacksboro National Bank CFO Craig Anderle said. "We got much better health insurance plans, gave our employees more flexibility, and significantly decreased the amount of time we spent processing payroll and paying taxes."
Even companies that have been in business for decades can't afford to tread water — commerce's current runs too fast for that. Owners who look to the future have come to trust TriNet's forward-thinking vision. And Aubrey is excited to see what's coming next.
"It's thrilling to brainstorm new ways to provide true, lasting, and differentiated value," he said. "The more we can focus on that, the more we'll grow, and the better we'll service our clients."