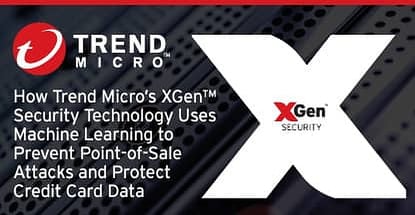 credit card news
Our experts and industry insiders blog the latest news, studies and current events from inside the credit card industry. Our articles follow strict editorial guidelines.
In a Nutshell: With a growing number of data breaches occurring in the retail sector, business owners are becoming increasingly wary of hacks. And since point-of-sale devices offer direct access to customers' credit card data, these endpoints are a favorite target for cyber criminals, who are creating sophisticated types of malware to infiltrate payment systems. In 2016, Trend Micro released XGen Endpoint Security, which offers multilayered protection for all of a company's endpoints, including POS. This software represents a new class of endpoint security that combines machine learning with the most advanced threat-defense techniques to protect retailers' payment data against both today's and tomorrow's threats.
In the wake of Russia's reported interference in the 2016 US elections, hacking and other forms of cybercrime are making global headlines on a near-daily basis. While data breaches at the highest levels of government typically get the most attention, cyber attacks against small- and mid-sized businesses often have a much greater impact on our daily lives.
When cyber criminals steal the credit card information and other financial data used in retail purchases, the results can be devastating for both customers and business owners alike. Hackers can use the stolen data for identity theft and numerous other fraudulent purposes against customers, which in turn can devastate a retailer's reputation and lead to major losses in business and revenue.
After nearly 30 years in cyber security, Trend Micro knows this issue well and develops solutions to keep systems and data on lockdown. In late 2016, the company released XGen Endpoint Security software, which offers multilayered protection for all endpoints, including point-of-sale (POS). The new product infuses machine learning into a blend of advanced threat defense techniques to eliminate security gaps and provide the maximum level of protection for a retailer's sensitive payment data.

Since POS devices provide a direct access to customers' payment information, these endpoints have always been a favorite target for hackers. One of the most famous cases involving a POS attack was the Target hack of 2013 in which some 40 million people had their financial data stolen by malware known as BlackPOS.
In addition to the incalculable damage inflicted on the brand's reputation, Target ended up paying victims $10 million to settle a class-action lawsuit. While the retail giant was established enough to survive this incident, smaller companies might not be so lucky. Given the tremendous risks posed by cyber attacks, it's more important than ever for companies using POS technology to have the most advanced level of security in place.
Application Control is the Key to Ensuring POS Security
POS devices have always been an integral part of the retail landscape, and the technology has seen numerous advances in recent years, such as chip readers and mobile card scanners that attach to smartphones and tablets. At the same time, the cyber threats against POS systems have also evolved to become more sophisticated and dangerous.
In the past, many cyber criminals relied on hardware known as skimmers to steal the information stored on payment cards' magnetic strips. Because skimmers were attached directly to the POS terminal, hackers needed to physically install and remove the devices, which made card skimming a relatively risky proposition.
However, the latest method for hacking POS systems involves infecting the devices with malware, as was the case in the Target attack. By using malware, cybercriminals are no longer forced to physically access payment terminals. This not only significantly reduces the risk of getting caught, but it also greatly increases the potential payoff, making such attacks extremely popular. In fact, Security Intelligence notes that POS malware has become so prolific it is now among the most damaging of all cyber threats.
In light of this new danger, it's critical for retailers to do everything they can to protect their payment processing technology. One of the most effective ways to secure POS systems is a technique known as application control, which is one of the many functions offered by Trend Micro's endpoint security software.
Application control prevents malware from infecting a company's system by allowing only approved applications to run on POS devices and blocking all other unwanted or unknown programs. This essentially gives retailers full control over which applications can and cannot be run on their systems.
Because today's POS terminals are connected to the internet and often run on Windows and Apple iOS operating systems, they're frequently used by employees to receive emails and surf the web, which greatly increases the chance of malware infection. But Trend Micro's application control can prevent terminals from being used for anything other than payment processing.
"App control allows you to lock down those POS devices, which don't have to run more than one application," Jon Clay, Director of Global Threat Communications at Trend Micro, told retail news site DealCrunch. "They can be locked down because they are doing very specific things within the organization. It can lock down the OS files and applications that are running, and only allow those approved applications and OS files to run."
Machine Learning Keeps Businesses Ahead of Threats
Since cyber crime is constantly evolving and new types of malware are being created every day, businesses must employ security measures that not only protect against the latest known threats, but also against unknown threats that are likely to be developed in the future. Trend Micro's endpoint security provides such protection through machine learning.
Machine learning is a type of artificial intelligence that enables security systems to evolve and improve their capabilities over time without having to be reprogrammed. To do this, the technology uses algorithms that "learn" the specific attributes that make executables trustworthy or not. In this way, machine learning is predictive, as it can detect and block unknown malware by determining whether a suspicious file share attributes with other pieces of known malware.
Although Trend Micro has employed machine learning technology for years, the new XGen endpoint security software provides a more robust level of malware protection known as "high-fidelity" machine learning. High-fidelity machine learning can analyze a file's attributes and characteristics both before execution and at runtime. This is a vital capability, since some types of malware only reveal their malicious characteristics upon execution.
What's more, Trend Micro's high-fidelity machine learning is augmented by "noise cancellation" techniques, such as census and whitelist checking, to reduce the number of false positives that negatively impact the performance of the machine learning technologies used by many other security vendors.
Safeguarding More than 500K Businesses & 155M Endpoints
With nearly three decades of experience, Trend Micro is a global leader in cyber security, and its technology is currently used to protect more than 500,000 businesses and 155 million endpoints. The company has been honored with numerous industry accolades, including being named a leader in Gartner's Magic Quadrant for Endpoint Protection Platforms for 14 years in a row.
William Crank, chief information security officer for MEDHOST, said Trend Micro's new endpoint security software has revolutionized his company's approach to cyber security.
"The use of Trend Micro's XGen endpoint security has redefined our security posture, allowing for both complete protection and ease-of-use in securing our most valuable enterprise data," William said.
Indeed, Trend Micro's new endpoint security combines traditional threat-detection technology with today's most advanced security techniques and machine learning to protect a company's financial data against even the most devious hackers, while maintaining an optimal level of performance.