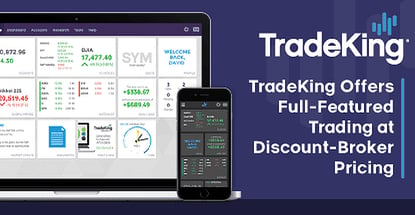 credit card news
Our experts and industry insiders blog the latest news, studies and current events from inside the credit card industry. Our articles follow strict editorial guidelines.
In a Nutshell: In my experience, the average person is more inclined to think of investing as something out of their reach than within it, be it because of a lack of education or a lack of finances. The truth, though, is investing doesn't have to be scary or intimidating — especially when you use TradeKing. In addition to being one of the most affordable brokers in the marketplace, TradeKing's LIVE trading platform offers a wealth of features, tools, and information to help ensure you make smart, well-informed trades. Just getting started? TradeKing's vast Education Center and popular Trader Network allow both novices and experts alike to learn, share, and grow as traders.
For many years, whenever I heard the term "investing," an image would form in my mind. I would immediately think of the little stock ticker, full of red and green letters and numbers that fly by at lightning speeds, and the crowd of stereotypical brokers, all shouting, by all appearances completely at random, in glee — or alarm — ostensibly in response to those alphanumeric colors.
While that image isn't necessarily wrong — I doubt the New York Stock Exchange has ever been called a "quiet" place — it certainly doesn't encompass the complete investing experience. Nor does it, I think, correctly illustrate the experiences of most of today's investors.
As the digital world came of age and we all plugged into the internet, so, too, did finance. This was mostly thanks to individual companies who created the frameworks and platforms upon which modern day trading is built, companies like TradeKing, who has been helping individual investors get started for more than 10 years.

TradeKing's original goal, to open trading to the masses, remains at its core even today and has inspired the company long past its inception. In fact, it's in that spirit that TradeKing continues to be both one of the most affordable online brokers, and one of the top-rated, with its latest trading platform, TradeKing LIVE, offering a full complement of features and tools to make trading faster and easier.
Complete Customization and an Intuitive Platform Simplify the Trading Experience
Your future as an investor starts with creating your TradeKing account. The sign-up process is simple, requiring your name and email for the initial registration. You'll then input information about your current finances, and choose the type of investment account you'd like to open.
The last of the sign-up questions detail your investment goals, including the amount of risk with which you're comfortable, to give TradeKing an idea of your investing style.
After submitting your application, you'll be given an opportunity to transfer funds into your new account, via a transfer from your bank or another broker. You can choose to put in any amount you want, or nothing at all — there's no minimum to open an account.
It all starts on your personal Home tab, where you can get a complete snapshot of your accounts, recent orders, and the stocks saved on your Watch List. You can also find the latest finance news and market updates, get instant stock quotes, and quick access to your important documents.
This isn't static, blink and it's out of date information, either. It gets its name, "LIVE," because of its streaming market data, as it's continuously updating in real time.
If you're overwhelmed by the number of tiles on your screen, or just want your gains and losses displayed front and center — there's a setting for that. In fact, just about everything in LIVE is customizable, including the background image, color scheme, and tile placement, as well as the types of data displayed. It's also fully size-responsive, so you can view it on any size screen, from giant monitor to tiny mobile device.
While you can access just about everything from your homepage, for the average TradeKing user, the real magic happens on the Dashboard. Here, important tiles from your homepage are shown in more detail, including your complete Watch List of favorite stocks. You'll also be able to pull up individual company charts and options.
Of course, TradeKing never forgets that it is a trading site; you can initiate and complete a trade from anywhere in LIVE, at any time.
Your trade ticket saves itself, so you can open and close the ticket without losing your information. You can even pre-populate it by clicking on any of the blue bid and ask links for any stock or option.
If your trade is getting a little complicated, or you simply want an expanded view, you can click on the Trading tab for a blown-up version of the trade ticket.
Comprehensive Tools Include Extensive Research, Charts, and Studies
While there's no way to guarantee a positive return on your investments, the best way to ensure you make the best deal possible is to do your research. TradeKing provides a variety of tools and research features to help users make informed trades.
TradeKing offers research for markets at large — like Dow Jones, for example — as well as specific companies.
The company view allows users to get a snapshot of how the company has been performing, such as the last price at which it was trading, as well as the latest company news. Just as with the stock and options numbers, the information is updated in real-time.
Another great resource is the market movers section, where you can see the most actively traded companies in a given market, like the New York Stock Exchange, for example.
In addition, TradeKing also offers a full complement of charts, which can be detached from the window and moved around your desktop — in unlimited numbers; you can open as many charts as you like, all at the same time. Each chart is fully customizable, with an array of viewing options, including the ability to zoom in and out to adjust the time period, and a bevy of studies that can be added — and saved.
There are even tools designed specifically for the options trader, starting with an innovative options trade builder.
The Options Workbench displays all the legs you've created, and the various metrics associated with them, referred to as "the Greeks" because of their Greek letter names. You can also take advantage of the probability calculator, which uses the historic volatility of the trade to estimate the likelihood of your event happening, to help you trade with confidence.
Connect and Learn with TradeKing's Education and Networking Resources
Whether you're just getting started, or have been trading for years, there's always something new to be learned about investing — and TradeKing has a wide variety of resources to help you learn.
TradeKing has a very robust education center that helps assemble the building blocks of how to trade for the beginning investor, all the way up to what TradeKing refers to as "All-Star" traders.
In the Education Center, subjects can be browsed by security type, including stocks, options, and mutual funds, as well as experience level — and even market outlook. Feeling Bullish? There's a section full of information just for you.
Resources come in the form of informative articles and strategy guides, detailing everything from beginning in bonds to understanding the tax implications of your trading profits (and losses). You can learn almost all you need to know about options trading from the Options Playbook, written by TradeKing's in-house senior options analyst.
More of a visual learner? Try one of the on-demand videos, live events, or webinars. TradeKing's senior options analyst does two webcasts each week to help cover the beginner's basics.
If you'd like a little advice on your trading from a seasoned veteran, have a question about TradeKing, or just want to meet some like-minded investors, you can take advantage of TradeKing's Trader Network. Here, you'll have access to thousands of fellow traders — and their knowledge.
Investors can connect with one another, share experiences, ideas, strategies, and see what others are trading and how they're performing.
Users can communicate through the Forums and Groups, or post their triumphs on the Trade Notes tab. To see how your trades compare to the masses, view the most popular stocks among TradeKing users on the Trading Activity page. The user blogs can also be a great place to find advice from an All-Star or get an informed opinion on the latest finance news. Find out what fellow traders are saying and get detailed insights from industry experts.
Creating the Trading Experience You Want
The next time you think of investing, rather than picturing a hectic New York Stock Exchange floor full of shouting brokers and streaming tickers, picture instead the usability — and affordability — of TradeKing LIVE. Visualize the customizable backgrounds, the moveable tiles, and the variety of charts and studies. See the awesome tools, the detailed research, and the knowledge of thousands of your fellow traders.
And you should also consider the new features the TradeKing team is adding all the time, including a future with advanced SMS and email stock alerts, so you will never miss the stock you want, at the price you want.
While we don't all start out as stock-trading All-Stars, it's easy to see that, with a little help from TradeKing, anyone can start investing in stocks, bonds, options — and their future.