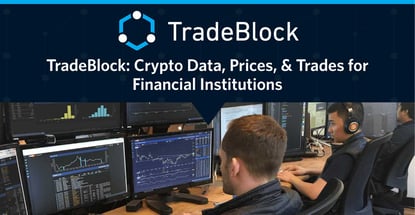 credit card news
Our experts and industry insiders blog the latest news, studies and current events from inside the credit card industry. Our articles follow strict editorial guidelines.
In a Nutshell: The decentralized world of cryptocurrencies and the underlying blockchain technology exist outside of traditional financial ecosystems. In many ways, it's unexplored territory. Investors and institutions can be unclear on where to turn for support. On the other hand, plenty of opportunities exist in the space to create those support systems, which is what TradeBlock has done by providing enterprise tools for digital currencies. As they do with the Bloomberg Terminal in traditional finance, large institutions can turn to TradeBlock for their trading needs, reliable cryptocurrency indices, and a wealth of other valuable data. With regulations settling into place, more large financial institutions are expected to dive into the world of blockchain-based assets in the future.
With Bitcoin and blockchain technology appearing in the news so often, it can be easy to forget that cryptocurrencies are a new ecosystem that exist outside of traditional financial structures.
Investors and institutions may be challenged in knowing where to turn for reliable and trustworthy cryptocurrency data because it is such a new — and rapidly evolving — space. For those same reasons, a world of opportunity exists for companies to establish products and services for the crypto world that already exist in traditional finance.

And, TradeBlock has done just that. The company — founded in 2013 by early cryptocurrency enthusiast brothers Greg and Jeff Schvey — provides enterprise-level tools and data for large institutions to navigate the world of blockchain-based assets.
The company was initially created to provide quality market data for blockchain-based assets like Bitcoin. TradeBlock's position was that cryptocurrency and blockchain technology was going to eventually see institutional adoption, and when it did, the company would be there to provide the necessary infrastructure.
TradeBlock CEO Nitai Bran said because all trades at the time were Bitcoin to U.S. dollars, the company set out to provide a single feed for Bitcoin prices around the world.
The company created a consolidated feed that streams in real time that can be consumed by large financial institutions. This approach allowed the institutions to be able to consult one source without having to deal with different APIs and inconsistent standards.
"We came up with what's called the XBX index, which is a U.S. dollar-denominated, real-time reference rate for the price of Bitcoin that takes into account trading volume at each of the exchanges," Bran said. It also accounts for short-term and longterm trading volume and account price discrepancy between each venue and the rest of the cohort, as well as anomalies.
An Enterprise System for the Blockchain with Trade Orders, Indices, and the Latest Crypto Data
As Bitcoin assets evolved, TradeBlock expanded to become a platform that provides a dependable cryptocurrency platform for reliable market data, trading capabilities, and price indices.
Today, TradeBlock works with some of the largest liquidity providers in the crypto space and provides indices for 10 different cryptocurrencies: Bitcoin, Bitcoin Cash, Ether, Ether Classic, Litecoin, Ripple, Monero, EOS, Stellar, and ZCash.
Historically for crypto OTC desks, the established protocol for making trades is to take orders from clients via services like Skype or Telegram, or via online chats and text messaging.
"We centralize that whole process," Bran said. "Clients can reference a whole variety of market data tools on our website, including chats, messaging, and charting functionality for most of the larger exchanges around the world."
TradeBlock also features a powerful set of analytics for both the Bitcoin and Ethereum blockchains, with a visual explorer for Bitcoin.
"It's a pretty unique feature," Bran said. "There's really no other explorers that have such a strong visual interface."
The company also offers an order management system for digital currencies, which allows institutions to manage OTC and exchange transactions. The platform allows for multiple users and permission levels so users within an institution can collaborate and centralize all their activity into a single place.
Clients receive assistance for a number of applications, including initial onboarding for their counterparties in OTC trades. TradeBlock automates the process to collect information necessary to determine whether or not the counterparty is qualified. The company then provides a full electronic RFQ mechanism clients can use through TradeBlock's UI.
"We give them the front end interface they can use and we also give them programmatic access to trade these quotes and RFQs," Bran said.
Once a trade has been confirmed, there is a series of workflows for settling transactions.
TradeBlock's UI also allows clients to provide the information and the confirmation they need to consider a trade settled.
"In addition to that we have various other middle and back office tools that allow them to manage their positions and allows them to set alerts for certain things," Bran said. "So, if there are outstanding positions across certain accounts that reach certain limits we let them know. We have cost basis tools, we have account allocation tools."
He said it really all goes back to providing the infrastructure the institutions require to effectively trade blockchain-based assets.
"It's important to note that we are not an exchange," Bran said. "We are simply technology providers, and if you look at the space, there really have not been any firm that has historically focused on institutions like we have, basically since the company was started six years ago."
Institutional Adoption Rates are Rising and Should Intensify as Regulations Fall Into Place
TradeBlock's Director of Digital Currency Research, John Todaro, weighed in on institutional adoption trends and what the future looks like in the space.
"I think institutional adoption of cryptocurrencies has been slower than a lot of people in the industry expected or hoped for, but we are still seeing a decent amount," Todaro said. "We're seeing a lot of reputable custody providers come on too, which is helpful. We're seeing Fidelity come on, which is great."
While there is a perception that market volatility contributes to a slower adoption rate, Todaro said that is not necessarily the case. In 2018, cryptocurrency volatility reached a two-year low, even lower than U.S. equity volatility. Yet, institutional interest continued along at the same rate — there was not a spike in interest.
"The main thing these large financial institutions are looking for is regulatory clarity," Todaro said. "The SEC has called a few of the currencies that did ICOs security. It's still generally unclear what will be called securities and what will not, in the long run."
The SEC came out with a ruling that required two funds so far to return capital they raised to investors. Situations like this could potentially impact a company's bottom line.
Todaro said that a lot of the institutions with strong reputations don't want to get involved with something the SEC has ruled against. And the institutions could lose a portion of their investment as well.
He said the SEC has clarified that Bitcoin and Ethereum will not be considered securities, however.
Another perceived concern is the issue of custody providers as there have yet to be any real custody solutions in the space. Whereas a hedge fund might be comfortable explaining a 30% loss based on market movements, it would be much harder to explain a 30% loss because the system was hacked and someone stole the money, Todaro said.
"But, Fidelity has come out with some custody solutions, so hopefully we'll see even more institutions becoming comfortable because they can offload some of that risk to a reputable firm," he said. "They can tell investors that a large, reputable firm is securing their assets rather than a smaller, lesser-known firm."
He said cases like this will likely lead to even more institutional adoption.
"They say it's hard to build in a bear market, but at TradeBlock, we're not necessarily seeing that, we're still continuing to build and develop and we're still getting a lot of interest," Todaro said.
"People are getting more confident and more comfortable especially as they see folks like Fidelity and other big names get involved."
TradeBlock Adds More Value to Clients with the Launch of New Indices
Todaro said he was excited about the recent launch of the three newest indices from TradeBlock, for Stellar, Monero, and EOS — which brings it to a total of 10, as CEO Bran referenced.
"It's really increased the number of indices we provide," he said. "A lot of people have been looking for us to expand that for a while. We kind of kept with the largest market cap coins, like Bitcoin and Ether, but we've been slowly expanding."
He said overall, TradeBlock plans to continue to add new clients and onboard them to the platform.
"There is still a nice amount of trading happening," he said, "and we're continuing to get a lot of interest."