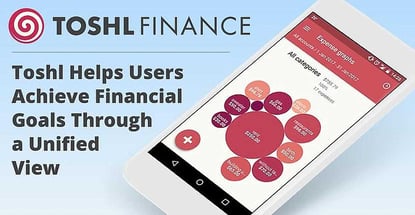 credit card news
Our experts and industry insiders blog the latest news, studies and current events from inside the credit card industry. Our articles follow strict editorial guidelines.
In a Nutshell: Budgeting and tracking finances are two of the most important steps consumers can take toward a healthy financial life. And there are a plethora of ways to accomplish that these days, but Toshl stands out with its well-designed, lighthearted approach to personal finance management. The program offers a comprehensive financial overview that allows users to connect multiple accounts, manage budgets, track expenses, and set goals. Users will also smile at Toshl's humorous style and helpful Toshl Monsters.
Every now and then, when it occurs to me that as an adult I don't have to do homework anymore, I experience a sense of appreciation and a flutter of excitement. I still remember high school math problems or college research papers hanging over my head like a big, boring black cloud.
Of course, there are plenty of other responsibilities that come with being a functioning adult — they're just organized a bit differently. But occasionally one of those grown-up chores comes dangerously close to feeling like homework. Right at the top of that list is budgeting and tracking finances. Yet, it has to be done.
Finance experts time and again emphasize that these are the cornerstones of a healthy financial life.
Thankfully, Toshl has made budgeting and tracking spending quicker, easier, and — wait for it — fun. The quirky company was founded in 2011 in Slovenia with the mission to bring both humor and accessibility to a comprehensive financial app.
And that lighthearted and relaxed approach starts in the Toshl offices, said Co-Founder and CEO Matic Bitenc. The Toshl team carries over the Slovenian tradition of wearing slippers at home into the workplace, and can often be found joking with one another as they accomplish their work, he said. It is only natural — Bitenc has spent time doing improv and stand-up comedy.
"Our slogan is to make finance fun," Bitenc said when we sat down to discuss Toshl recently.
Toshl Allows Users to Connect Multiple Accounts, Track Expenses, and Set Goals
At its core, Toshl is a multiplatform, comprehensive personal finance app that has all the functionality for users to participate in the modern finance world.
Toshl Users are able to set financial goals, establish budgets, and track expenses through the app, which is available for for iOS and Android, as well as desktop and tablet versions. The app includes a number of useful functions, like reminding users how much they have left to spend within their budget and nudging users when they are approaching their budget limit.
Users can also connect multiple financial accounts to banks in the U.S. and Canada or enter expenses manually with a quick four-step process. For those who connect their accounts, expenses are automatically logged and categorized.
"We like to think of ourselves as this meta-layer on top of your finances where all your accounts come together because your online bank isn't everything anymore," Bitenc said. "You have cash, cryptocurrency accounts, credit cards, PayPal. We can bring it all together in one place."
Bitenc said Toshl has users in every country in the world except North Korea, "for obvious reasons." Its widespread user base is due, in part, to the app's ability to handle multiple currencies, which Bitenc said is one of Toshl's core benefits.
"We're everywhere because with our manual entry feature you can use any currency. We have fresh exchange rates for 200-plus currencies, updated every 15 minutes," he said. "We built the whole thing from the ground up to support multiple currencies in expenses, accounts, budgets, everywhere."
Freelance developers and expats make up a significant portion of Toshl users because of the multicurrency functionality, Bitenc said.
And the ability to see all your expenses in one place pays off for users, he said. Bitenc recently heard from one Toshl user in the Czech Republic who quit smoking after tracking his expenses and seeing just how much money he was spending on cigarettes.
"We were really excited to hear about that," he said.
A User Experience that Centers on Sleek Design, Friendly Toshl Monsters, and Customer Feedback
"We think apps shouldn't just be commoditized, generic interfaces," Bitenc said. "We think apps should have more emotive, personal, and fun touches — it makes a big difference."
Toshl's efforts to develop an app that stands apart from others are evident with its thoughtful design and fun approach to personal finance.
Among the things that stand out for most users are the Toshl Monsters. The company developed a cast one-eyed mascots to lead users through the app with humorous visuals and comments. The one-eyed Toshl Monsters are more along the line of friendly-faced Pixar characters than creatures that might fuel your budgeting nightmares.
Another visual component that stands out is Toshl's river flow graphic.
According to the Toshl blog, users should "imagine the money that you earn and spend each month as a system of rivers. It flows in, hopefully rests a bit in a lake of your making, then most of it flows out again to replenish the fields — or yourself and your phone bill."
The river metaphor follows through with budget dams and the width of the flow representing its size.
"This type of visual approach is really optimized for long-term use," Bitenc said. "We think it makes it really easy to get a quick idea of your monthly overview. It's one of the cooler features in the app."
The Toshl team also pays close attention to user feedback. Bitenc said getting direct feedback from Toshl's users has proven very valuable, and it helps to see how the app's functionality is impacting people and how the company can better meet the needs of its users.
A Free Basic Version with Paid Options for Access to Additional Features
Toshl is currently available at three different pricing tiers.
Users can download and use Toshl's basic version for free. This allows users to create up to two budgets and link up to two financial accounts to their Toshl profile. Users can also export data to a CSV file with the free version.
"Our Toshl Pro version enables access to a lot more financial accounts, and you can add more budgets," Bitenc said. "It also comes with automatic repeats on the manual accounts. You can save photos along with your expenses, for work reporting or tax purposes."
Toshl Pro users can also use the touch ID feature in the mobile apps.
The Toshl Pro version costs $2.99 per month or $19.99 per year — which comes to $1.67 a month — for users who pay for a full 12 months at a time. Users can also pay for 36 months at $1.67 per month for a total of $59.99 and get free Toshl socks or a t-shirt.
Finally, Toshl offers its top-tier Medici version, named after the famous Italian banking family and comes with all of the Toshl Pro features and adds the automatic bank syncing feature, Bitenc said.
Similar to the Toshl Pro pricing, Medici users can pay $4.99 per month or receive a 33% discount at $3.33 per month when they pay for a full 12 months. And those who pay for 36 months at once for a total of $119.99 receive free Toshl socks or a t-shirt.
Toshl began offering a one-month free trial for the paid versions earlier this year, and Bitenc said the vast majority of users stay on the paid versions once they try them.
Expanding its Global Reach by Connecting to More Banks
The thought of tracking monthly expenses and working on budgets can make people daydream about doing just about anything else, but with Toshl personal finance doesn't have to be a chore.
Bitenc said Toshl will be able to reach even more users as it works to add around 3,000 bank connections across the globe in the coming months.
"With our current bank connections only in the U.S. and Canada, adding these new connections will allow us to reach a lot more users all over the world very shortly," he said.