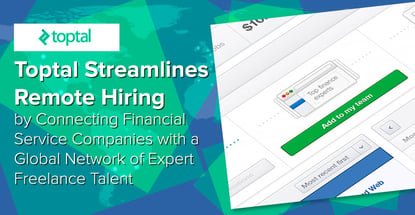 credit card news
Our experts and industry insiders blog the latest news, studies and current events from inside the credit card industry. Our articles follow strict editorial guidelines.
In a Nutshell: Businesses often have a hard time finding highly qualified workers that meet both their project and budget needs. That's why remote workers are fast becoming a popular option, and Toptal helps businesses find talented freelance professionals through its rigorously vetted global network. The Toptal platform combines curated talent, robust technology, and an expert-driven matching process to deliver affordable freelance staffing fast. From programmers and designers to project management and financial experts, Toptal provides the flexibility and speed that growing financial service companies need in a competitive global market.
Today, fintech startups require a tremendous amount of capital to get from idea to prototype — including a small army of software designers, engineers, and industry experts. But finding and hiring the most qualified candidates for a new project online can be tedious and often unsuccessful.
Taso Du Val faced this reality in 2010 because he saw a clear gap in the talent market. On the one hand, there were large players with expensive medium- to high-skilled labor. On the other, there were freelance marketplaces comprised of a large volume of low-skilled labor, with some high-skill talent that generally is difficult to find. As a software engineer, however, Du Val could more easily vet and find highly-skilled software engineering talent from those existing marketplaces.
He also knew from his own experience leading distributed teams that an 'A' player 5,000 miles away is always going to be better than even a 'B' or 'C' player in the same office as you. So he launched Toptal to help startup founders like himself find amazing engineering talent.

While Toptal started by connecting companies with software engineering experts, the platform has expanded its talent pool to include experts in design, project management, product development, and finance. In recent years, Toptal has also enhanced its services to meet the needs of both SMBs and enterprise-level companies.
"We've added a lot of enterprise-specific support and engagement elements to the model to help complex organizations leverage on-demand talent at scale," said Michael Kearns, Vice President of Enterprise at Toptal.
Digital transformation continues to change the way companies do business, receive payments, and offer products to their customers. To stay competitive, companies — especially in the financial services industry — are turning to remote talent as one of the most affordable, flexible options for building teams that can take their ideas to the next level.
Toptal's focus on curating a global network, backed by technology and an expert-driven matching process, facilitates hassle-free hiring and gives businesses confidence that they're selecting the most elite candidates.
"What makes us unique is a focus on quality," Kearns said. "Our goal is to provide the best possible talent in a given discipline."
Rigorous Vetting Process Ensures Works Have the Right Technical Skills
Searching for freelance workers typically means posting a job and being inundated with hundreds of inquiries. Companies must then sort through and compare skills, salary requirements, and overall company fit to find the most promising contenders.
Toptal eliminates the need for this filtering since every freelancer in its network is one of only 3% of applicants who pass its rigorous assessment process. And building this talent network ahead of demand is a practice that distinguishes Toptal from other sourcing services that function more like directories.
"We try to take as much friction and uncertainty out of that process as possible," Kearns said. "We're constantly screening and assessing people to bring them into our network. We build a community of rigorously vetted talent, so we know they're among the best in the world."
Toptal's multistep talent assessment, which takes applicants several weeks to complete, takes into consideration two dimensions: a candidate's level of capability, and fit with the client's project. "They could be highly skilled in an area, but not the right area. Or they might not be a good fit for your team, your culture, or your work style," Kearns said.
First, candidates undergo language and behavioral testing. While English fluency is essential to most Toptal clients, communication skills are equally as important.
"If you can't do those things, your skill level may be irrelevant," Kearns said.
Network applicants must then pass domain-specific testing, depending on their skill sets — including financial modeling or coding.
"We conduct candidate interviews where we're looking for how they convey complex concepts, answer questions, solve problems, and why they choose certain solutions — not just hard skills and technical expertise," Kearns said.
Expert Knowledge and Technology Drive Fast Matches and Seamless Hiring
Industry experts drive the entire Toptal assessment process, not a recruiter or talent source with limited field experience. That selection process ensures clients will be satisfied with their matches, and Toptal's success rates confirm that.
"More than 93% of our clients select the first person we suggest, and 99% of that time, they are wildly happy with the results," Kearns said.
When a business approaches Toptal to fill a specific staffing need, it connects with a Toptal team member who takes the time to understand those needs. Toptal combines expert knowledge with proprietary technology to match the business with the right person — on average in less than 24 hours.
Toptal also offers a no-risk trial period where if clients aren't completely satisfied with their hires, they don't pay.
"You can work with that person for up to two weeks, and if you're not happy for any reason, you don't have to pay," Kearns said.
Finding Toptal talent is also completely flexible. Clients can choose a salary range that meets their budgets on an hourly, fixed-price, or weekly basis — part time or full time. Companies can also start and stop services with no termination fees.
Enabling Financial Service Companies to Rapidly Scale and Test New Products
Toptal continues to see the highest demand for software design and engineering talent within the financial sector — a direct reflection of the rapid digitization taking place in the industry.
"Every financial services firm is going to be, or already considers itself to be, a technology company," Kearns said. "We also see tremendous pressure on existing players from fintech startups on larger, more established tech companies entering the market."
Amid this digital push, legacy companies stand to benefit the most.
Toptal has helped financial service companies build skilled teams that enable them to move quickly in their markets. Its success stories include one of the world's largest insurance providers, which came to Toptal to find the help it needed to launch a new advanced analytics product.
"They wanted to quickly generate a team to build the first version of the product and get it out to market," Kearns said. "They had a few initial customers express interest and wanted to learn from these pilot customers whether there was a market fit so that, when they launched it more broadly, they'd have a product improved through experience."
In roughly one week, Toptal built the company an entire development team — including project management, design, and software engineering experts — who worked under its direction. Within a matter of months, the product was out.
"If they'd engaged a consulting service, it would have been costly and would have taken three to four months to build the team, then another six months to build the product," Kearns said. "So, they saw the tremendous value of Toptal. As the product proves itself, they're building a team behind them, and we're giving them the flexibility to do that."
In this way, Toptal helps businesses grow their staff or pivot rapidly based on business need, without the hassle and expense of hiring or shifting resources.
"If they want to make a big push for three to six months and then return to a more moderate state, we give them the ability to grow a team from 20 to 50 with experts to improve the quality of the output — and then they can wind down when the time comes, flexibly and easily," Kearns said.
Leveraging Feedback to Ensure Satisfaction and Promote Remote Hiring
Startups and established enterprises both share a common need: talent to help their businesses grow fast. That's why Toptal focuses on cultivating a network of expert freelancers that its clients can count on when their needs outpace their hiring departments. And Toptal analyzes feedback from every interaction and outcome to ensure the quality of its services.
"We're a digital business with tons of performance and feedback data, so everything is captured. It gives us a complete, real-time picture of every engagement," Kearns said. "We want to know that we're providing a platform that helps talent find amazing opportunities and get what they want out of their work experience. And for clients, we want to help them drive change and be more successful."
Since 2010, Toptal has distinguished itself as one of the largest fully remote workforces across the globe. It has talent located in more than 100 countries ensuring quality workers are readily available as more financial companies realize the value of hiring remotely.
"Many other industries have received tremendous value from looking to virtual, on-demand talent, and the financial services industry needs to look more into adopting models like ours," Kearns said. "We want to offer our clients talent within any capability where skill is a differentiator, and it can be done remotely. That's a wide range of skill sets, so we've got a lot of room to run."