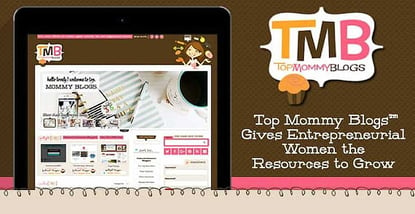 credit card news
Our experts and industry insiders blog the latest news, studies and current events from inside the credit card industry. Our articles follow strict editorial guidelines.
In a Nutshell: Mom blogs have become a trusted source of product reviews, advice, and entertainment. With more than 4 million mom blogs covering a wide array of subjects, many mothers have become online personalities and brand influencers. Sifting through the masses can be difficult, and that's why the free online directory, Top Mommy Blogs, has become such an invaluable resource. Readers and brands can use the TMB categories to easily find blogs in line with their interests. Bloggers on TMB are part of a community, receiving promotion and helpful resources on best blogging practices in the TMB forums.
An estimated 4.2 million mothers have blogs, and many of these women have made communities of their readers by publishing often on motherhood and a wide range of subtopics from product reviews to fashion to parenting advice.
These mothers have become not only brand influencers, sharing products they like and dislike, but they're also seen as trusted resources. As reported on eMarketer, a 2012 BlogHer survey of U.S. mothers revealed that more than two-thirds of the respondents trusted the information they found on a blog. The same survey showed that 56% of responding mothers made a food purchase and 48% bought a baby product based on something they had read on a blog.
Many readers value the advice and information found on mom blogs, but, because blogs vary in tone, style, and topics covered, readers might not know how to go about finding one suited to their interests. It was this realization that inspired Karen to start Top Mommy Blogs, a free online directory of mom blogs. Already active on her baby blogging site, Posh Little, Karen created Top Mommy Blogs, or TMB, to build a community that would help the best mom blogs get noticed and thrive.
"As a visitor to TMB, what's special is that the listings are based on active bloggers so you're more likely to find blogs that are current," Karen said. "As a blogger myself, I've tried to build the site with the bloggers in mind. It's a free place to promote your own blog and meet other bloggers."
Bloggers Wanted: Brand-Driven Assignments for Writers
A key way Karen helps fellow mommy bloggers is by sharing tips with them on how to make money through their websites.
"Bloggers have lots of options [for generating revenue]," Karen said. "Banner ads, newsletters, sponsored posts, in-text ads, etc. More popular bloggers are sometimes paid to run giveaways or other promotions, so working with brands can be lucrative and often great cross-promotion."
By perusing some of the blogs on Top Mommy Blogs, it's easy to see brand placement in action. One of the most popular blogs, Chronicles of a Young Mother, is run by Vivienne Lewis, a 20-something, stay-at-home mother of two. From her home in Sacramento, Calif., Vivienne writes posts on the topics of young motherhood, fashion, and beauty.
In many of her posts, she and her family model different looks, posting links to partner retail sites where various fashion and beauty items can be purchased. Vivienne writes about and recommends products she loves, but she also relates to her readers by giving them a window into her family life as a young mom.
Top Mommy Blogs even allows brands to post money-making opportunities on its message board, and many have leveraged the site as a resource to find entrepreneurial-minded bloggers who can appeal to potential customers by posting honest reviews of their products in exchange for free samples. And when you consider that women drive 70-80% of consumer purchasing, brands that are mentioned in a positive light on popular mom blogs stand a strong chance of increasing sales.
"My goal with TMB is to give members a place to connect with readers, other bloggers, and even brands," Karen said. "In the forum, aka 'The Lounge,' members can chat with each other or connect with brands. Everything on the site is free and DIY, and it's a great blogger-to-brand format that even the newest of bloggers can jump into."
Marketing & Design Tips for Mommy Bloggers in The Lounge
With more than 4 million moms blogging online, it's important to find a way to stand out from the pack. This is where The Lounge becomes an invaluable resource.
More than 5,000 bloggers come together to discuss everything that goes into operating a successful blog. Members of the TMB community are always willing to lend a hand, informing new bloggers on strategies for improving and generating revenue through their sites.
Users collaborate on best practices and share design tips as well as information on getting noticed through marketing and SEO efforts.
Karen often hears the same question from those starting new blogs: How can I get more followers?
"If you're a new blogger, don't be afraid to put yourself out there," Karen said. "Once you break away from blogging anonymously to showing your face, you'll attract a following much faster."
Karen also suggests placing social network buttons on blogs and sharing often across your social networks. Networking with other bloggers for giveaways can be a big boost when it comes to attracting new followers.
Part of building a community is also getting to know other members beyond what they're doing with their blogs. That's why Karen has an area of The Lounge where members can chat about their personal lives. This is where mom bloggers can share their parenting tips and stories about their family.
Karen said she's gotten overwhelmingly positive responses from members, who rely on Top Mommy Blogs for gaining traction.
"My members keep me going," Karen said. "I barely have time to blog myself anymore, but hearing how helpful this site has been to people keeps up the momentum. It's a wonderful community."
From Fashion to Crafting, Mothers Weigh In Several Subjects
Looking through the categories of mom blogs on TMB, it's impressive just how many topics are covered. While parenthood remains a central subject with moms, TMB features blogs on a wide range of topics, including arts and crafts, fashion, home and garden, fitness, marriage, homeschooling, shopping, and travel.
This range of subject matter inspired Karen to launch TMB back in 2009. Whenever she had a question relating to motherhood, she would come across all kinds of useful information on mom blogs through online searches.
"Soon enough, I realized mommy blogs were dominating my search results," Karen said. "Mommy bloggers were becoming an authority on a myriad of topics: recipes, boo-boos, DIYs, decorating, travel tips, and even fashion. It was pretty amazing how they were taking over the internet. I decided that I wanted a place where I could quickly access popular and current mommy blogs by topic. So I created one."
Also, don't let the title of the site mislead you. Top Mommy Blogs isn't only for moms. Dad blogs can also be found in the directory.
"One exciting area that I added and love to watch grow is the daddy bloggers," Karen said. "I've always said that mommy bloggers are going to take over the world, but daddy bloggers are right there with us. There are some incredibly entertaining and creative dads out there."
Top Mommy Blogs is a Valuable Resource for Retailers
Modern marketing isn't simply about reaching the most consumers; more often, it's about reaching the right consumers. Mommy blogs can be a valuable and authentic resource for companies that want to tap into particular markets.
For example, fashion retailers might be looking to market children's clothing to young families. Using Top Mommy Blogs, they can quickly identify popular blogs, such as Chronicles of a Young Mother, and contact someone like Vivienne with opportunities to feature their items on her site. A blog like Vivienne's has a ready-made audience of other young moms who are interested in her fashion choices, allowing the retailer to reach the right consumers.
This is why Top Mommy Blogs is so valuable to both mommy bloggers and retailers. Online personalities receive valuable resources to improve their sites and get extra traffic by being featured in the directory, while retailers can quickly find potential blogging partners who may already love their products.
TMB's ability to connect brands and bloggers has increased its popularity, keeping Karen busy maintaining the site. With her youngest child in school, Karen has more time to focus on improving and growing Top Mommy Blogs.
"This year will be interesting," Karen said. "This is the first year I'll have time to work without someone in my lap."