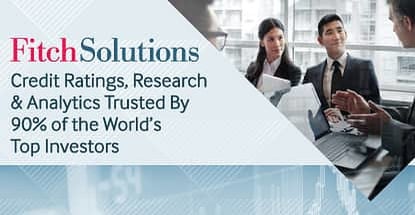 credit card news
Our experts and industry insiders blog the latest news, studies and current events from inside the credit card industry. Our articles follow strict editorial guidelines.
In a Nutshell: If it weren't for credit rating agencies like Fitch Ratings, the world of global finance would be far more bewildering than it already is. Founded more than a century ago, Fitch is one of three major credit rating agencies serving the global financial community (the others being Moody's and Standard & Poor's). In 2008, Fitch Solutions was launched to deliver valuable content and services, including credit ratings, research, financial data, pricing and analytical tools, and risk services. Fitch Solutions has the experience and insight to help financial professionals meet the complex, diverse, and ever-evolving demands of global markets.
Creating an investment portfolio requires careful planning. Investors must consider personal goals, the amount of risk they're willing to take on, how many different types of assets they'll invest in, and most importantly, credit ratings.
Fitch Ratings is one of only three major agencies producing critical credit ratings and market data used to drive more informed investment decisions. According to its website, "90% of the world's leading financial institutions, multinational companies, governmental bodies, and consulting firms based in more than 118 countries depend on Fitch content to inform their business decisions."
For different entities to invest wisely and responsibly, the risk measures of all parties involved must be fully transparent and understood. Fitch Ratings makes it easier for companies, governments or financial institutions to "borrow" money from bond investors because they provide a simple way for investors to assess the credit risk of those bonds.
We recently spoke with Daniel Noonan, Managing Director and Global Head of Communications at Fitch Group, who offered a simple explanation of credit ratings and their function.
"Credit ratings help bond investors determine the likelihood that they'll be paid back in full and on time when compared to similar bonds," Daniel said. "In that sense, it's a very effective tool."
The same notion of establishing a level of risk applies to both commercial and private entities. In short, these ratings help global financial institutions determine the risk premium they charge on loans and corporate bonds, and Fitch has been curating this information for more than a century.
Fitch's Proprietary Credit Ratings Level the Playing Field
Though credit ratings are extremely helpful and effective, they have their limitations. One must keep in mind that, as Daniel points out, credit ratings help investors determine the likelihood of being paid back and on time. Credit ratings do not seek to predict an entity's likelihood of overall failure or success. These ratings also do not establish the overall market value of particular securities or stock.
"Credit ratings are one tool among many to help inform investment decisions — so they're not meant to be the end-all, be-all deciding factor as to whether someone is a good investment," Daniel said. "They're meant to be a very specific tool to measure credit risk as part of a broader decision."

To institute a uniform method by which to apply credit ratings to different entities, Fitch established an alphabetic scale from AAA to DD. This scale, first introduced in 1924, is still in use today.
The scale essentially establishes a distinction between AAA to BBB, "investment grade," and BB to D, "speculative grade," categories. These terms are just conventions used in the market and do not seek to recommend or endorse a particular security. They simply indicate low to moderate risk (investment grade) and a higher level of risk (speculative categories).
Once established, this convenient system of ratings was immediately helpful to both lenders and borrowers, creating a simple way for data to be shared and evaluated.
"The reason that this initially came about was that you had issuers of bonds over many years wanting to be able to tell their story and share their company data with potential investors," Daniel said. "And because of the enormous size of the bond market, this was a challenge. So, the credit rating was meant to even the playing field of information. Now, investors have more information about the bond issuer and can make better decisions. Reducing that information imbalance between the issuer and investor ultimately leads to a more efficient market for those bonds."
Timely Intelligence Delivered Across Multiple Channels
Fitch Solutions' offerings and services do not stop at simply providing credit ratings. One of the most valuable services it provides to the global financial community involves analytics. To bolster fundamental credit ratings analysis, Fitch uses credit and financial data to offer different perspectives informed by the market. These analytics provide an extra, deeper layer of awareness.
Fitch also provides surveillance tools as part of the agency's research services, creating even greater transparency across many markets. These tools offer benefits such as accessing insight into risks present within a transaction, making better investment decisions knowing that all deals are being constantly evaluated, and focusing only on those bonds that need closer monitoring.

One of the agency's latest products, Fitch Connect, is a dynamic ecosystem of delivery channels for various kinds of credit data. Fitch Connect provides fundamental data from private and public banks, insurance firms and sovereigns. It also offers users the entire Fitch universe of credit ratings and independent credit research and commentary from specialists. Users can receive valuable insights from Fitch Connect via a web-based version, an API (application program interface), an Excel add-in, and data feed.
The web-based version of Fitch Connect has a range of powerful analytical tools, like custom views, benchmarks, alerts, advanced data search and league tables, which provide a quick glimpse of all rankings by assets for the top 100 global banks.
A Global Reach with Data for Investors in 118 Countries
Credit rating agencies are integral to the world of global finance. If there were no accepted method to rate an entity's ability to pay back debt by making interest payments on time, there would be no feasible way for markets to function.
"If you're an issuer of bonds, it's in your best interest to make sure investors understand your credit — so this was the impetus for creating credit ratings," Daniel said. "A lot has changed over the years, but the basic principle remains that more informed markets benefits all participants."
Fitch Ratings has been operating for over 100 years, providing data and research that the global financial community relies on to function. Together with Fitch Solutions, its track record of data and research-based innovation, as well as its experience in adapting to and evolving with the complex world of global finance, are the keys to its esteemed standing. Just ask any investor who relies on Fitch Solutions' services in 118 different countries around the world.